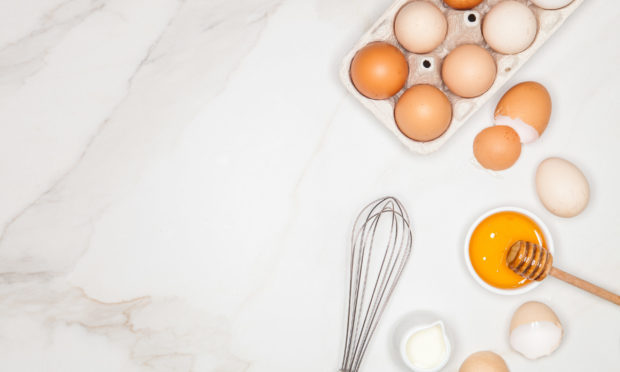 Honey is a vital ingredient to many of the bakes and cakes we make today, just as it was in Aunt Kate's time. Rebecca Shearer shares some recipes from Aunt Kate's kitchen that will still hit the sweet spot today.
As recent research revealed the vast array of health benefits honey has to offer, including medicinal properties, the sweet superfood can play a part in a whole host of recipes – just like these treats from Aunt Kate's 1933 Baking Book.
Aunt Kate, dubbed the 'original domestic goddess' wrote hundreds of recipes and household tips for The People's Journal and the People's Friend between 1880 and 1960, with various baking and cookery books being created as a result of the series.
Though there might not have been as much research done on the nutritional value of honey in the early 20th century, it was still used in abundance in various baking recipes during Aunt Kate's time, just like the ones below.
We have tried, where possible, to convert measurements and oven temperatures into today's metrics but some may vary.
If you enjoyed making these recipes or want to see more, why not try some of the previous recipes in the series, such as meringues, chocolate cakes and pancakes?
---
Honey Sandwich Cake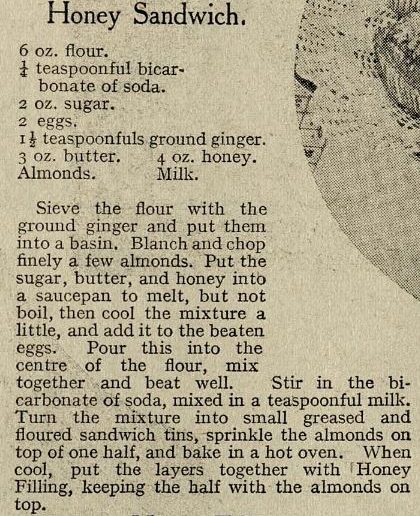 Ingredients
6 oz flour
¼ tsp bicarbonate of soda
2 oz sugar
2 eggs
1½ tsp ground ginger
3 oz butter
4 oz honey
Almonds
Milk
Method
Sieve the flour with the ground ginger and put them into a basin.
Blanch and finely chop a few almonds.
Put the sugar, butter, and honey into a saucepan to melt, but not boil, then cool the mixture a little, and add it to the beaten eggs.
Pour this into the centre of the flour, mix together and beat well.
Stir in the bicarbonate of soda, mixed in a teaspoonful of milk.
Turn the mixture into small greased and floured sandwich tins, sprinkle the almonds on top of one half, and bake in a hot oven (we recommend about 200-230ºC).
When cool, put the layers together with buttercream or filling of choice, keeping the half with the almonds on top.
---
Ginger Honey Squares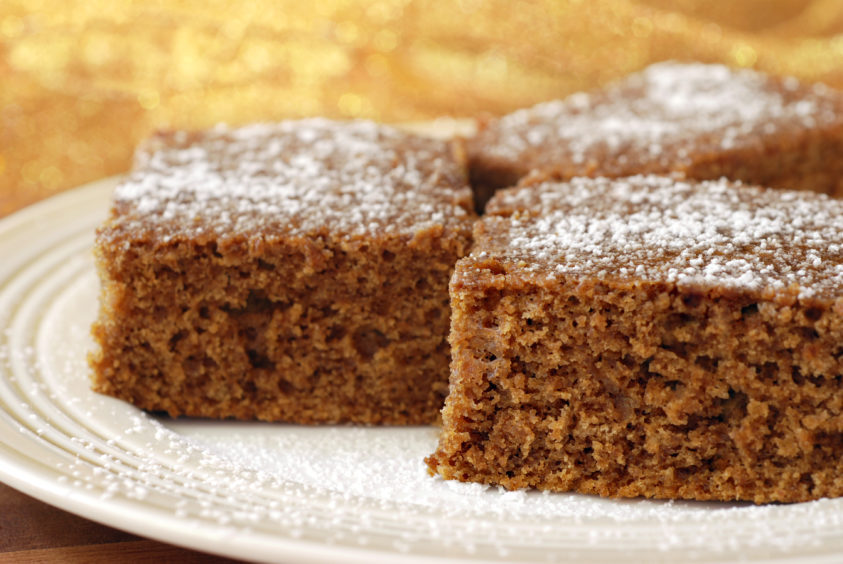 Ingredients
¾ lb (approx 340g) self-raising flour
1 egg
Milk
3 oz butter
2 tbsp honey
2 tbsp ground ginger
Method
Rub the butter into the flour with the tips of your fingers.
Add the ground ginger, then the honey, and finally the egg, beaten up with a little milk.
Roll out thinly, cut into squares, and bake on a floured tin in a quick oven (we recommend 200ºC).
---
Caraway Honey Rocks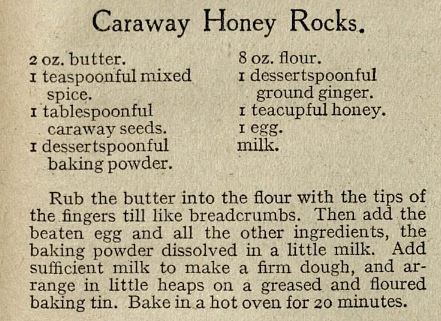 Ingredients
2 oz butter
1 tsp mixed spice
1 tbsp caraway seeds
1 dessertspoonful baking powder
8 oz flour
1 dtspn ground ginger
1 teacupful (approx 113g/120ml) honey
1 egg
Milk
Method
Rub the butter into the flour with the tips of your fingers until it is like breadcrumbs.
Then add the beaten egg and all the other ingredients and the baking powder dissolved in a little milk.
Add sufficient milk to the mixture to make a firm dough, and arrange in little heaps on a greased and floured baking tin.
Bake in a hot oven (approx 200ºC) for 20 minutes.
---
Read more in this series…
Aunt Kate's Kitchen: These five recipes from the 1930s really are the icing on the cake
Aunt Kate's Kitchen: Lemons add a zest to life in these classic recipes from the 1930s