Any recipe involving pasta is a hit with us and this one, which is full of nutritional goodness, is a real winner – move over carbonara!
Perfect for entertaining dinner guests or even for the family during the week, a mushroom and walnut ragu is the perfect compliment to a glass of wine after a hard day of work.
And, even better, it will take less than 30 minutes to make and is sure to be a hit with friends and family.
This recipe comes straight from Deliciously Ella, headed by food writer and entrepreneur Ella Woodward whose aim is to make vegetables cool again.
For more inspiration for a midweek meal, including Japanese tofu, spicy salad and a selection of dishes from celebrity chef Mark Hix, take a look at our previous recipes in this series.
---
Mushroom and walnut ragu
(Serves 4)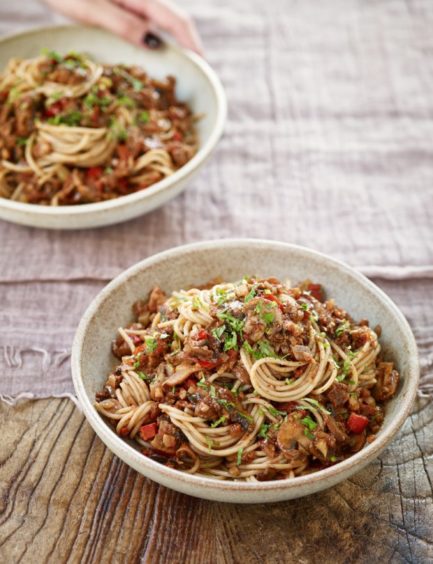 Ingredients
20g dried porcini mushrooms
250ml boiling water
100g walnuts
1 onion, finely diced
2 garlic cloves, finely diced
2 celery stalks, finely diced
Olive oil
400g chestnut or button mushrooms, thinly sliced
1 red pepper, deseeded and diced
1 tsp dried thyme
1 tsp dried oregano
1 tsp dried rosemary
1 × 400g tin of chopped tomatoes
1 tbsp tomato purée
2 tbsp tamari
1-2 tbsp nutritional yeast
4 portions of pasta or spaghetti (about 80g per person)
Salt and pepper
Handful of chopped parsley, to serve
Method
Start by soaking the dried mushrooms. Put them into a bowl with the boiling water and leave for 20 mins. Once soaked, drain well (but keep the liquid), then cut the mushrooms into small pieces.
While the mushrooms are soaking, chop the walnuts into tiny pieces – they need to look like large breadcrumbs.
Place them in a large, deep frying pan over a medium heat and toast for about five minutes, until golden, stirring every now and again. Once toasted, remove from the heat and spoon into a bowl. Place the frying pan back on the heat.
Add the onion, garlic and celery to the frying pan, along with a drizzle of olive oil and a pinch of salt. Cook for 5-10 minutes, until soft. Add the fresh mushrooms and red pepper, with the thyme, oregano and rosemary, and cook for about five minutes, until soft.
Stir in the chopped tomatoes, tomato purée, tamari and dried mushrooms with their water. Leave to simmer for 10-15 minutes – you want the ragu to be thick and have lost the excess liquid.
Stir in the walnuts and nutritional yeast and leave them to cook in the sauce for a final 5 minutes.
While the ragu is simmering, cook your pasta in a pan of boiling water, following the instructions on the packet. Drain well then stir into the ragu once both are ready. Serve with a sprinkling of chopped parsley.
Recipe from Deliciously Ella Quick & Easy: Plant-based Deliciousness by Ella Mills, photography by Nassima Rothacker, is published by Yellow Kite, priced £25.
---
Read more in this series…
Midweek Meal: This spicy salad could become your next weeknight favourite
Midweek Meal: Top Fife chef's North Sea cod with smoked haddock chowder