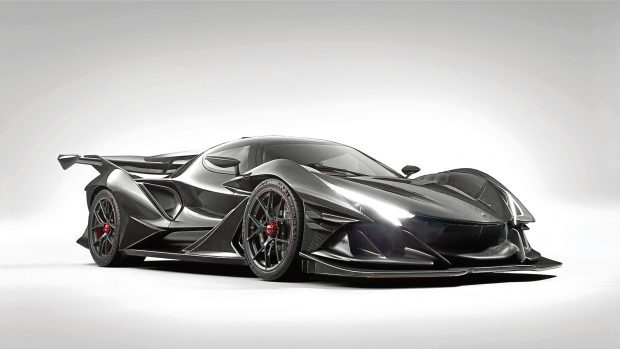 Apollo Automobil has pulled the covers off its dramatic new hypercar – the Intensa Emozione, or IE for short.
The German manufacturer – formerly known as Gumpert – has equipped the new IE with a 6.3-litre naturally aspirated V12 engine that develops in excess of 770bhp.
With a kerb weight of 1,250kg, the powerful V12 allows the IE to complete the sprint from 0-60mph in just 2.5 seconds, with power being sent to the wheels via a sequential six-speed paddle-shift gearbox. Top speed stands at 208mph.
Designed from from scratch from the ground up, the IE aims to deliver a purer hypercar experience than its contemporaries, which Apollo believes have been watered down by modern technological systems.
The company claims the IE's radical design – which incorporates carbon-fibre front and rear subframes, as well as a carbon-fibre monocoque – was influenced by everything from "tactile fighter jets to apex predators such as sharks and raptors".
At 186mph, the hypercar develops more than 1,350kg of net downforce, 44.5% of which is over the front, while 55.5% is over the rear. According to Apollo, the IE has an aerodynamic efficiency close to that of an LMP2 race car.
Only 10 examples of the IE will be built, with customers then being granted access to a special European race circuit programme, as well as first-dibs on the forthcoming Apollo Arrow that will arrive in 2019.
This performance and exclusivity comes with a high price tag, though, with each IE costing from 2.3m Euros (circa £2m).
Apollo chairman, Norman Choi, said: "We felt that all the technological advancement and automation in today's supercars took away the pure, raw, emotional connection between driver and car.
"We wanted to build a car that would fill that void separating car and driver. So we built the Apollo IE."
jmckeown@thecourier.co.uk