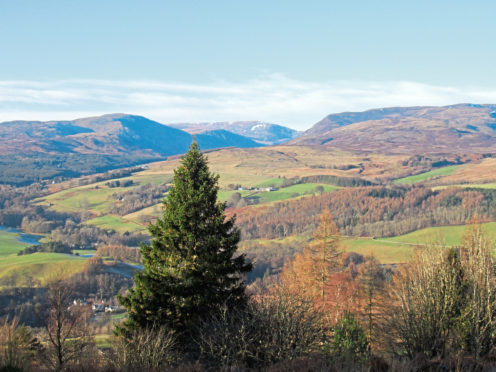 Across the country there are villages, towns and cities that enjoy close associations with hills. Dundee, for example, has the Law, Perth, Kinnoull Hill, Edinburgh, Arthur's Seat and Fort William the biggest of them all, Ben Nevis.
The folk of Crieff have The Knock – Knock of Crieff to give it its Sunday name – knocking on their doors, the prominent wooded peak sloping up from the bustling streetscape of the Perthshire town.
Lower and upper car parks on the western flank, above Crieff Hydro, offer direct access to the top but I chose to begin a little further out, enabling me to explore the surrounding countryside before launching my assault on the summit.
Down in the valley of the Turret Burn, I set off from Taylor Park, starting point for many a local walk, crossing Turret Bridge before hiking north along Turretbank Road to meet the A85 as it exits town.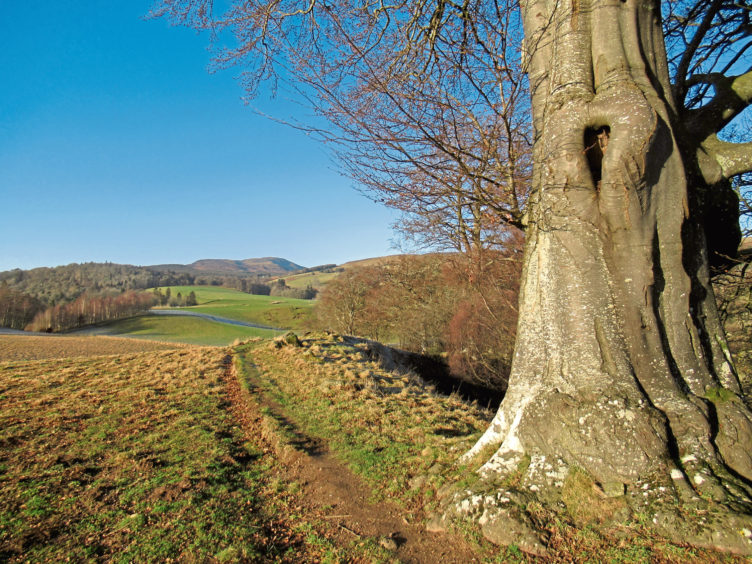 Crossing carefully, I picked up a track then path roaming through woodland, past allotments and along field margins above Glenturret Distillery, officially established in 1775, although whisky was being produced here for many years prior to that, on a more clandestine basis.
Looping below gnarled old beeches to a gate, I dipped right, passing spirit soaked bonded warehouses, to the hamlet of Hosh where, across Bridge of Hosh, a track curves down to Shaggie Burn.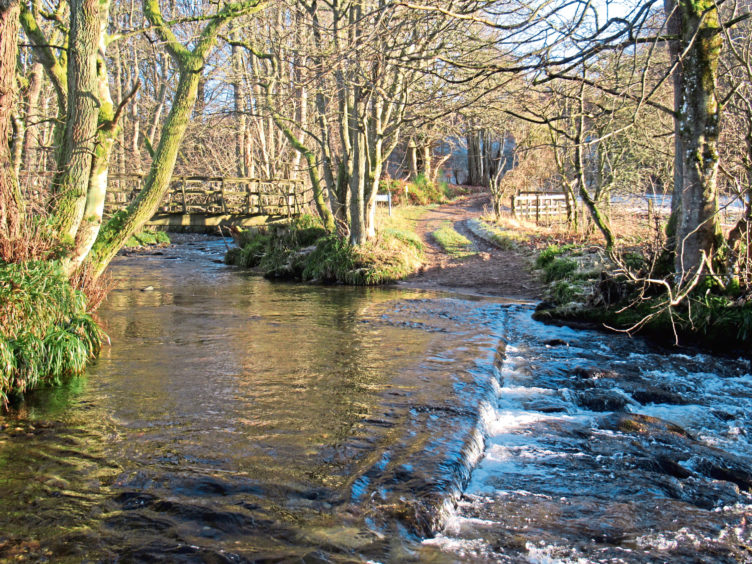 The rough road fords the broad flow but there is a wooden footbridge just upstream and, once over, the track climbs, sweeping right, to a signed junction, and then left, a path higher up cutting out the next hairpin bend before the way adopts a straight course to Culcrieff Golf Club.
Crieff Hydro's active outdoor offerings centre on the neighbouring café and, from here, the road – with a parallel footpath for part of the way – makes a beeline for The Knock.
Approaching the lower car park, a track breaks sharply left, rising to the upper car park, a good viewpoint, from where a well walked trail strikes across the northern flank of the hill.
It is a steady incline but perhaps the least taxing of the summit approaches. Ignore a path branching left and continue to the next junction, just ahead of an open gateway straddling the route ahead. Turn right here.
There are a couple of benches, should a breather be needed, the path bearing right by the second, meandering through a lovely landscape of heather and trees before a final short but steep climb to the top with its viewpoint indicator. Ben Chonzie, to the north, is among distant delights.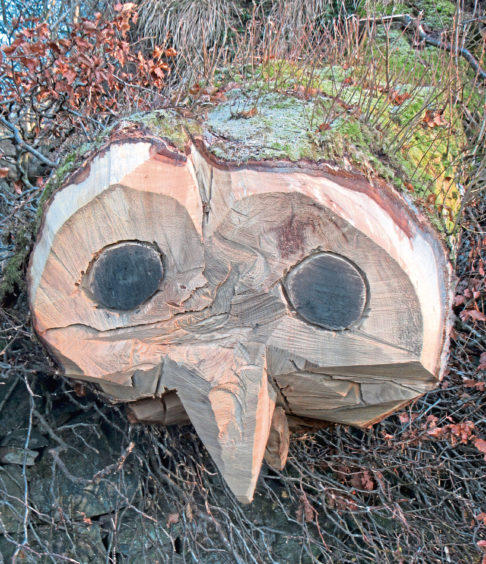 The descent south-west to information boards and the lower car park is direct and, crossing the road, I tramped down through a patch of forestry to meet a broad and recently upgraded gravel path
Running north between woodland above and fields below and passing a natural spring with a stone bowl dating from 1874 (the water is not safe to drink), the way progresses towards Culcrieff from where an old farm road descends into town, the face of an owl carved into a fallen tree a quirky visual treat.
Across the A85, I entered Taylor Park at a black iron gate and, forking right down steps, wandered through the popular recreational area, pausing to admire the beautiful Victorian bandstand on my way back to the car park.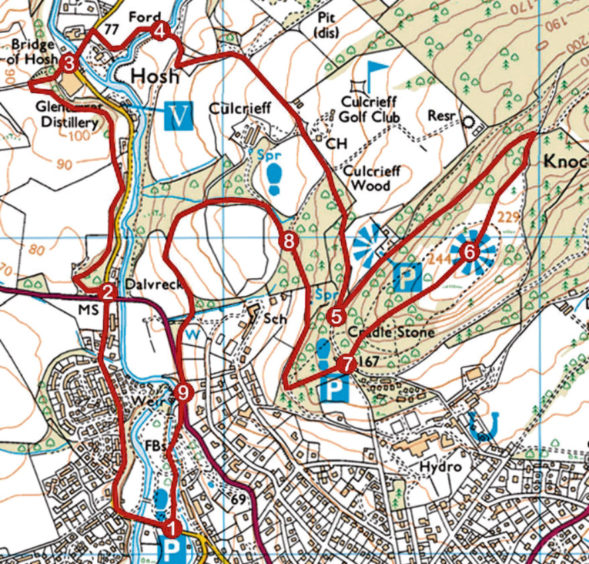 ROUTE
1. Follow Turretbank Road west over Turret Bridge then north to A85.
2. Cross A85 and go left (signed The Hosh) up track to junction. Turn right and follow path north to The Hosh.
3. Joining road, proceed north over Bridge of Hosh then turn right (signed The Knock) to Shaggie Burn.
4. Cross footbridge and ascend track to signed junction. Bear left up track, then cut right up path. Turn right and follow track then road south for 1km.
5. Turn left (signed Knock Circular Path) and ascend track to car park. Continue up path for 650m. Go right, ascending path past bench to second bench. Turn right on path to summit.
6. Descend path south-west to information board and car park.
7. By cairn (signing Lodges 546-550) descend woodland path to gravel path. Turn right, following path north.
8. Turn left (signed Culcrieff) and, in 120m, go left down woodland path to track. Go left, descending to A85.
9. Cross A85, go left then right through gate (signed Turret Bridge) and head south through park.
INFO
Distance: 7.2km/4½ miles
Ascent: 230m/760ft
Time: 2-3 hours
Grading: Moderately easy, well-signed route following good tracks and paths with some prolonged but well-graded inclines along the way. Stout footwear recommended
Start/finish: Taylor Park car park, Turretbank Road, Crieff (Grid ref: NN 857221)
Map: Ordnance Survey 1:50,000 Landranger sheet 52; Ordnance Survey 1:25,000 Explorer sheet OL47
Tourist Information: Perth iCentre, 45 High Street, Perth PH1 5TJ (Tel 01738 450600)
Public transport: Stagecoach bus service 15 from Perth to Crieff