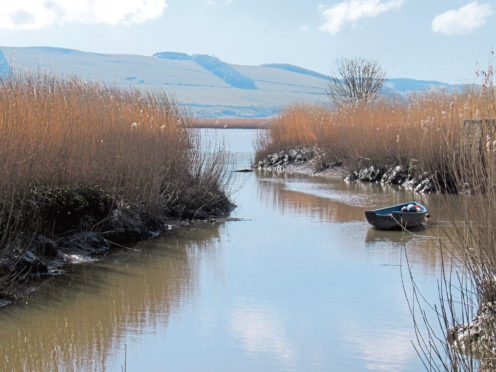 From source to sea, Scotland's longest river – the Tay – is accompanied on its course by some fantastic walks, trails exploring its youthful exuberance in the Southern Highlands, its meandering middle ground through Perthshire and, then finally, the firth.
This loop joins the river towards the end of its 117-mile long journey, an outing from the Carse of Gowrie village of Errol along the reedy northern bank where Spring breathes new life into the wooded way.
Leaving the old mercat cross in the heart of Errol, I headed for a traditional red telephone box in the corner of the square from where Gas Brae descends towards farmland below the community.
A well-walked path, lined with blossoming trees, dips to a community garden at Cistern Green from where it is a straight run between arable fields towards Tay Lodge and the river.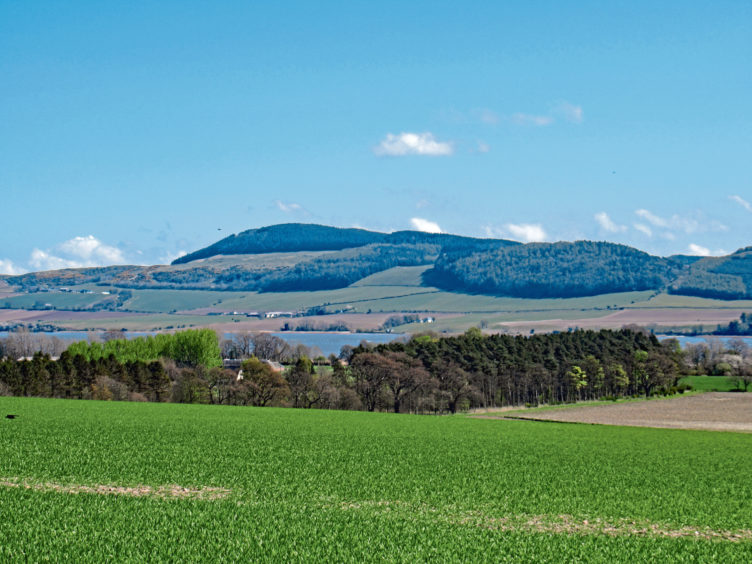 Turning upstream, a delightful woodland path dotted with wildflowers runs along the bank, although the river itself remains rather distant thanks to the vast reed beds that extend out into the channel.
Once commercially harvested, the beds, some of the most extensive in Europe, cover a 12-mile long stretch of the north bank of the estuary and were originally planted in the late 18th century to protect the shoreline from tidal erosion.
The reeds are an important breeding and feeding ground for an array of birds and other wildlife and information boards, one by Tay Lodge and another on the path itself, highlight what is out there.
Timid roe deer are most often seen venturing from the cover of the woods on to neighbouring fields while red squirrels live among the trees. Out on the beds, Spring is the season to spot marsh harriers, bearded tits, shelduck and squealing water rail.
Passing Daleally, where a gap in the trees affords a clear view over the reeds and the river to Fife on the far side of the estuary, the trail leads on to Port Allen, once a busy wee ferry terminal.
Sitting at the mouth of the Pow of Errol burn, crossed by an old stone bridge and sluice gate, there has been a quay here since the early 1600s when a ferry traversed the Tay to Pow of Lindores, near Newburgh.
It was a link that was still in operation in the later years of the 18th century, although today, muddy and beset by reeds, only a handful of small boats tie up in this tiny, almost hidden haven.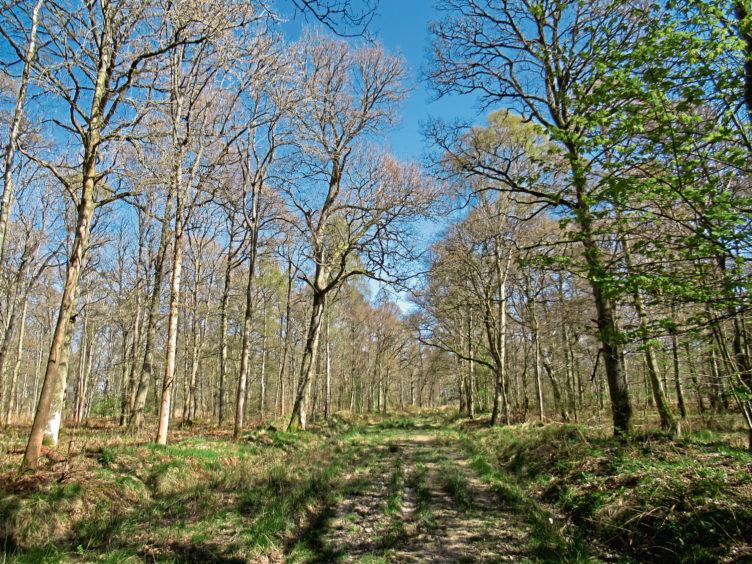 From Port Allen to Paddockmuir Wood the route is well waymarked, regular arrow posts accompanying the trail as it rises from the riverbank and skirts along field-edges before progressing through a wooded corridor.
Paddockmuir Wood arrives unannounced, but you know you are entering it when the trail curves right, leading away from the riverbank into this pleasant, airy plantation of predominantly deciduous trees.
Path meeting track, the way loops gently back towards the Tay before turning inland, climbing between fields and passing the 55,000 slanting, sun-seeking panels of Scotland's largest solar farm, to reach Gallowflat Farm and the hamlets of Cottown, Chapelhill and Leetown.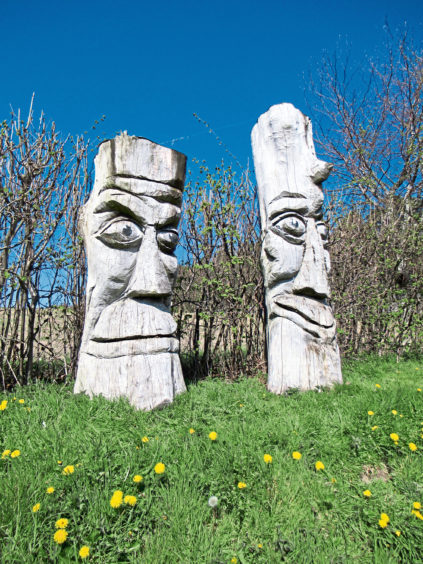 The road offers a straight run back to Errol, passing below the ancient Grey Stone standing stone and then, above Mains of Errol Farm, a pair of more modern carvings keeping watch over the river.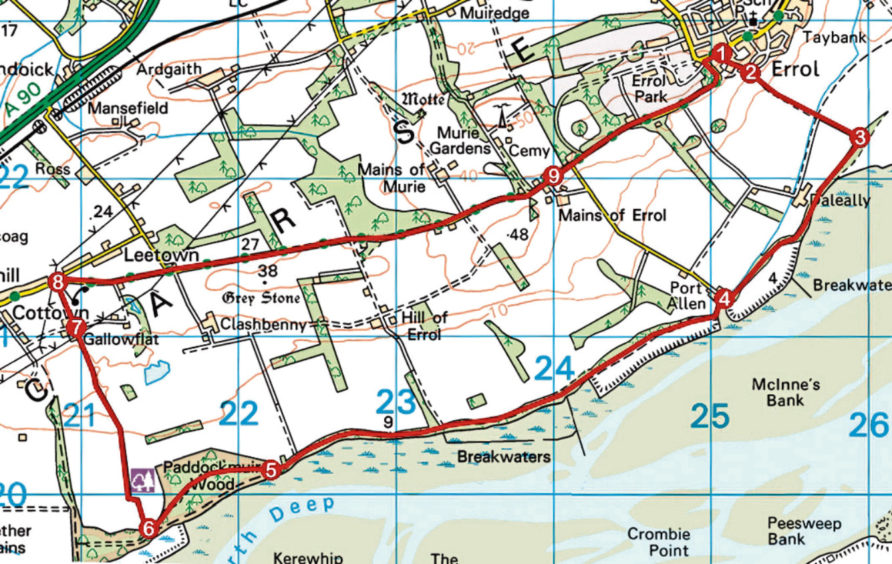 ROUTE
1. Head for red telephone box then bear right (signed Cistern Green), descending Gas Brae.
2. At foot of Gas Brae, continue down path (signed Cistern Green) then track to Tay Lodge.
3. Approaching lodge, go right, along woodland path to Port Allen.
4. Swing right over bridge by harbour then go left at signed junction, following waymarked path to Paddockmuir Wood.
5. Bear right into woodland, following path then track through plantation.
6. Pass round metal gate and turn right (signed Cottown), following track up to Gallowflat Farm.
7. At track crossroads, continue straight ahead, passing to right of farm buildings, to meet road.
8. Turn right and follow road east to Mains of Errol.
9. Join roadside footpath and continue east to Errol, curving left in due course to meet High Street. Turn right to return to return to The Cross.
INFO
Distance: 13km/8¼ miles
Ascent: 125m/410ft
Time: 3-4 hours
Grading: Moderate low-level walk following good tracks and paths through farmland and woodland, returning along minor road. Stout, waterproof footwear recommended as some sections can be muddy underfoot
Start/finish: The Cross, in the centre of Errol (Grid ref: NO 250228). On-street parking
Map: Ordnance Survey 1:50,000 Landranger sheet 53; Ordnance Survey 1:25,000 Explorer sheet 380
Tourist Information: Perth iCentre, 45 High Street, Perth PH1 5TJ (Tel 01738 450600)
Public transport: Stagecoach bus service 16, linking Dundee and Perth, stops in Errol
---
Please adhere to government guidelines in all outdoor activities.