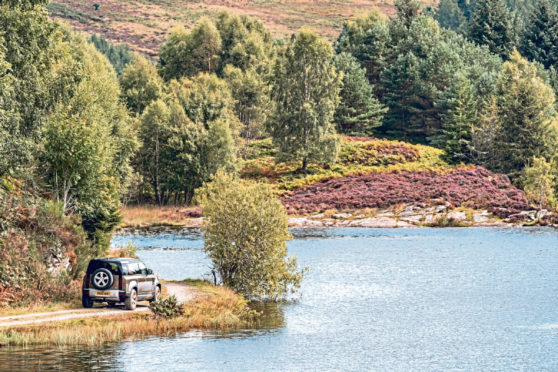 I'm crawling slowly up a field of boulders, many almost as big as small cars.
From where I'm sitting, high up in the Defender's cabin I can't see what the wheels are doing. I'm entirely reliant on guidance delivered by a chap from the Land Rover Experience Centre in Dunkeld.
Fortunately he knows a thing or two about off road driving. I follow his hand signals, making small adjustments to the wheel, and he urges me forward. My vehicle lumbers up and over a rock, the chassis wobbling as a couple of wheels lose contact with the ground. The front end drops a foot or two before landing securely on the next rock. Phew.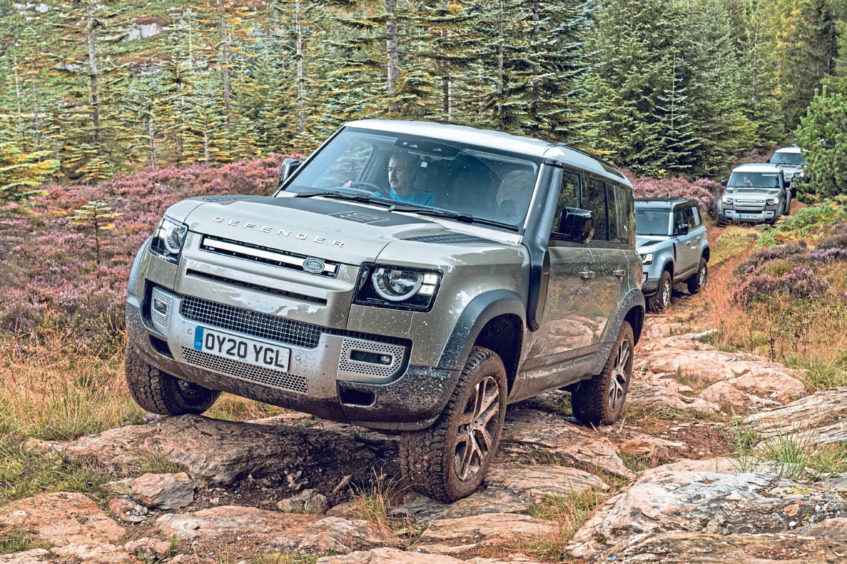 I've come to the Land Rover Experience Centre, a few miles outside Dunkeld. It would be hard to imagine a more majestic setting for an off road centre. Nestled on the banks of Butterstone Loch, with the water lapping just a couple of yards from the timber-clad building, the centre is surrounded by thousands of acres of forest, mountains and lochs – perfect for exploring in one of the world's most capable off road vehicles.
Butterstone Loch is a Site of Special Scientific Interest (SSSI) and it isn't unusual to see osprey fishing for a breakfast of tasty trout.
The centre has a 280 acre off road park with obstacles built in to test the cars' capabilities to the fullest extent. It also has access to tens of thousands of acres of the Atholl Estate's pristine wilderness.
Visitors to the centre can book half or full day's experience and choose from any car in the Land Rover line up – even the £100,000 Range Rover Vogue. From past experience I can testify that it's a strange feeling wading through streams and delving into forests in a car that's as luxurious as a Bentley.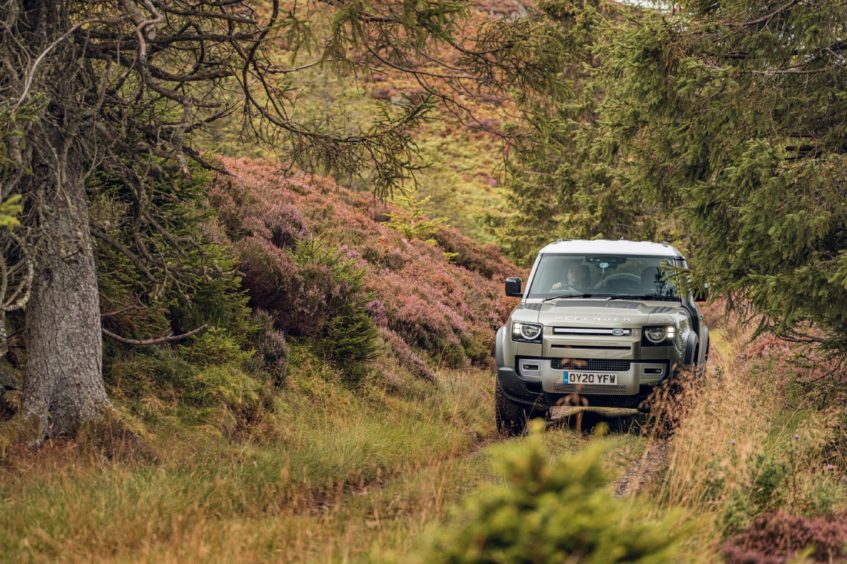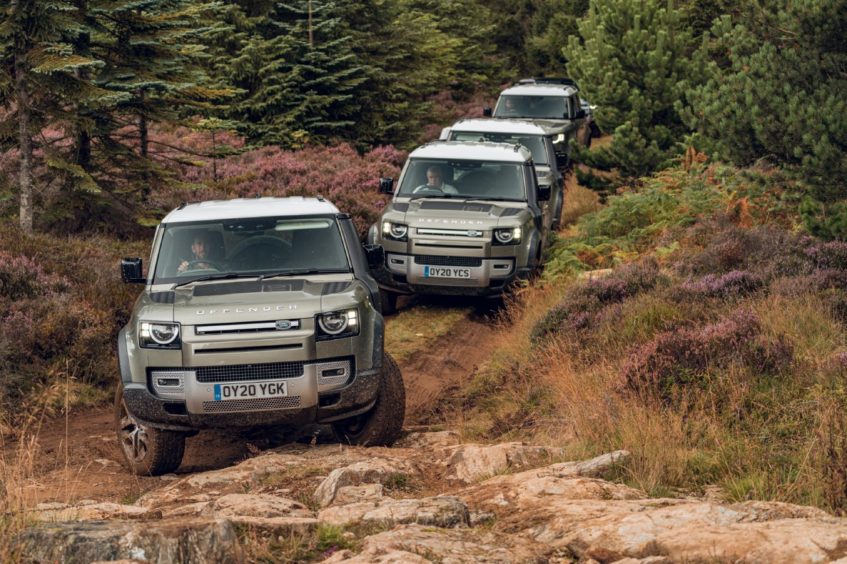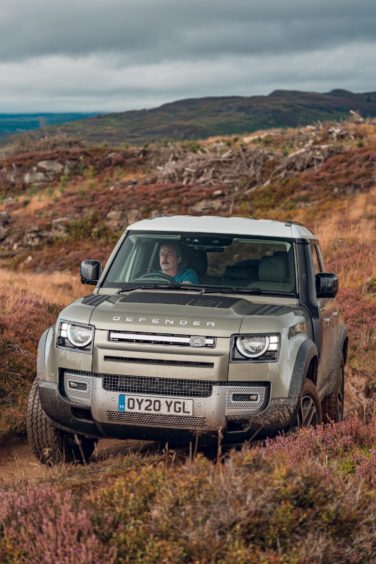 Today I'm here to drive the brand new Defender. Land Rover's most famous car is also its most capable when it comes to off road driving.
First released back in 1948, when it was originally just called the Land Rover, the iconic off roader's styling barely changed during its 68-year lifespan.
Its boxy looks and no-nonsense off road ability made it a favourite of farmers, ghillies, gamekeepers and anyone who regularly ventured off the beaten track.
Some models were so utilitarian you could open the doors and hose them down to get the mud out.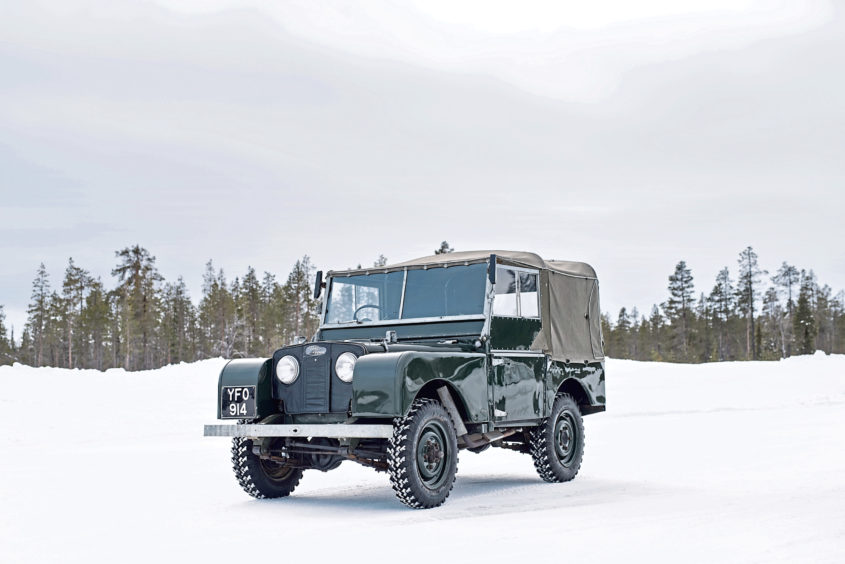 In 2016 the Defender's long production run finally came to an end. The car's barn-door aerodynamics were unable to keep pace with fuel efficiency regulations, and its lack of modern safety technology also helped seal its fate.
Fast forward four years and Land Rover has come up with a successor. The new Defender looks very different but has the same go-anywhere spirit as its predecessor – while easily meeting emissions regulations.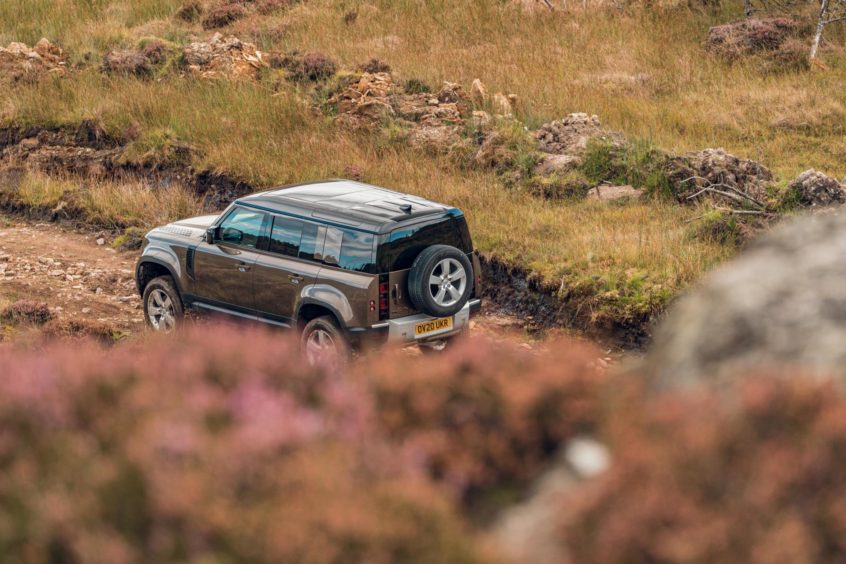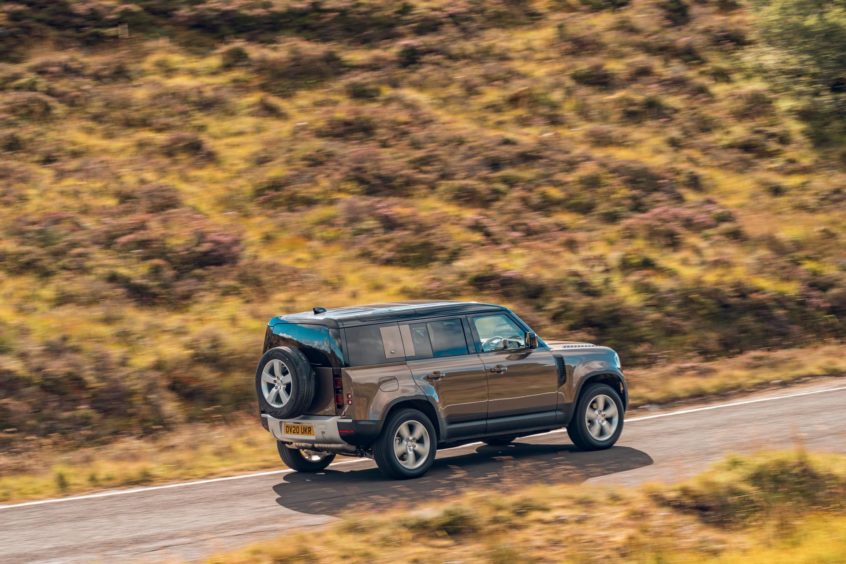 In a world where people buy towering, fuel guzzling SUVs when they have no intention of going further off road than the school car park it was refreshing to use an off roader as nature intended – to get out into nature.
We headed a few miles west of Butterstone Loch and turned onto a single track road.
From here a gate took us to a muddy set of overgrown ruts leading into the woods. Marvellous. We were already into terrain that my own humble hatchback would be badly stuck on, but the Defender hadn't even got into its stride yet.
Many cars are styled to look like they could cover the Gobi Desert but in reality they'd get stuck in a muddy puddle. Land Rover prides itself on making vehicles that are among the most capable on Earth when it comes to getting off road.
All the technical prowess in the world doesn't help if you don't know how to drive off road, however. To that end, everyone who buys a new Land Rover is offered a free half day course at a Land Rover Experience centre. They'll be shown what their car is capable of and how to get the best out of it.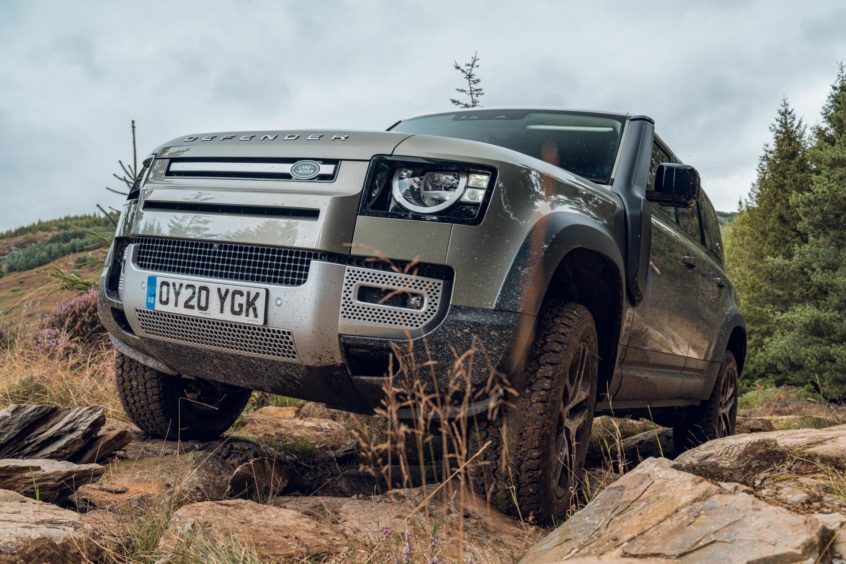 Non-Land Rover owners can also book experiences at the centre and drive on of their fleet of vehicles. The centre offers half and full day lessons. The centre also runs multi-day treks with camping on the hills – though these may be affected by Covid-19.
Speaking of the dreaded virus, it does affect the way the experiences are delivered. Prior to Covid-19 an instructor would be in the car with you, giving out advice and making sure you don't drive into a tree.
That's no longer allowed and instead staff are placed along the route, with guidance given through an open window from a safe distance.
I've been fortunate enough to have had seven or eight off road driving sessions here over my career as this newspaper's motoring writer, but with 150 miles of tracks, trails and paths in the sprawling Atholl Estate there's always more to explore.
The key to off road driving, the instructors explain to us, is to take it slowly. Controlling your speed is essential to keeping the vehicle under control.
We crawl in convoy through the forest before turning north and ascending the hillside, the track taking us through swathes of glorious purple heather. I keep a careful eye on the hillside looking for stags – it's rutting season but sadly this time I'm not treated to the sight of the majestic beasts carrying out their annual battles for breeding rights.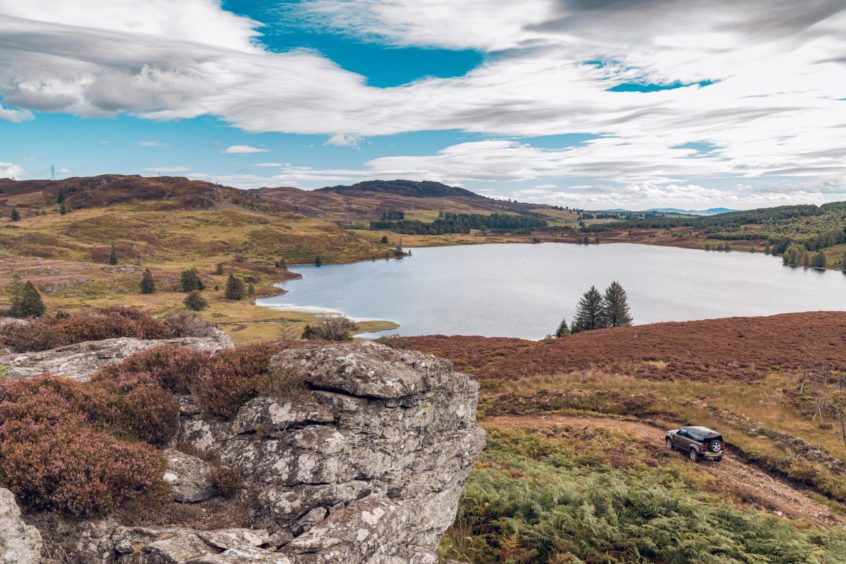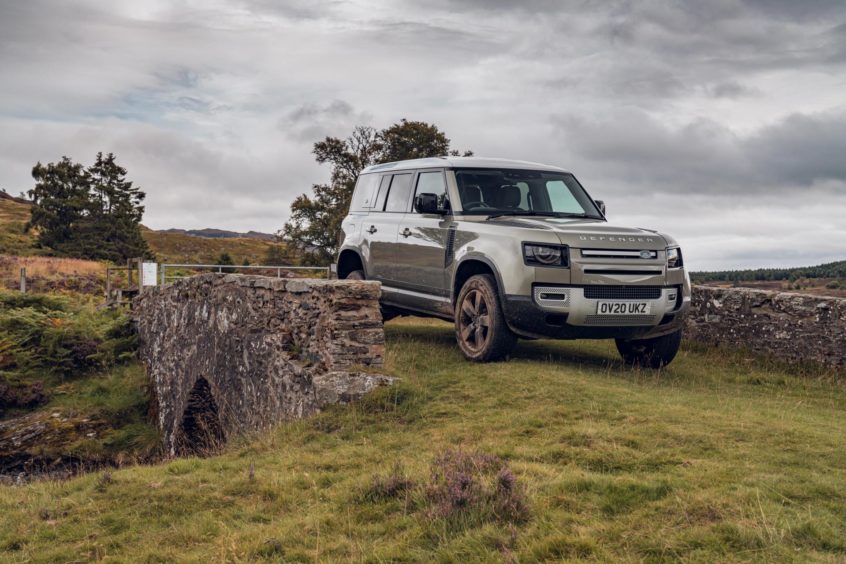 Our midday stop takes place in one of the most beautiful spots I've ever had lunch in.
After rounding the shoulder of a hillside, the glittering water of Loch Ordie swings into view. An old arched bridge leaps over the Dowally Burn at one end, while a stone walled, slate roofed bothy nestles in some trees on the far shore. I make a mental note to find out how to go about camping in the bothy as I dangle my legs off the side of the bridge enjoying my sandwich and coffee.
Our appetites sated, it's time to press on. If anything the scenery becomes even more special as we climb higher and see Perthshire's mountains arrayed on the horizon.
It takes a good half hour for all our Defenders to clamber up the boulder field. Although most of the credit for me getting up without breaking the car goes to the talented instructor giving me careful direction I still feel a strong sense of accomplishment when I reach the top and get back on to terra-less-firma.
What goes up must come down and our off road instructors have found some of the steepest downs for us to tackle.
We switch our gearboxes into low range and press the 'hill descent control' button. This lets the car's clever computers control our downward progress through engine braking. If I tried stepping on the brake pedal it would make the wheels lock, the car would slide and I would actually accelerate rather than slow down.
All I have to do is point the wheels downhill, take my feet off all the pedals, and trust the car to do its job. It takes a little leap of faith but before long I'm down safely and onto the next of our challenges.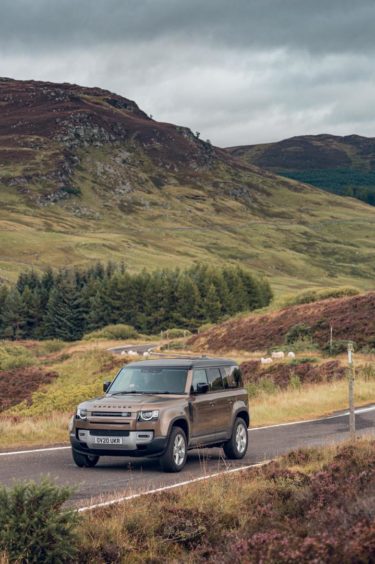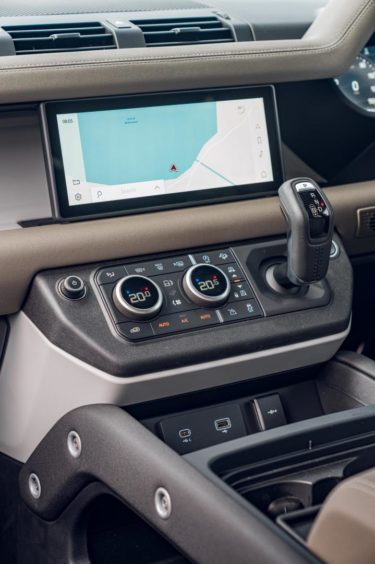 After pushing through more mud, we get onto some good gravel paths and pick up the pace a little. A pair of hikers stop to watch the convoy of muck-splattered Landies as they cruise past.
Our time on the hills is nearly done and we're heading back towards tarmac. We pass by two more lochs on the drive back to the road and I make yet another mental note – this one to come back with my dog and either my hiking boots or, better still, my mountain bike to explore the area a bit more thoroughly. It really does look like you can strike out in any direction and end up somewhere wonderful.
After a few more miles of driving we're back at the shores of Butterstone Loch, sipping on a coffee, scoffing a biscuit and reflecting on the day.
It really is quite amazing what a good off roader is able to do. The Defender is the most capable off road car in Land Rover's impressive line up.
It has almost a foot of ground clearance, letting it drive down all but the most deeply rutted terrain, and it can wade through three feet of water, meaning streams and even shallower rivers are no obstacle to its progress.
I would love to do a multi-day tour here, and a Land Rover expedition has been added to my bucket list.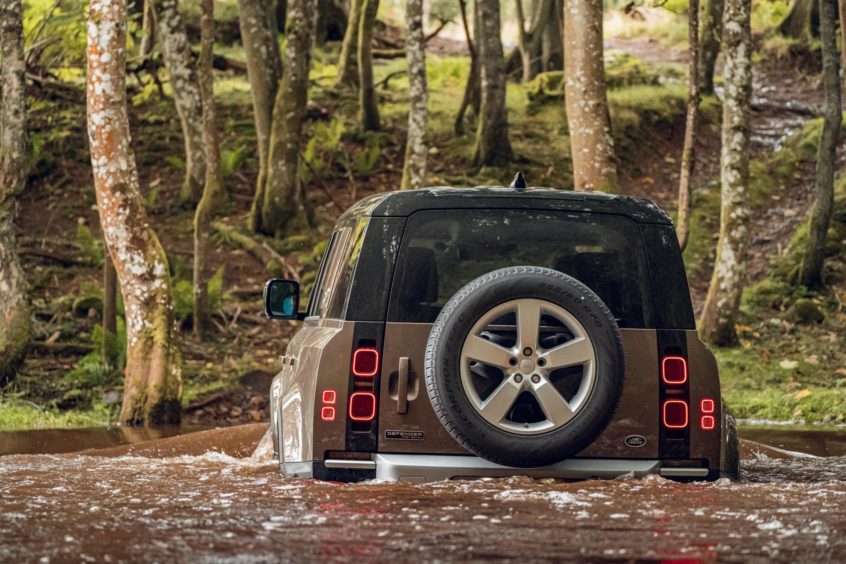 Whatever the future holds I've had a tremendous day in the hills and one thing is for certain – I'll be back.
One of the few silver linings of the coronavirus pandemic has been making people realise just how much there still is to explore on their own doorsteps. You don't have to go abroad to find yourself somewhere amazing.
Whether it's on four wheels, two wheels, or my two feet, there is a lot more to explore here.