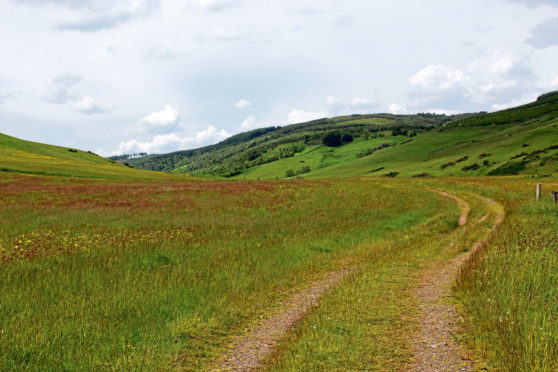 South of the Perthshire village of Dunning, the single-track country road to Path of Condie weaves up and over the Ochil Hills, a fertile landscape of rolling farmland and fields dotted with pockets of forestry.
And it was in one of these plantations that I began my hike around Clow Hill and neighbouring Big Knowe, dipping through the valley of the Water of May below to Path of Condie on a varied route encompassing woodland, wildflower meadows and long-lost farmsteads.
Pulling off the road at a track-end where there is space for half a dozen cars, I entered Condie Hill Estate and climbed into the forest, enjoying views east to the Lomond Hills in Fife as the track rose to a well-signed intersection.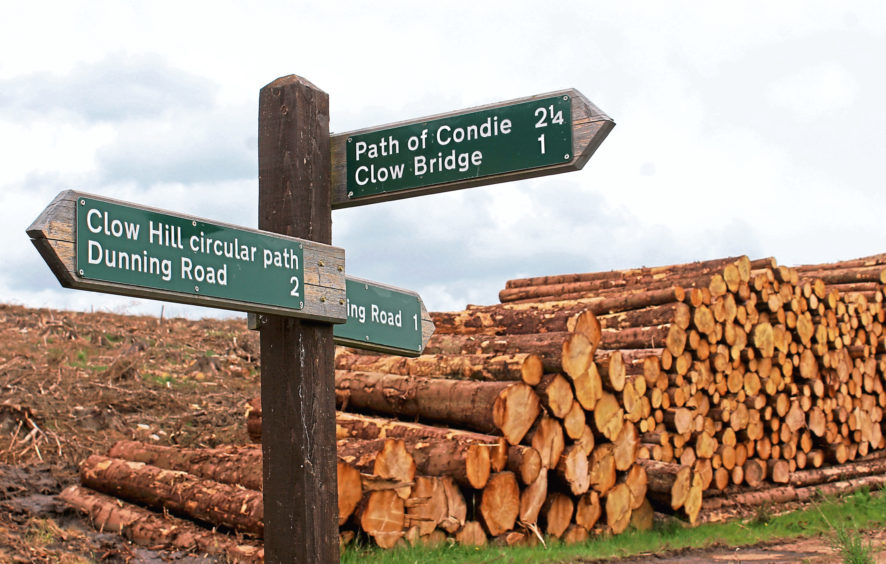 The loop around Clow Hill and Big Knowe – which offers a shorter outing in its own right – branches right here roaming west through the trees, passing above a couple of small pools revealed thanks to extensive recent felling in these parts.
Indeed, when I visited, much of the tree-cover on Clow Hill was being cut down so while this section of the route is primarily a forest trail, there is a pleasant open outlook and you won't feel the claustrophobia of the conifers.
Undulating gently along the northern edge of the plantation, the forest road swings left around Big Knowe, climbing between the trees and bristling broom bushes, before turning east through a broad valley to reach a junction where the way to Path of Condie breaks right.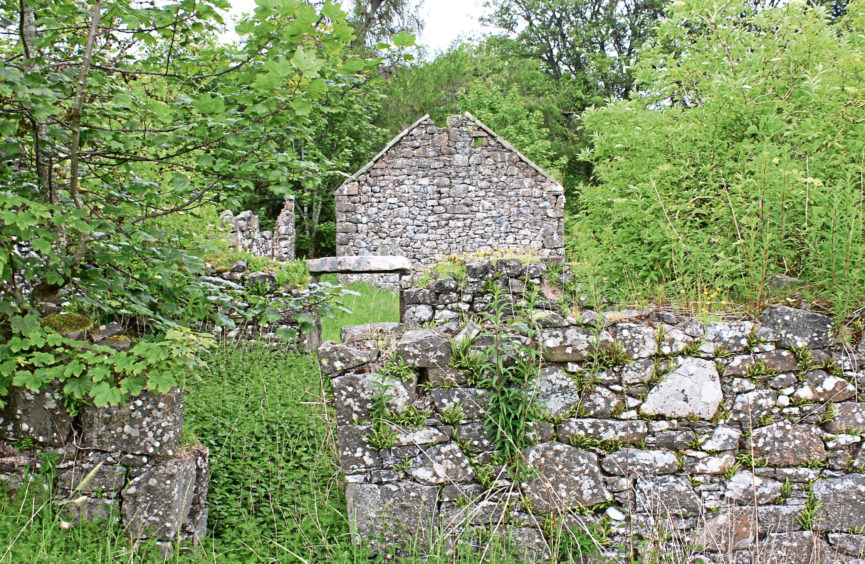 The trail dips to the southern edge of the plantation, curving right to cross a stream and, beyond a gate, waymarker arrows lead past the tumbledown ruins of a cottage at Easter Clow.
The path here is grassy and can be quite overgrown during the summer months but it is just a short stretch to the neighbouring farmstead of Wester Clow where the way broadens out once again.
Occupying an elevated spot, the crumbling stone walls of deserted Wester Clow stand testament to a once prosperous farming settlement. The well-preserved remains include a two-storey farmhouse and courtyard, a circular horse-engine house, outbuildings and a pair of workers' cottages.
Undergrowth – particularly the prevalence of stinging nettles – deterred me from exploring the ghostly shells too closely and, after pondering the fate of the farm and its people from the periphery, I descended into the valley below.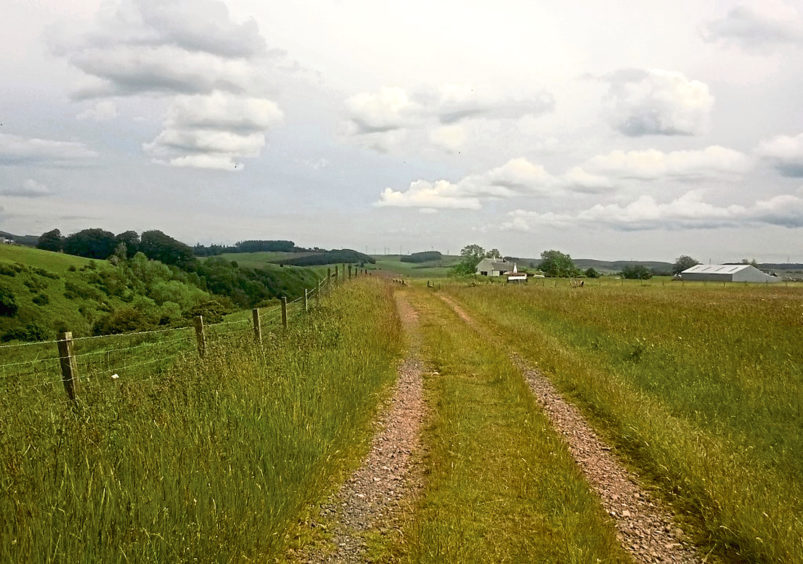 Peppered with wildflowers, the once busy but now less well travelled track that served Wester Clow loops down to Water of May, spanning the flow by a rudimentary concrete bridge beyond a pair of caravans.
The onward route down the valley runs parallel with the stream but sits up from its wooded enclaves, entering farmland at a gate and stile, beyond which I crossed a field of cattle and then grassy meadows carpeted in yellow buttercups and other colourful plants.
Entering Path of Condie by the old schoolhouse, where the poet Robert Burns is said to have carved his name into one of the windows as he travelled through the Ochil Hill en route to Kinross following a visit to Invermay House in 1787, I joined the road and sauntered down past an old graveyard, crossing Water of May once again at Pathstruie ahead of the short, albeit initially rather steep, road walk back to the start.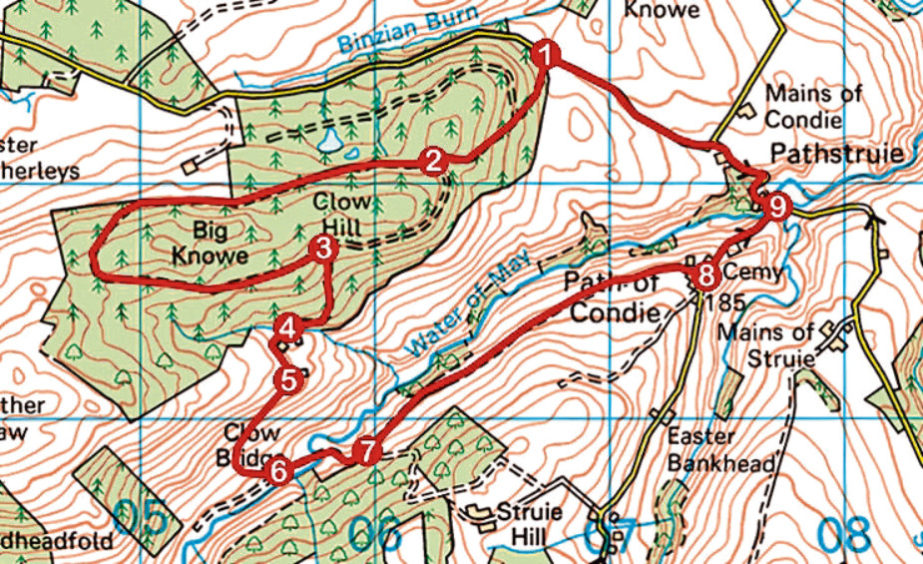 ROUTE
1. Enter plantation at gate and ascend track (signed Path of Condie). Ignore track branching right and continue up to next junction.
2. Turn right (signed Clow Hill Circular Path) and follow track anti-clockwise round Clow Hill and Big Knowe.
3. Turn right (signed Path of Condie) and descend grassy track, curving right to cross stream.
4. Continue ahead on grassy waymarked path, passing through high metal gate and around Easter Clow to Wester Clow.
5. Descend grassy track to meet track in base of valley.
6. Turn left to cross concrete bridge and ascend track to junction.
7. Turn left and follow track east down valley to Path of Condie.
8. Turn left and descend road to junction.
9. Turn left and follow road back to start, following signs for Dunning.
INFORMATION
Distance: 8.4km/5¼ miles
Ascent: 280m/925ft
Time: 3 hours
Grading: Moderately easy route following good forest and valley tracks, returning by minor road, steep in parts. Keep dogs under close control in valley where livestock graze
Start/finish: Track-end 5.5km south-east of Dunning on minor road to Path of Condie (Grid ref: NO 067125). Limited parking. Leave enough space for HGVs to access forest
Map: Ordnance Survey 1:50,000 Landranger sheet 58; Ordnance Survey 1:25,000 Explorer sheet 369
Tourist Information: Perth iCentre, 45 High Street, Perth PH1 5TJ (Tel 01738 450600)
Public transport: None