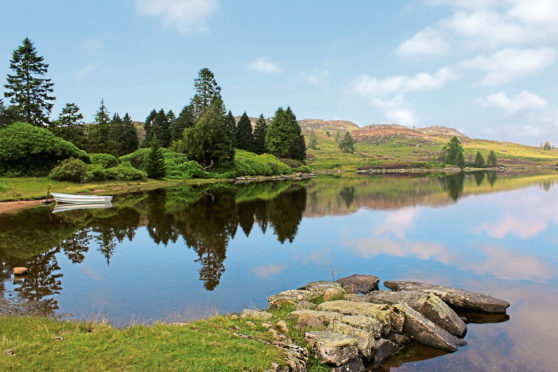 Of the little lochs that lurk in the lands of Atholl Estates to the north of Dunkeld, Lochan Oisinneach Mor is one of the most remote and, as such, tends to attract fewer visitors than popular pools, like Loch Ordie.
It is a lengthy hike from the Perthshire village to this hidden stretch of water and, thanks to good tracks, most folk make the journey on mountain bike. Seeking a more direct approach on foot, however, I pulled off the A9 at Ballinluig and set out from there.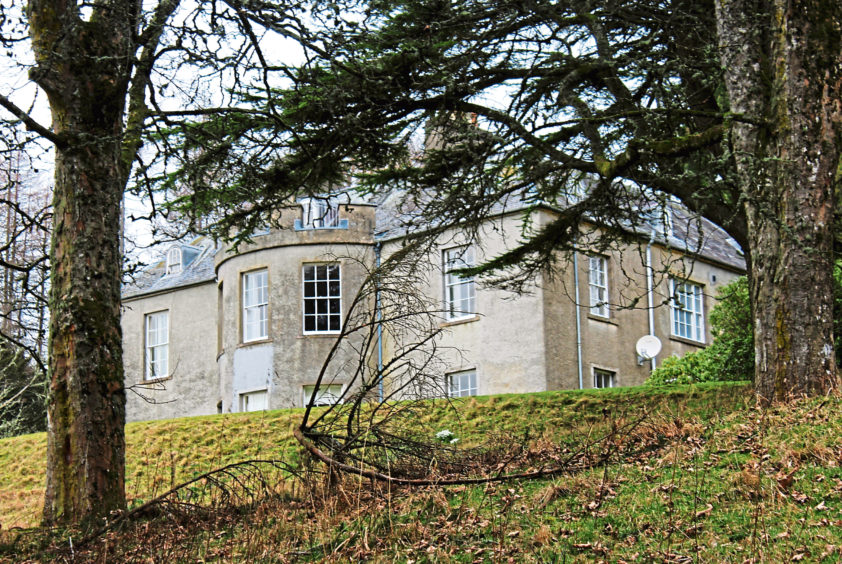 A signed path leaves the village's main street by the Red Brolly Inn, passing through the adjacent car park (for use by inn customers only) before rising to meet the road above Ballinluig.
Climbing steadily from here, the rural byway weaves through farmland and bands of forestry to the hamlet of Tulliemet where I branched off the road, through the gates of Tulliemet House, and followed the driveway on towards the Georgian mansion.
Flanked by woodland, two-storey Tulliemet House was built in 1800 and is today a holiday let. In 1870, as a young child, the author Beatrix Potter stayed her with her family, the first of many summer trips to Perthshire that inspired her famous picture books, among them The Tale of Peter Rabbit and The Tale of Jeremy Fisher.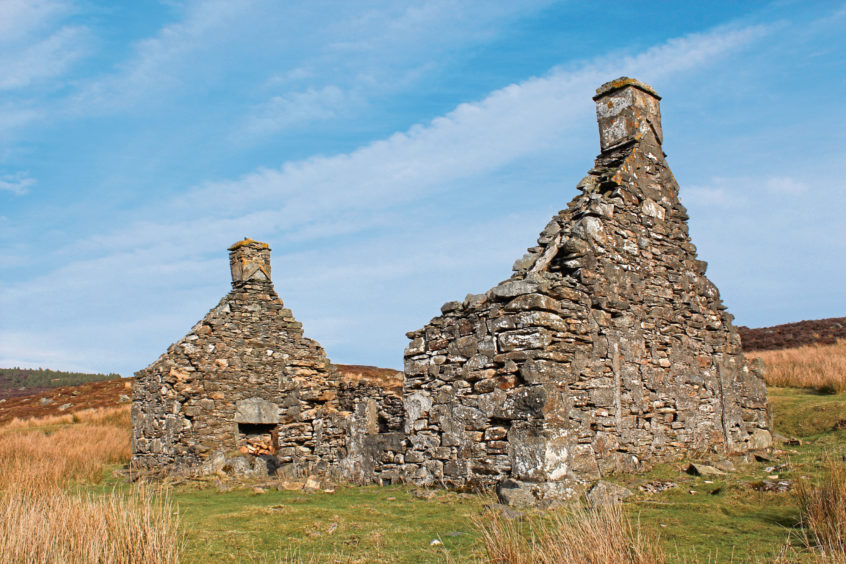 Skirting below the house, the track passes through the neighbouring steading of Blaranrash before striking out across open moorland. This is sheep country and the gently undulating track leads to sheering pens and a metal cabin, shelter for the shepherds.
Here, guided by a waymarker post, I branched right, crossed a bridge over the stream and climbed past an older stone enclosure to the top of the pasture where, beyond a metal gate, the trail cuts through heather.
Rounding the northern flank of Meall Lochain Oisinneach, the route dips to finally reveal the rippling waters of Lochan Oisinneach Mor, a wonderfully tranquil sight nestling in the folds of the landscape.
A track leads south, running above the rocky western shoreline towards the outflow, where there are some very pleasant sheltered spots to sit amongst scattered trees and enjoy a picnic by the water.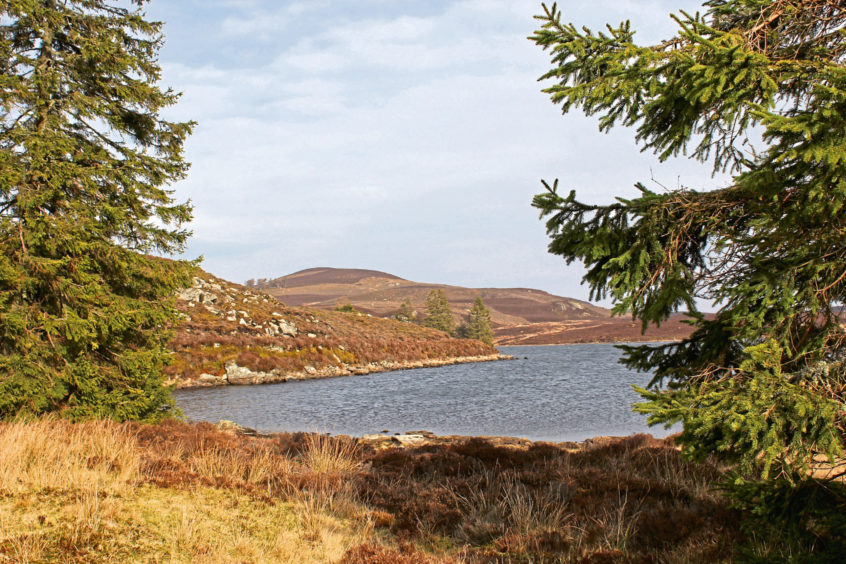 Rejuvenated by my sandwiches and squash and with the afternoon stretching ahead of me, I decided to extend my outing, wandering south to Loch Ordie, pausing briefly for a rest by the ruins of a lonely old cottage, before looping down to my second pool of the day.
After not spotting a soul at Lochan Oisinneach Mor, Loch Ordie was positively brimming with walkers and cyclists, all, like myself, out enjoying the scenery and warm summer sunshine.
Various well-walked trails converge on Loch Ordie and my onward route took me west along one of them, track, path and then minor road descending to Guay and, below the hamlet, the A9.
A cycle path runs parallel to the busy highway and, while it borders the carriageway closely in parts, elsewhere it strays from the thundering traffic, stepping back in time along earlier incarnations of the great road north.
From Guay Farm, it briefly adopts the line of General George Wade's Dunkeld to Inverness military road as far as Kindallachan where it picks up an abandoned stretch of the old A9 to Haugh of Kilmorich, the final approach to Ballinluig along woodland paths and surfaced track.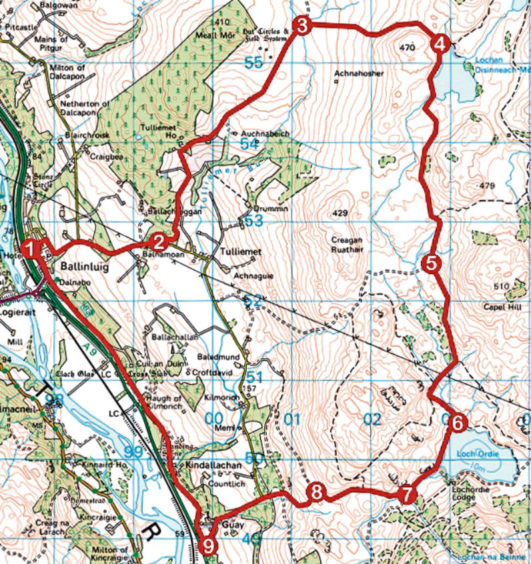 ROUTE
1. Head through car park on left side of inn (signed Tulliemet Road), continue up path to minor road, turn right and walk 1.5km up road to Tulliemet House gate.
2. Go through gateway (signed Loch Oisinneach), follow track north to Tulliemet House then continue through steading at Blaranrash, progressing over moorland beyond to sheep pens.
3. Go right at marker post, passing metal cabin, cross stream and ascend past stone enclosure to top of pasture. Go through gate and continue to Lochan Oisinneach Mor.
4. Turn right (signed Dunkeld) and follow track south to ruined cottage.
5. Continue south, forking left at next junction. Progress through gate, turn right at next junction and descend to Loch Ordie.
6. Turn right and follow track 1.1km south to junction, just ahead of stone bridge.
7. Turn right and follow track 1.25km west down to junction.
8. Turn left, descending path to meet road. Continue down road through Guay to A9.
9. Turn right and follow cycle route 83 north to Ballinluig.
INFORMATION
Distance: 21km/13 miles
Ascent: 550m/1800ft
Time: 5-6 hours
Grading: A challenging route by virtue of its length, the walk follows good tracks and paths through remote countryside, returning by a predominantly off-road cycle track. Keep dogs under close control due to livestock and ground nesting birds
Start/finish: Red Brolly Inn, St Cedd's Road, Ballinluig (Grid ref: NN 976526). On-street parking further up St Cedd's Road, beyond Tulliemet Road End bus stop and recycling bins
Map: Ordnance Survey 1:50,000 Landranger sheet 52; Ordnance Survey 1:25,000 Explorer sheets 379, OL49 and OL52
Tourist Information: Pitlochry iCentre, 22 Atholl Road, Pitlochry PH16 5BX (Tel 01796 472215)
Public transport: Stagecoach bus service 23 from Perth to Ballinluig