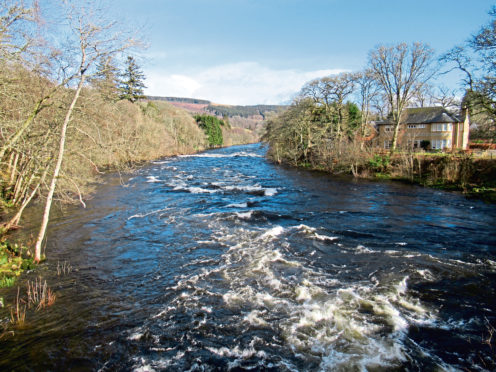 Embarking upon a riverside hike just days after one of the greatest storms of the winter was perhaps a little foolhardy but, with the weather still unpredictable and the high ground exposed to these unsettled elements, it was, with cabin fever setting in, a chance worth taking.
Eager to get outdoors, the linear trail from the Perthshire town of Aberfeldy east to Grandtully appealed and, with the trackbed of a former railway line promising a firm footing for much of the way, I packed my waterproofs and set off.
Tramping Dunkeld Street and then Breadalbane Terrace out of town, the bloated River Tay, pumped up by Storm Dennis, cast a bit of a cloud on proceedings and, uncertain of what may lie ahead, I left the road and joined the path to Grandtully beyond Aberfeldy Distillery, the preserved 1920s Andrew Barclay steam loco outside a relic of the line I would soon take.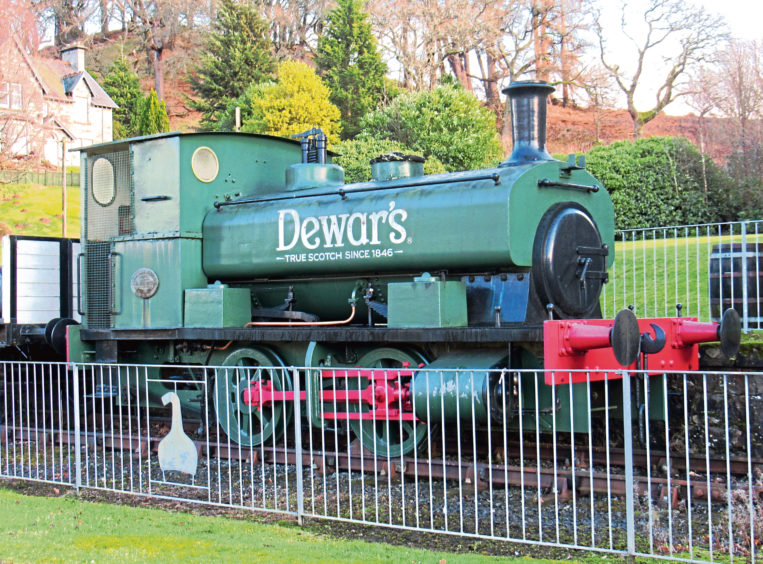 Sure enough, as the trail descended towards the river, the water was licking at my boots, but it was not obstacle enough to stop me in my tracks and, skirting the edge of the waterlogged field beyond, a low levee ensured good progress, the river, a broad torrent by my side, held at bay.
Opposite the cottage at Boat of Cluny, from where a ferry once crossed the Tay, the path turns inland, rising through a gate and woodland to meet the former railway line.
Opened in 1865 by the Highland Railway Company, the eight-mile long branch ran west from a junction with the mainline at Ballinluig and it remained in operation for a century, carrying freight and passengers until closure in 1965.
The trackbed now leads walkers and cyclists from here all the way to Grandtully. However, beyond a set of private steps that climb to the former Grandtully Church, which sits unseen at the top of the slope on the right, I stayed with the line for just a little longer.
The elevated route crosses a couple of streams then, just before it enters a cutting, a wee path branches left, scaling the shoulder of the embankment to a viewpoint overlooking the Tay, a fine spot to pause for refreshment.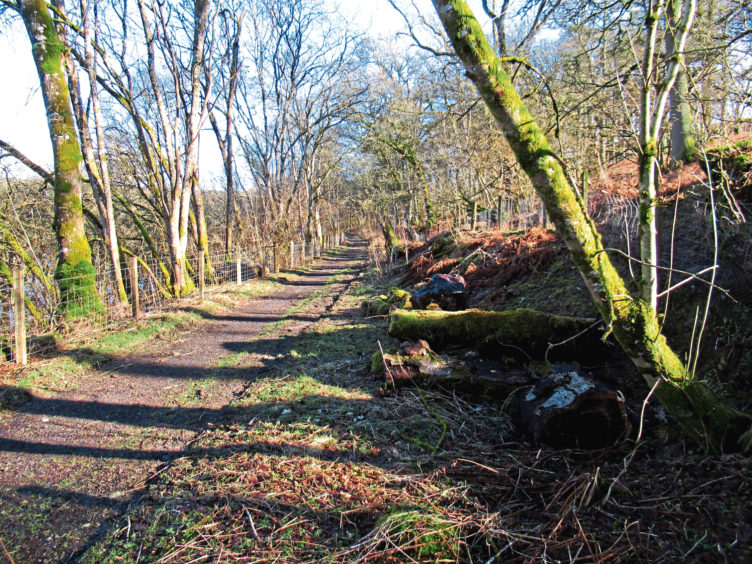 From here, a path runs along the top of a high bank that descends steeply towards the river, weaving through mature beech trees, dipping to cross a curving track before leading on to a clearing where there is a zip line.
Staying with the crest, the path dips again, passing above a small concrete hut, before roaming on through the trees, the river now directly below, a steeper descent further on taking the path over the mouth of an enchanting little burn.
The way broadens out, a track leading to a draughty old wooden anglers' hut from where the riverside trail, bordering fenced pasture, continues downstream, curving up to re-join the railway line at Little Ballinluig.
Next stop is Grandtully, the site of the former station now a car park and campsite lying beyond a pair of stone bridges under which the trackbed trail passes.
The village boasts an inn, hotel, chocolatier and shop and, after a warming bowl of soup, I opted to trek back to Aberfeldy along the railway line but there is a good bus service for the return journey for those who have hit the buffers.
ROUTE
1. Walk north-east along A827, passing Aberfeldy Distillery and cemetery.
2. Bear left off road and continue ahead on footpath (signed Grandtully), dipping along riverside to signed junction.
3. Turn left (signed Grandtully) along riverside path, passing through metal gate and skirting round edge of field. Pass through second gate, cross bridge beyond and, bearing left, continue along riverside path.
4. Pass below steading and ascend to gate. Go through, skirt woodland and ascend to join then follow railway trackbed. Pass private steps on right, cross stream and continue along trackbed to cross second stream.
5. Branch left up steep path and continue along woodland path following crest of slope.
6. Descend steeply to cross mouth of stream then continue along riverside path, passing wooden hut, to Little Ballinluig.
7. Pass through wooden gate and go left along trackbed path.
8. Bear left across driveway and pass under two stone bridges to reach car park.
9. Go left down Lageonan Road into Grandtully.
INFORMATION
Distance: 7.6km/4¾ miles
Ascent: 100m/330ft
Time: 2-3 hours
Grading: Easy, low-level linear route following good tracks and paths. Stout footwear recommended as some parts can be muddy underfoot. Keep dogs on the lead where signs request
Start: The Square, Aberfeldy (Grid ref: NN 856490). Free car parks in Chapel Street and Moness Terrace
Finish: Grandtully
Map: Ordnance Survey 1:50,000 Landranger sheet 52; Ordnance Survey 1:25,000 Explorer sheet OL49
Tourist Information: Pitlochry iCentre, 22 Atholl Road, Pitlochry PH16 5BX (Tel 01796 472215)
Public transport: Stagecoach bus services 23 (Mon-Sat) and 83 (Sun) link Aberfeldy and Grandtully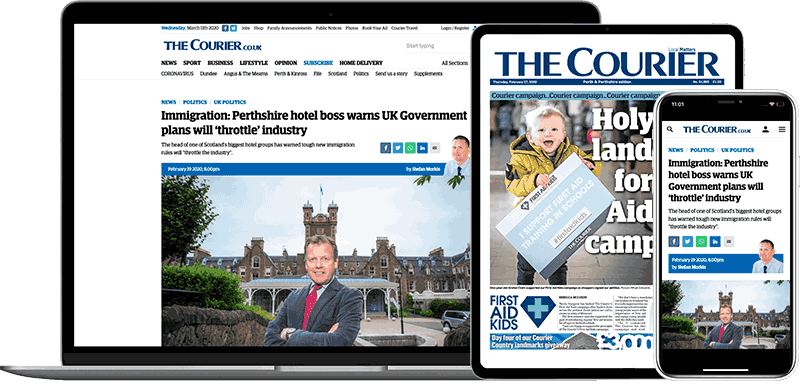 Help support quality local journalism … become a digital subscriber to The Courier
For as little as £5.99 a month you can access all of our content, including Premium articles.
Subscribe