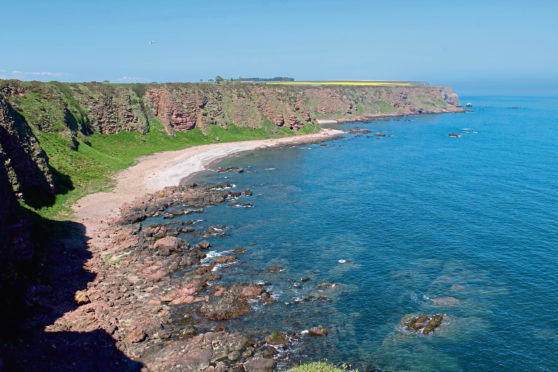 Rumness, Auchmithie, Angus
Angus has some beautiful beaches, the sands of Montrose Bay, Lunan Bay, Arbroath's West Links and East Haven, near Carnoustie, among popular hot spots on a sunny summer day.
However, there are plenty of less well frequented strips of shoreline in the county, more rugged but equally charming off the beaten track coves and bays that can only be reached on foot.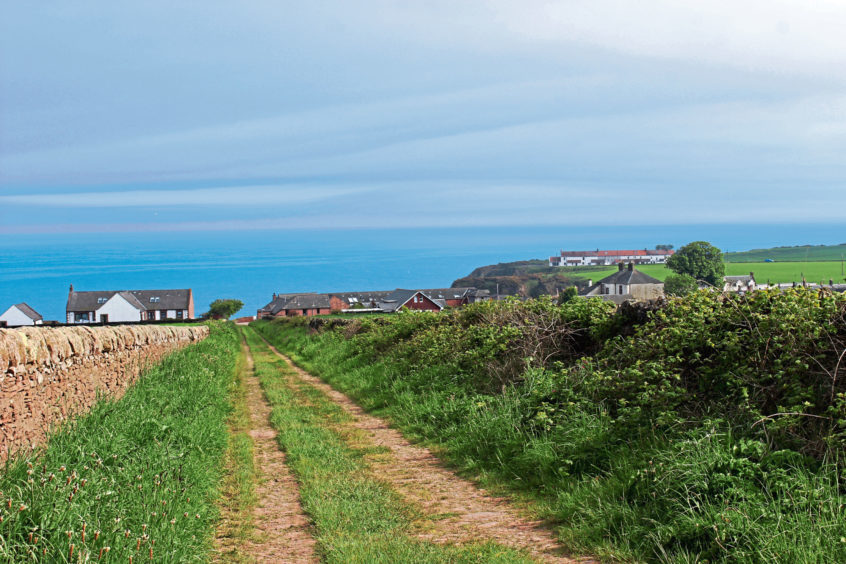 One of my favourite strips of quiet coast lies to the north of Auchmithie, a picturesque former fishing village perched atop weathered red sandstone cliffs overshadowing the ruins of its once thriving harbour.
When the water is low, a wander up the coast, along the shoreline, from the adjacent shingle beach reveals sea caves, a spectacular natural arch and vertiginous cliffs and high grassy banks teeming with nesting seabirds, including puffins.
But, with some awkward rocky bluffs to negotiate and the ever-present threat of the incoming tide, the Angus Coastal Path, roaming through farmland above the cliffs and crags, offers a safer and no less dramatic alternative route to Rumness where I planned to drop down on to the beach.
The original houses of Auchmithie cluster along a single street and this led me from the village hall past the cottages of historic Fountain Square with its old water tank, and then the former Auchmithie Hotel towards the top of the cliffs that flank the harbour.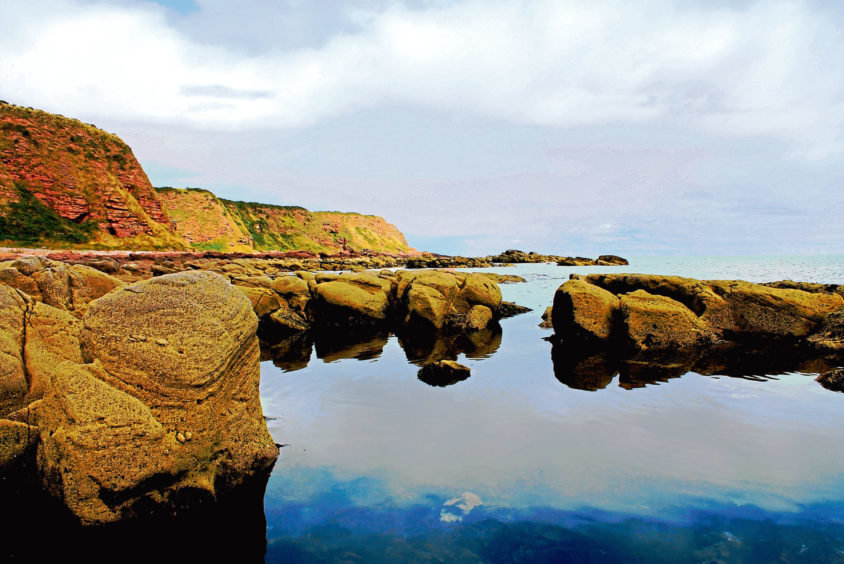 In the 19th century, Auchmithie was one of the county's busiest fishing villages, a fleet of almost 40 boats supporting a population of 400, and it was here that the famous Arbroath Smokie was born.
However, improvements to harbour facilities in Arbroath tempted many fisher families down the coast and the indigenous population, who could trace their roots back to Viking settlers, dwindled. Today the old quay is now a crumbling monument to an industry lost.
Turning inland, I climbed between houses then fields before following tracks of gravel and grass across gently sloping arable land to Rumness.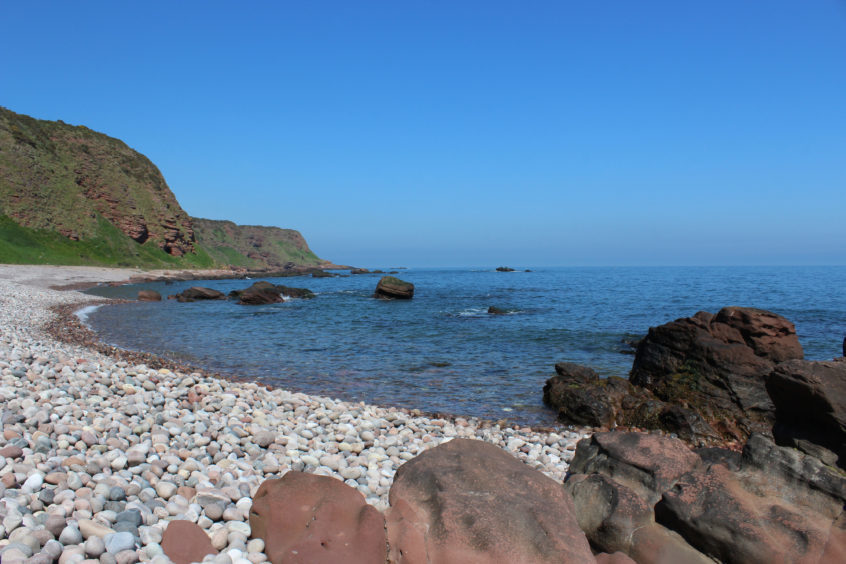 Dipping towards the wide expanse of blue ocean, the track ends by the flattened remnants of an old coastguard lookout post and, across a break in the adjacent wall, there is an elevated and exposed perch to sit amid tufts of heather and gorse, savour spectacular sea views and watch prawn and lobster boats checking their creels.
To the left a gully drops to the beach. There is a slender path and, when I last visited, a rope had been installed to aid the descent which, taken slowly, is relatively straightforward. Step carefully to avoid loose grit underfoot and, in the summer, nettles.
Emerging unscathed at the foot of the grassy shoot, I turned north, clambering over rocks and passing along a stony shoreline dotted with channels and pools. It the weather is hot, there are plenty of sheltered places to paddle or swim.
The beach curves below a small cave set into the cliff before rounding the next headland to Craig of Gives, a mighty buttress of sandstone with an arch and more wee caves dotted around its base.
An arc of clacking shingle extends from here to slabs of sandstone at Sled where, clambering on to the top of this outcrop, I ended my exploration of this secret stretch of the Angus coast in the best way possible – basking in the sunshine.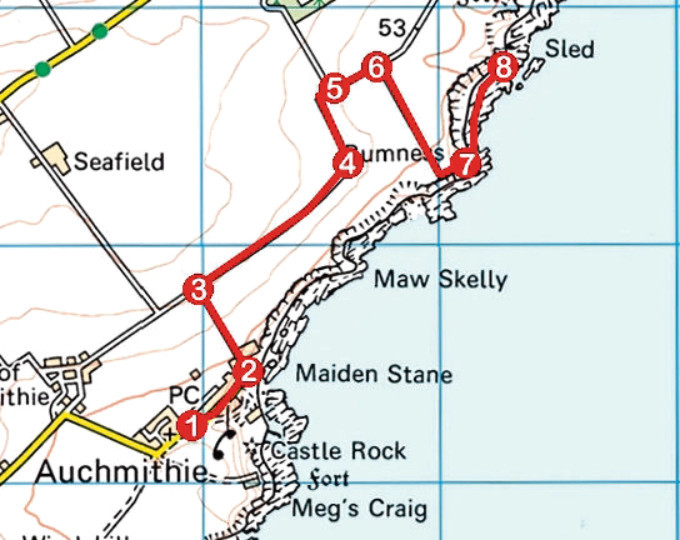 ROUTE
1. Exit car park by main entrance or pend emerging next to But 'n' Ben restaurant, turn left and follow main road through Auchmithie.
2. Where tarmac ends, continue ahead on gravel driveway (signed Ethie) then swing left, ascending track between houses then fields to T-junction.
3. Turn right (signed Ethie) and follow track 800m north-east to ruin at Rumkemno.
4. Turn left and follow grassy track 400m north then north-east between fields to junction.
5. Continue straight ahead (signed Ethie) on grassy track for 200m.
6. Entering field, turn right and descend field edge track to ruin at Rumness.
7. Cross wall and descend narrow path through gully to beach. Bear left over rocky foreshore and along pebble beach to outcrop at Sled.
8. Retrace steps to Auchmithie.
INFORMATION
Distance: 7.2km/4½ miles
Ascent: 160m/530ft
Time: 2-3 hours
Grading: Easy there-and-back coastal walk following good tracks through farmland with a steep gully descent to a shoreline of rock and pebble beaches. Stout footwear recommended
Start/finish: Public car park adjacent to village hall in the centre of Auchmithie (Grid ref: NO 679442)
Map: Ordnance Survey 1:50,000 Landranger sheet 54; Ordnance Survey 1:25,000 Explorer sheet 382
Tourist Information: Dundee iCentre, 16 City Square, Dundee DD1 3BG (Tel 01382 527527)
Public transport: Wisharts bus services 35 and 140 link Arbroath and Auchmithie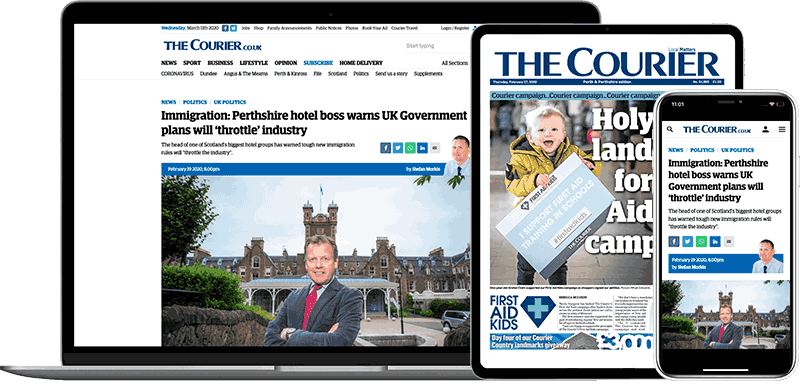 Help support quality local journalism … become a digital subscriber to The Courier
For as little as £5.99 a month you can access all of our content, including Premium articles.
Subscribe