The third London Bridge terrorist has been named as Youssef Zaghba, an Italian national of Moroccan descent, as security services prepared to launch a review into the atrocity.
Zaghba, 22, was reported to have been stopped at Bologna's airport trying to fly to Turkey in March 2016, allegedly on his way to Syria.
Italian authorities put him on a watch list and flagged his presence to Moroccan and British counterparts, according to the Corriere della Sera newspaper.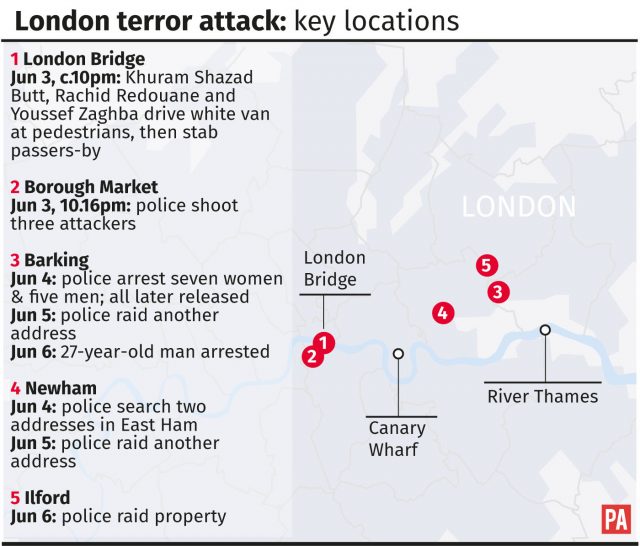 However, Scotland Yard said Zaghba, who was living in east London and reportedly worked in a restaurant in the capital, was not a police or MI5 "subject of interest".
His identity was confirmed as counter-terror agencies faced intense scrutiny after it emerged another member of the terror gang, Khuram Shazad Butt, 27, had been known to authorities.
Butt was investigated by officers in 2015 but they found no evidence he was planning an attack and he was "prioritised in the lower echelons of our investigative work", police said.
The disclosure means that perpetrators in all three of the terrorist outrages to hit Britain this year had at some point appeared on the radar of security agencies.
During a visit to Bangor, North Wales, Theresa May said a review had been launched after the Manchester bombing last month and she expected the same process to be launched following Saturday's rampage.
The Prime Minister told Sky News: "MI5 and the police have already said they would be reviewing how they dealt with Manchester and I would expect them to do exactly the same in relation to London Bridge."
Butt, a father-of-two who appeared on Channel 4 documentary The Jihadis Next Door, was also reported to the anti-terror hotline in 2015 for showing signs of "extremism or radicalisation".
Former anti-terror laws watchdog Lord Carlile told the Press Association: "I feel a sense of disappointment this morning that the perpetrator Butt slipped off the radar.
"In my view, we need to review what happened in his case, and learn the lessons so that the methodology of the response to known suspicions is improved."
Foreign Secretary Boris Johnson acknowledged authorities will face questions.
He told Sky News: "People are going to look at the front pages today and they are going to say 'How on earth could we have let this guy or possibly more through the net? What happened? How can he possibly be on a Channel 4 programme and then committing atrocities like this?' And that is a question that will need to be answered by MI5, by the police, as the investigation goes on.
"I can't answer that question now."
In other developments:
:: Detectives arrested a 27-year-old man under the Terrorism Act at an address in Barking, east London, shortly after 8am on Tuesday.
:: The arrest took the total number held as part of the investigation to 13, with 12 released without charge.
:: A search warrant is being executed at an address in Barking, while earlier on Tuesday officers entered and searched an address in Ilford. Nobody has been detained at that location.
:: Intensive inquiries are being mounted to establish how the three men knew each other, with police appealing for anyone with information to contact them.
:: A minute's silence was observed at 11am on Tuesday in memory of the victims.
:: Australian nurse Kirsty Boden was named as the third person killed in the attack. Her family paid tribute to her, saying: "As she ran towards danger, in an effort to help people on the bridge, Kirsty sadly lost her life."
Zaghba, Pakistan-born British citizen Butt and Rachid Redouane, 30, who claimed to be Moroccan-Libyan, launched a murderous rampage around London Bridge and Borough Market on Saturday night.
Both Butt and Redouane, who also used the name Rachid Elkhdar, lived in Barking.
Seven victims were killed and dozens injured in the spree, which ended when armed police shot dead the perpetrators just eight minutes after the first emergency call.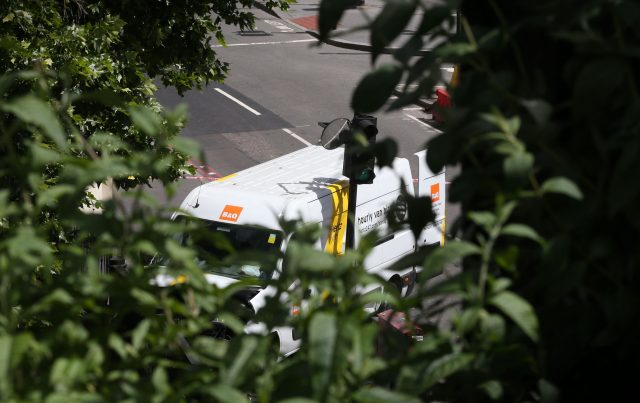 The Islamic State terror group has claimed the rampage, which sparked fears that Britain is in the grip of a spate of copycat incidents.
Authorities say the threat being confronted is unprecedented, with 500 active investigations involving 3,000 individuals in addition to 20,000 former subjects of interest.
Eighteen plots have been stopped since 2013, including five since the Westminster attack.