Does Theresa May know something the rest of us don't? Her breezy confidence that she has a chance of winning the Commons vote on her Brexit deal next Tuesday doesn't seem to be grounded in reality.
The sums don't stack up and most Westminster watchers talk about the size of her likely humiliation – by 200 votes? 400 votes? – having dismissed the possibility that she might succeed.
But Michael Gove added his weight on Sunday, telling Andrew Marr that the government can win the 'meaningful vote' on December 11.
He didn't say it was going to be easy – 'challenging' was the word he used – but unless his, and May's, cautious optimism is a bluff, perhaps it is worth taking out a small bet on the deal after all.
Even a potential contempt of Parliament motion over the refusal by attorney general Geoffrey Cox (who also backs May) to publish the full legal advice on Brexit does not appear to have dimmed the prime minister's self belief.
Famous victories have been snatched from the jaws of defeat before – at Rorke's Drift, for one, when about 150 British troops defended their garrison against 4,000 Zulu warriors, or when the Russians, having been beaten by Napoleon at the Battle of Borodino, regained Moscow.
May's battle in Parliament may lack the nobility of the above, but she can take courage from such precedents. She will probably have watched that black and white film, Twelve Angry Men, where Henry Fonda, the lone juror to cast doubt on a man's conviction, convinces the others, one by one, that he is right.
Her deal may not be right, but it is less wrong than the other options. These include a no deal, which almost everyone in the country agrees would be disastrous for Britain.
Or there is no Brexit, which would have been great back in June 2016 when the referendum was held. But such a consequence now, after two years of negotiations and political polarisation, would not resolve our issues with Europe, or with ourselves.
Business leaders, who would have the most to lose if we crashed out without a deal, are publicly flocking to May's side. These include Ford boss Steven Armstrong, who said while the deal was not perfect, it allowed firms to plan for the UK's exit.
The CBI, representing employers, declared its support in November, saying its senior policy making committee – which considers the opinions of 900 business leaders across Britain – had been unanimous in supporting the withdrawal agreement.
And on Monday, Sir Ian Wood, the oil tycoon and philanthropist, said May's Brexit deal is 'workable' and better than the current situation with Europe.
If May fails on Tuesday and if she then loses a vote of no confidence, we face the prospect of a snap general election.
The debate leading up to the vote will last five days. We know already whose voices will be the loudest. The extremists on both sides of the argument – Jacob Rees-Mogg for the hard-line Brexiteers, pitted against Labour's front bench and the People's Vote champions.
Somewhere in that mix, led by Ian Blackford, will be the SNP, not collectively sure they want to be in the EU or out but toeing the line established by Nicola Sturgeon, whose plan is to wreak as much havoc as possible.
She was in London again this week to seek common cause with May's opponents. And although snubbed by Jeremy Corbyn on her previous trip, we can't rule out a ghastly alliance between these two.
Just think where that might lead – a second EU referendum and a second independence referendum, both quite likely to produce the same results as in 2014 and 2016, and leave the nation even more divided than it is today.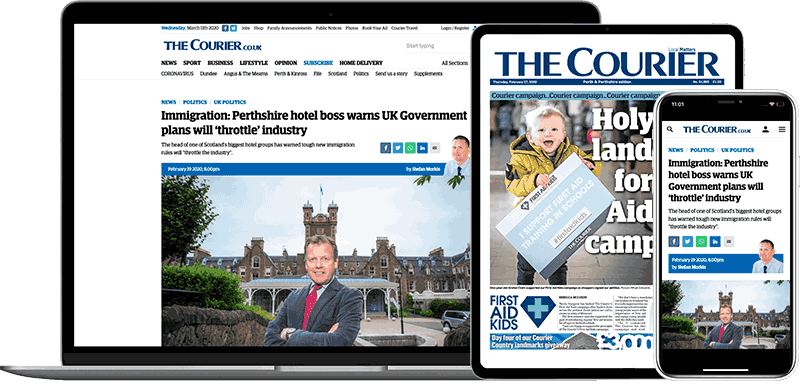 Help support quality local journalism … become a digital subscriber to The Courier
For as little as £5.99 a month you can access all of our content, including Premium articles.
Subscribe