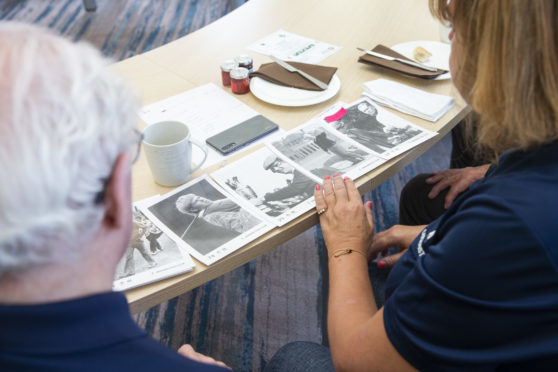 The memories of past Open golf championships at Carnoustie are helping improve people's lives in Angus.
On the first Thursday of every month, a group of around 15 people meet in the new Carnoustie Links Golf Centre.
With an average age of 78, they go down memory lane, looking at photos of Open champions at Carnoustie from yesteryear such as Ben Hogan, Gary Player and Tom Watson.
They also share stories of their own golfing achievements, strike a ball in the new simulator bays, play 'The Nestie' par-3 course or try the public putting green, in competition for their own 'Claret Jug' monthly award.
The Carnoustie Golf Memories Group is one of what is hoped will be a growing number that will spring up at golf facilities across the country.
They are part of the overall Golf Memories Project, which in turn is part of the wider Sports Heritage Scotland network helping those living with dementia and memory loss.
"Through reminiscence, we are reconnecting the members with their passion for golf, allowing them to spend meaningful time with other golfers and enjoying the friendly banter", said Lorraine Young, a key driving force for the golf group in Carnoustie.
"After a diagnosis, it can very much feel like a loss of life, however this programme is helping people change their attitudes by demonstrating that you can live well with dementia or memory loss.
"Staff working at Carnoustie Golf Links have also participated in Dementia Friends Awareness Sessions, as have a number of other businesses throughout the town.
"Ultimately the aim is to make Carnoustie a truly Dementia Friendly Community. In support of this many of the shops in the town have dressed their windows to reflect our work linked to The Open of yesteryear."
A former chief social work officer, Lorraine chose to commit her free time to creating and supporting the development of Golf Memories.
Launched in June 2015, the group has been meeting monthly ever since.
The group is ably supported by a committed and dedicated team of local volunteers, such as David Taylor, Trevor Williamson and Margaret Muir.
Gary Player's famous victory at Carnoustie 50 years ago is celebrated in an exhibition on the bottom floor of the clubhouse.
The Open stands going up also created a great buzz among the group as the world's greatest golfers prepare to descend on the famous links in July.
Lorraine added: "The stories that have been coming out from the group have been beyond our hopes and dreams about previous Open Championships, things that as organisers even we didn't know about.
"They have also been bringing in photos from home that we've never seen and that has stimulated amazing conversations."
Bernie Mortimer, 78, is a member of the group, who used to live in Carnoustie but now stays further up the coast in Arbroath.
"I've met people I used to know and all the work is helping jog my memory," he said.
"I enjoy the groups, seeing people on a regular basis and reconnecting with them.
"I've seen a few Opens in my day and I look forward to next month."
Michael Wells, Chief Executive at Carnoustie Golf Links, said: "The Golf Memories Group in Carnoustie is close to our hearts.
"Partnering with people like Golf Memories helps us to engage with the community and it's really nice to be able to give something back, giving them access to the clubhouse and looking after them."
Kevin Barker, Director – Golf Development at The R&A, handed over tickets to The Open for the Memories Group earlier this week.