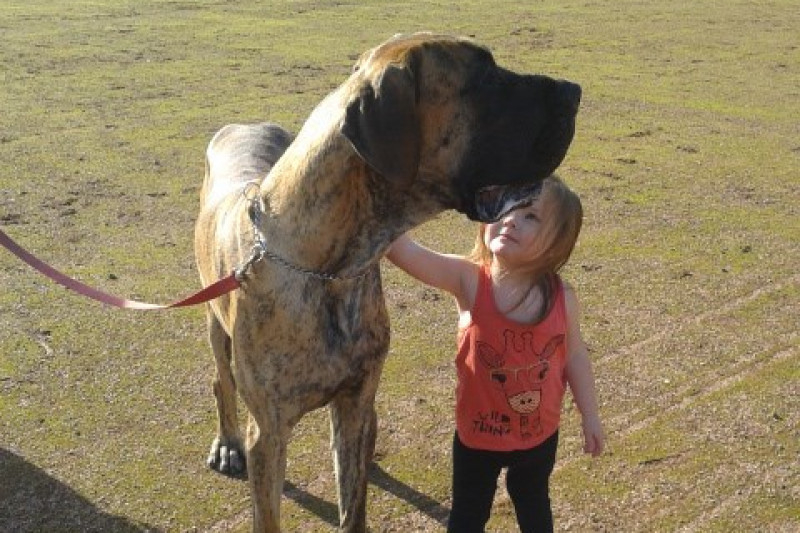 A fun day to raise money towards a Great Dane's £15,000 vet bill is being held in Dundee as his operation date looms.
Veronica Mcleod and daughter Kerry Stewart are in a race against time to come up with the cash for Zeus, who struggles to walk due to having Cervical Spondylomyelopathy, a.k.a. Wobbler Syndrome.
The colossal pet, believed to be the largest dog in Scotland, is due to have surgery on May 30 as part of Chanel 4's The Supervet series.
If all goes well, he would be discharged in mid-June, which is when his owners must hand over the money.
So far the family has managed to raise £150 through their GoFundMe page, but are hoping that the fun day, to be held at Fairfield Sports and Social Club, will help to bump up their total.
Kerry said: "Initially we were only planning a raffle, but then people had all sorts of suggestions and we ended up organising the fun day.
"A woman I know is donating a bouncing truck — it's like a bouncy castle, but in the shape of a lorry and there is an obstacle course inside.
"There will also be an inflatable area for the kids under five.
"We've got various craft stalls, raffle, cake, car boot sale and a star raffle.
"H&G Home Improvements have donated a shower column worth £775 for the star raffle, which is a very specific prize, so this raffle will be held separately.
"People have been very supportive, Zeus's online following has gone from 24 people to over 300 in a short space of time."
Zeus was diagnosed in early 2017 and has already had one failed surgery as well as a number of consultations around the country.
The Supervet, fronted by one of the UK's top veterinarians Dr. Noel Fitzpatrick, deals with dogs who have complex conditions and may normally be considered beyond saving.
The fun day will be held at Fairfield Sports and Social Club on June 10 from 10am until 4pm.