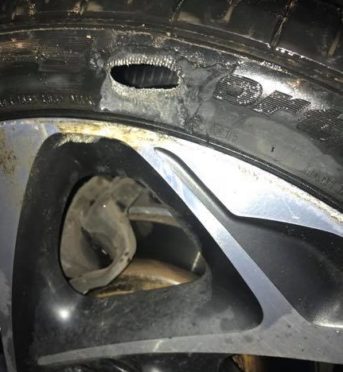 A Fife pot-hole, described as "a monster" by motorists, is being blamed for wrecking at least 10 cars in a single evening.
The crater sized hole, which had opened up on the A907 road between Blairhall and Comrie, shredded tyres forcing drivers to abandon their vehicles or wait to be rescued as Storm Ciara continued to batter the region on Tuesday evening.
Several motorists who struck the hole reported double punctures, while others said alloy wheels and suspension were also damaged.
The incidents all happened between 5pm and 8.30pm on the road that had been set up as a diversionary route for Fifers directed across the Kincardine Bridge because of the forced closure of the Queenferry Crossing due to safety fears over falling ice.
One of those who suffered damage was Graham Beers who was traveling back to his home in Dunfermline.
"The first I knew about it was the loud bang as I struck what I now know was a large pot hole just before you come into Comrie," he said.
"It was dark and it was raining hard so there was no way of seeing the hole.
"I pulled up and there were other motorists also parked up who had suffered similar damage including one woman who had shredded two of her tyres.
"I contacted Fife Council immediately to report the hole and was told they would send someone out.
"The council will be facing multiple damage claims from motorists after this.
"I've been hit with a £170 bill for a new tyre as well as the convenience.The roads are a disgrace."
Another motorist, who asked not to be named, said she had to abandon her car at the side of the road.
"I had to get a family to come and collect me as well as take a day off work to go back and get my car fixed, it's been a nightmare."
Kindhearted mechanics from a nearby car showroom came to the rescue of at least one motorist who had been left stranded.
A spokesman for Saline Motors in Comrie said: "Our mechanics helped out one gentleman who found he didn't have a spare wheel.
"We found one suitable for his car and fitted it it so he could at least make it home. He's been back in to return it and say thanks but it was the least we could have done."
In response to the incident, Sara Wilson, Fife Council lead consultant, said: "We are continually working to keep Fife's roads in a decent state of repair.
"This is challenging, particularly during winter weather.
"We responded quickly to reports of issues on the A907, and completed emergency work to repair the road within 24 hours."