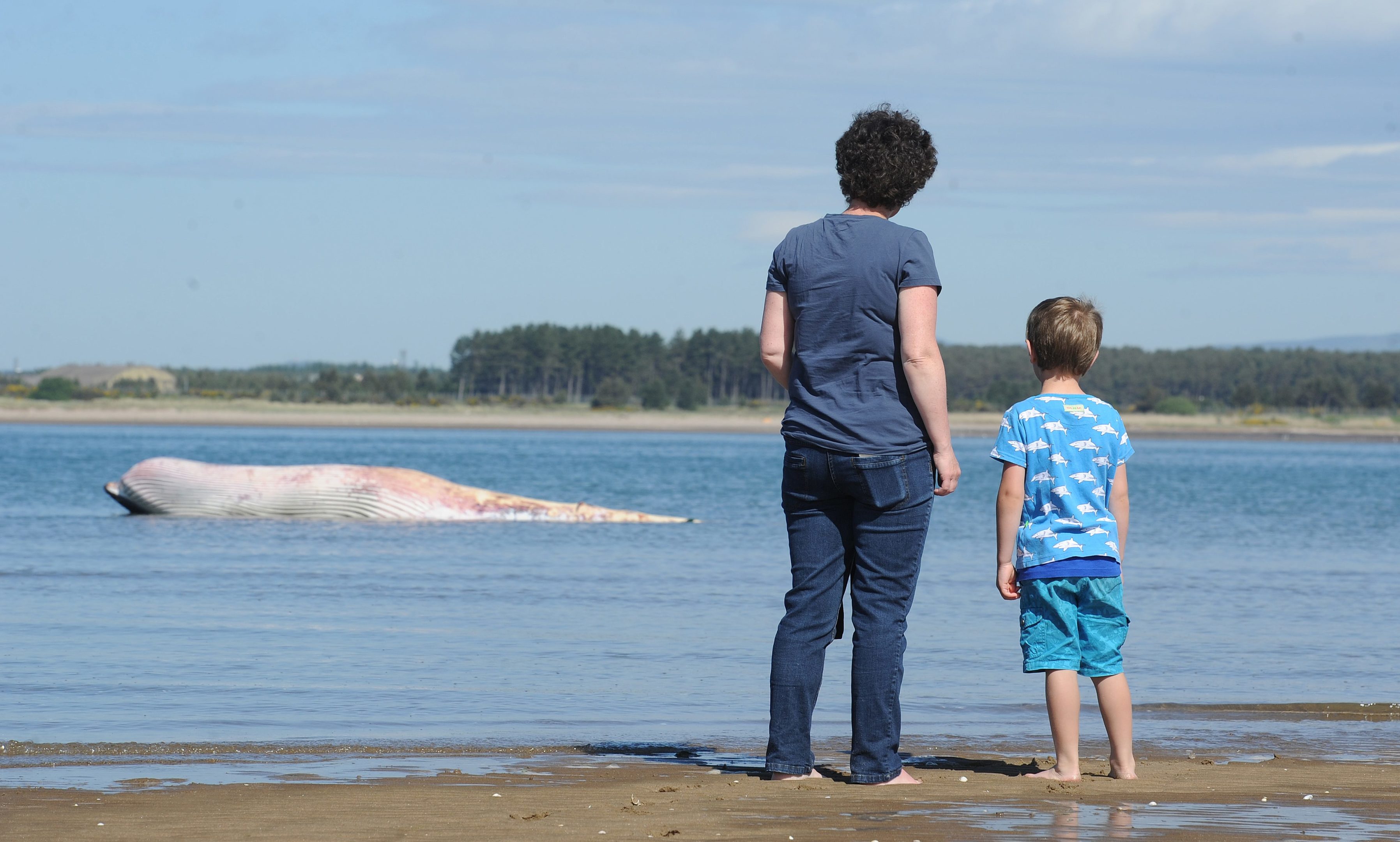 A whale which washed up on a St Andrews beach is thought to have died after being caught in fishing gear, experts have suggested.
Efforts to remove the carcass, which is understood to be an adult male minke whale, got under way yesterday, with a team of specialists from the Scottish Marine Stranding Scheme travelling down from Inverness to examine the body of the whale to ascertain how it died.
Once the autopsy process was completed, the whale – which was around seven metres long – was either due to be taken away for further tests last night or potentially buried at another location along the beach.
Officers from the Fife Coast and Countryside Trust were out first thing yesterday morning to survey the scene and take photographs to assist the investigation, although the case was in the jurisdiction of the Scottish Marine Stranding Scheme.
Dr Andrew Brownlow, a pathologist on the team from Inverness, said it appeared that human activity had played its part in the whale's demise.
"It looks very much like the animal has been become entangled in creel rope and has washed up," he said.
"There has been some anecdotal evidence from some local fishermen that they had seen something that looked like a minke whale floating at sea with some material attached to it.
"They interact with these fishing ropes and if they get trapped it can lead to them drowning."
Due to its remote location near the River Eden and well away from the town of St Andrews itself, it became clear that removing the whale might cause the authorities a few headaches.
But word quickly spread about the rare sight on Wednesday evening via social media, and a steady stream of people made their way to the West Sands throughout the morning to try and catch a glimpse of the remarkable animal.
Golfers playing the Old Course could be seen stopping their rounds to have a look, while many walkers and families took the chance on a gloriously sunny Thursday to see the whale in situ.
Dr Brownlow stressed that the type of whale involved was unlikely to explode, as has been seen in the past with sperm whales, but urged people not to touch the carcass in case the whale had been carrying any diseases.
"It's a dead animal – you wouldn't ever go and stick your two-year-old toddler sitting on a cow that had been dead for a couple of days," he added.
Patsy Shaw, from St Andrews, and her friend Lynne Issac, who is holidaying locally from Somerset, were among the first on the beach yesterday morning to see the Fife town's latest attraction.
"I only flew into Edinburgh on Wednesday night so this has already added some excitement to my visit," Lynne said.
"I come from South Africa and we used to see some dead sharks wash up on the beaches, but never a whale."
And Patsy said: "I only heard about it from another dog walker so we hotfooted it over here to see what we could see.
"You don't normally see this sort of thing in St Andrews!"