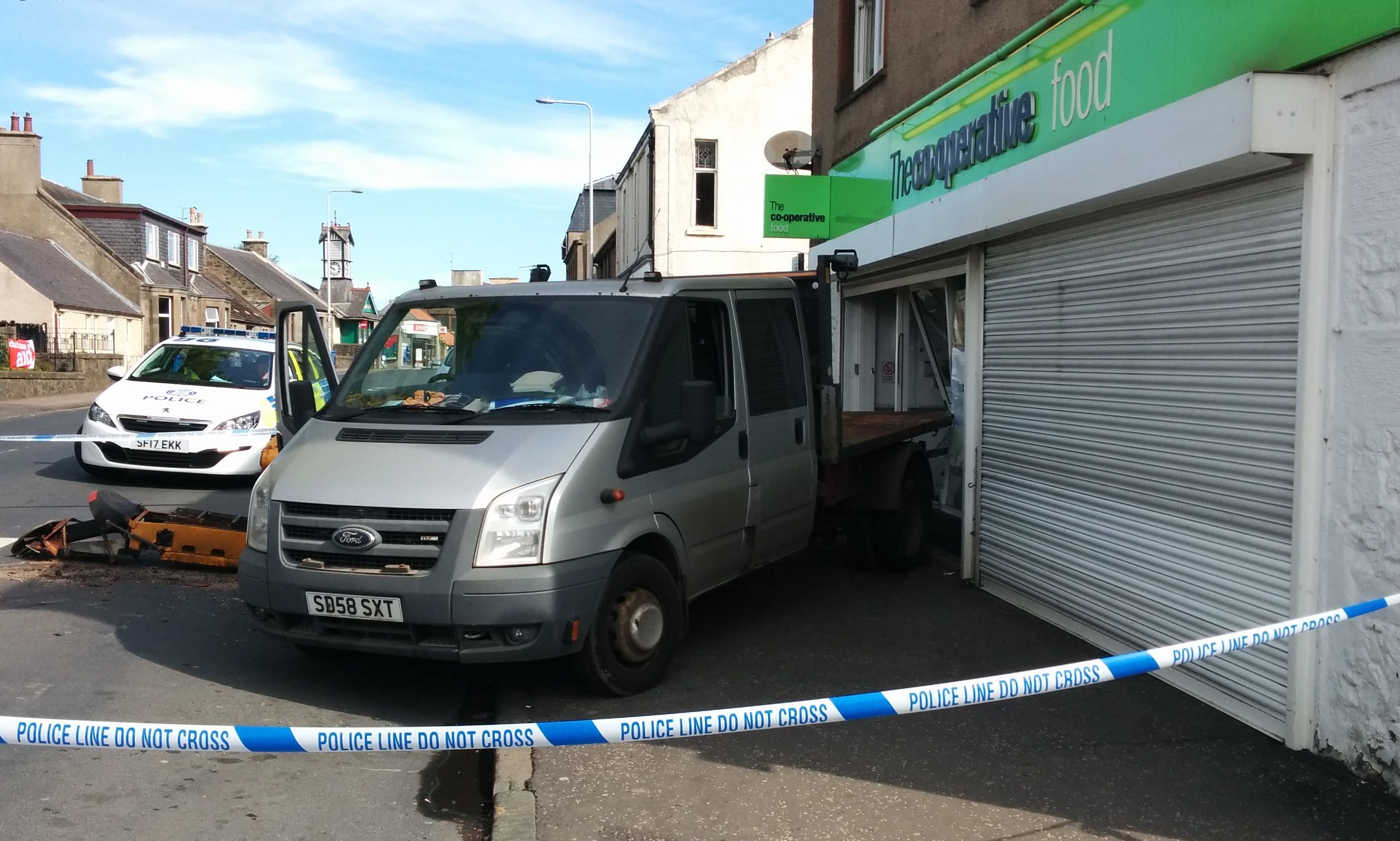 Bungling looters ram raided a shop in Thornton in a brazen attempt to steal a cash machine.
The culprits left empty handed after reversing a stolen van into the front of the Co-op in Main Street during the early hours of Wednesday, causing extensive damage to the front of the shop.
Police said the building would now have to be checked for structural damage.
A witness at the scene said straps appeared to have been attached to the van and tied around the cash machine.
VIDEO: Ram-raiders smash into Panmurefield Co-Op to steal cigarettes and alcohol
The latest incident comes days after a Co-op in Angus was targeted in an early-hours ram-raid, with cigarettes and alcohol stolen.
And in December, a stolen dumper truck was driven into a Co-op outlet on Kirkcaldy's Lauder Road.
Though nothing was taking in that raid, the suspect has remained at large ever since.
Police in Fife have launched an investigation and are appealing for witnesses following the latest incident in Thornton.
A member of the public raised the alarm at around 2.15am after a silver Ford Transit flat bed van was deliberately reversed into the store.
There was a report of a man running from the scene.
And police said a number of individuals involved in the break-in left in an unidentified vehicle.
Detective Inspector Paul Dick from Glenrothes CID said: "While this has been an unsuccessful attempt to steal the ATM, it has caused considerable damage to the building, which will require to be checked to see if it is structurally sound.
"This is a serious and brazen crime, which will have an impact on the entire community of Thornton and will unfortunately cause disruption to local businesses and members of the public while we carry out a detailed examination of the scene.
"As part of this investigation we have established that the vehicle involved had previously been stolen from Station Road, Thornton, which is a short distance away from the shop.
"I am keen to hear from anyone who saw any suspicious activity in the Thornton area during Tuesday evening or the early hours of Wednesday morning. It is also believed that the people involved left the area in another unidentified vehicle.
"Anyone with any further information relevant to this inquiry, or who can help us identify the persons involved should also contact police immediately."
Those with information can contact Glenrothes CID via 101 and quote incident number 268 of May 17.
Alternatively, an anonymous report can be made through the charity Crimestoppers on 0800 555 111.
For more on this story, including local reaction, see Thursday's Courier or try our digital edition