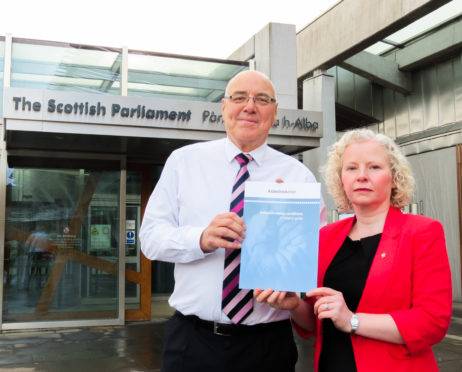 A Fife MSP has backed calls to improve care for asbestos sufferers, just one year after her own father died from exposure to the substance.
Mid Scotland and Fife Labour MSP Claire Baker joined the appeal as she teamed up with Asbestos Action.
Her emotional appeal came as she remembered her dad, former Fife councillor Jim Brennan, who died on February 25 2017.
Jim, 70, died from lung cancer mesothelioma after being exposed to asbestos as a sheet metal worker in the seventies.
He died just 12 months after his diagnosis.
"As a politician I always thought I had a keen awareness of issues related to asbestos," Mrs Baker said.
"But it wasn't until my father passed that I truly understood it and understood the anger of thousands of Scots because of how avoidable these deaths are.
"Although we got the support my dad needed it was sometimes a struggle and I've witnessed a real postcode lottery when it comes to people receiving the medical or pastoral care they need and deserve.
"We need to see improvements to bridge these gaps but also to secure the support needed and educate the next generation of health and social workers to make them aware of the impacts on individuals and families because conditions linked to asbestos will continue for decades to come," she added.
Asbestos-related diseases can range from benign conditions like pleural plaques to terminal cancers like mesothelioma which can prove fatal just weeks after diagnosis.
Thousands were affected because employers, particularly in the construction industry, failed to provide workers with safety gear or breathing apparatus.
To this day asbestos-related conditions claim around 3,000 lives in the UK every year, higher than the number killed on the roads.
Asbestos Action manager John Fearn highlighted a new support booklet for those affected.
"Ms Baker might be a politician but she's also a daughter who lost her dad to a devastating illness.
"The tragic thing is her experience is just one of thousands seen over the decades but we don't expect the number of cases to drop or even plateau in the near future.
"That's why we need health boards, councils and other relevant bodies to put the right measures in place now so those affected get the right support deserve from day one."
For more information visit www.asbestosaction.org.uk or call 01382 225715.