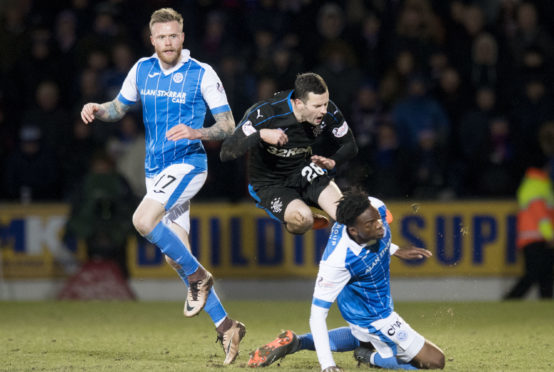 Tommy Wright has dismissed the idea that his St Johnstone team roughed up Rangers in midweek.
Ibrox manager Graeme Murty said that his forward Jamie Murphy was "angry" at the Matty Willock tackle which ended his game prematurely.
Wright doesn't believe the player had any cause for complaint and, if anything, Saints were on the receiving end of worse on Tuesday night.
The Perth boss said: "He got stood on by Jamie Murphy after a challenge.
"I don't think it was anything other than accidental but his foot has landed on Murray's knee and he took a sore one.
"It's unfortunate when players pick up knocks but these things happen. We haven't been moaning about it.
"So I was surprised to read quotes about Rangers being angry with our tackling and claiming it was robust. If anything we should have complaints, especially for the Morelos challenge on Anderson.
"Rangers gave away more fouls than we did. But there wasn't one bad foul in the game. If anything I'd have wanted my players to have made more tackles."
A decision was made early afternoon yesterday to postpone tomorrow's game against Hamilton Accies. No date has yet been set for the rearranged fixture.
Had it gone ahead, Scott Tanser would have been available, having recovered from illness.
Wright added: "David McMillan is out for another two or three weeks and Brian Easton has had a setback which is being assessed. That can happen with his type of injury.
"Keith Watson should return to full training in the next few days."
The 4-1 defeat to Rangers came as a result of their opponents out-performing Saints in both boxes, according to Wright.
"Rangers were clinical and you have to give them a lot of credit for that," he said.
"But we should have done better defensively at some of their goals and we were punished.
"I'm not a great fan of stats. They don't win you games. But we had good possession, as many shots as them and more corners. But in both boxes Rangers were better than us and showed the quality they have.
"We have enjoyed more possession in some home games than in the past but we haven't done enough with it. That has been frustrating.
"At 3-0 it could have been easy for the game to go to six or seven but the players dug in and that's to their credit.
"The beauty of having a lot of games in quick succession is that the players don't have time to dwell on it.
"And some of our younger players are having to learn quickly. The squad is changing and we had five players under 23 in the starting line-up.
"The team has been younger this year and maybe that's why there has been a greater level of inconsistency."