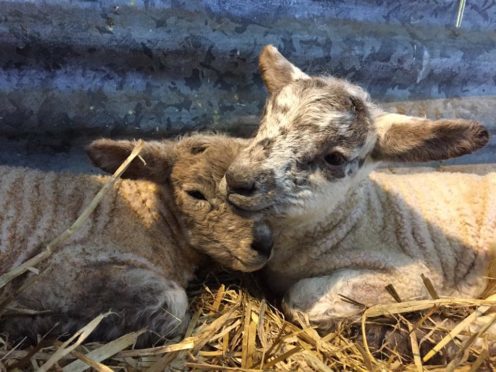 Blizzards and freezing temperatures have made conditions challenging for Fife farmers as lambing gets under way.
At Craigduckie Farm in Dunfermline, pregnant ewes are being kept indoors but drifting snow is still making its way into the sheds.
Katie Roberts from the farm said the weather was causing concern, because the cold increased the risk of lambs dying shortly after birth.
"We've got to be there all the time," she said.
"Between my husband and I, and my father-in-law, we're never far away.
"The ewes are uncomfortable because they're not as warm as they should be. The ewes are inside, so it's not so bad, but the snow is right through the shed. It's everywhere."
Mrs Roberts said most farmers lambing around this time of year will be keeping their flocks inside.
"A lot of hill farmers will lamb outside, but they are not lambing at this time," she added.
Two lambs were born safely indoors on Tuesday, before the worst of the weather set in.
Mrs Roberts added: "Things were due to get started today but it's been a bit slow. I don't blame them."
While lambing will have already started for some, for others lambs will arrive later in spring.
Sandra Milne from Barns Farm in Aberdour was not overly concerned about the weather, with her sheep not expected to started lambing until April.
She said: "We're not lambing yet. We don't lamb until the middle of April, so it's not been a problem.
"The cold doesn't bother them, but if they were lambing it would cause problems. If they were lambing in this, we would have dead lambs.
"They're sheep and they're wearing sheepskin jackets. As long as they've got food, everything's fine.
"They're hardy and they're in Scotland in winter. It's just a bit awkward for everybody else."