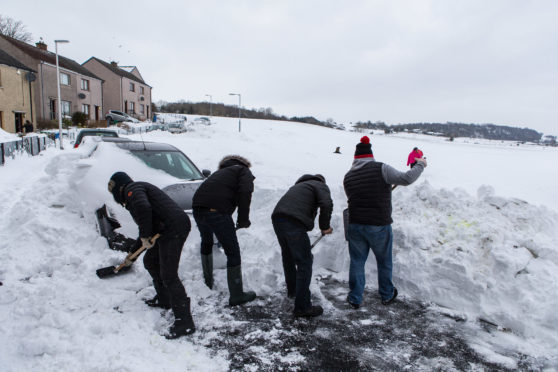 While many shops have been running low on stocks across Fife in the past 24 hours, one supply the region certainly isn't lacking in is community spirit.
With Fife Council having to concentrate on getting main commuter routes and priority roads clear, men, women and children across the Kingdom have been doing their bit to help people's lives return to normal.
Council workers and leisure centre staff were out and about on Saturday trying to clear paths and entrances in preparation for schools and other facilities hopefully reopening on Monday, although people from all walks of life were picking up their shovels in streets the length and breadth of the county to do their bit.
Wow fantastic effort of our staff in order to make facilities accessible for customers.

Please note. That car park access is limited at all venues and there is a potential that services may be limited due to staffing levels.

Thank you for your patience & continued support. pic.twitter.com/mukJcj5Dfq

— Fife Sports+Leisure (@FifeLeisure) March 3, 2018
Cul-de-sacs have largely been left untreated, but social media has been full of Fife-wide examples of neighbours mucking in to free snowbound cars and clear driveways to allow life to go on.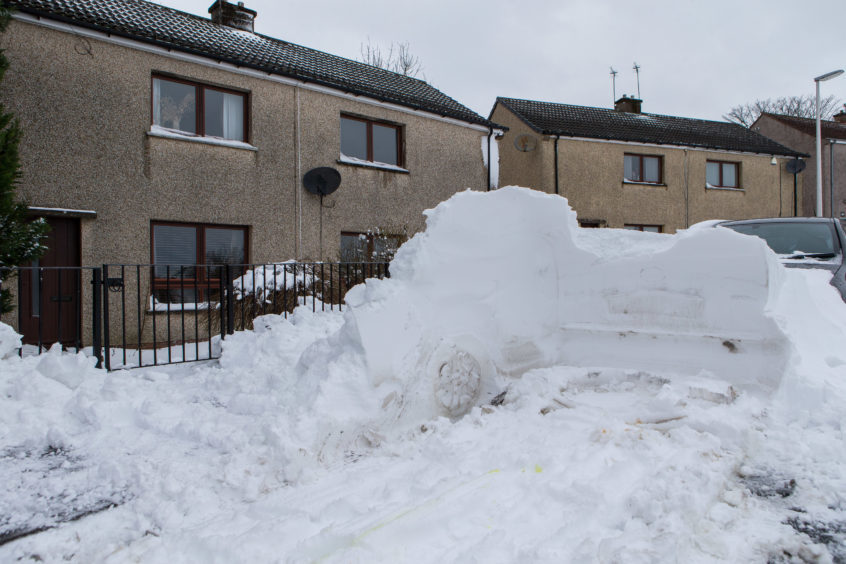 Inverkeithing and Dalgety Bay Councillor Alice McGarry said: "What a difference in the public approach to this weather than than in 2010.
"Perhaps it's the power of social media but it seems to me that folk have been much more willing to help themselves and others this time.
"There have been some really wonderful stories of community involvement – clearing streets and roads, taking folk to their essential work, getting messages for neighbours and generally getting on with it without blaming the council or the Government.
"Perhaps the most wonderful example of community spirit was in Benarty where the community cleared a whole street to allow the body of an elderly resident of a care home to be removed in a dignified manner by hearse. Had a wee tear at that.
"Well done to every one who has gone out of their way to help others."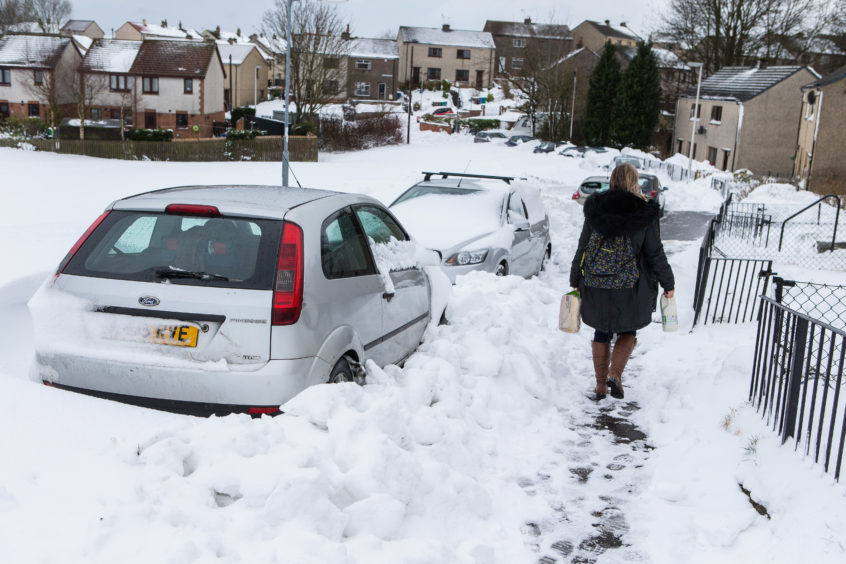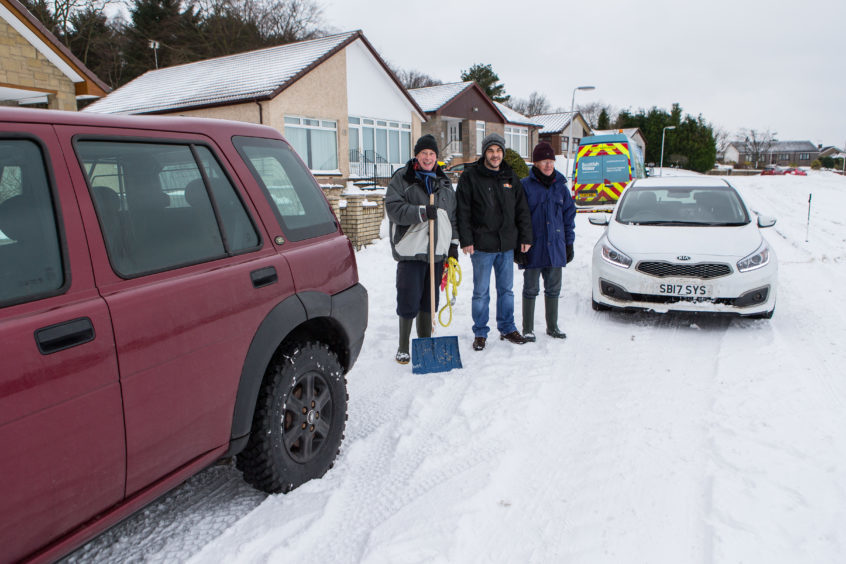 Lochgelly, Cardenden and Benarty Councillor Mary Lockhart described two Fife Council off duty care assistants as "selfless stars", noting that the pair showered, washed and made breakfast for an elderly couple who don't have a care package but who are having exceptional difficulties due to the weather.
"At least five care workers in my ward have volunteered to help elderly and disabled people who need personal care, or meals heated, provided they can get to them," she said.
"This is not a replacement for council provided care, and these are volunteers, on their own initiative, and in their own time.
"Men and women out all over Benarty, with shovels, spades, and snow shovels clearing snow. All cheerful, working hard, and looking after their neighbours.
"Also saw several wee tractors and diggers lent or driven by farmers and builders without whom the villages of Benarty would have been at a real standstill.
"I had only heard about "wartime spirit" from older folk who remembered those days.
"Now I am seeing it in action."
Health and social care workers have also been widely praised for going the extra mile – sometimes several!
Michael Kellet, director of the Fife Health and Social Care Partnership, said: "As we face continued extreme weather it is critical to balance safety and wellbeing of staff with the need to continue to provide essential services for now and into the weekend.
"Safety is an absolute priority and we thank the public for their patience as we do all we can to ensure vital care continues both locally and across Fife.
"Heroic efforts are being made by all those who make our health and social care services tick including drivers and support staff walking miles to ensure essential deliveries such as medication reach vulnerable people in the community.
"Staff from across catering and cleaning, contact centres, office cleaners and business support walking miles to get into their place of work to keep everything going day and night to support teams.
"Staff from across podiatry, mental health, district nursing, community and acute hospitals, care homes, GP surgeries and social workers and many others walking miles or teaming up with colleagues and those they know with 4 x 4 vehicles to get where they need to go safely.
"Hospital at Home staff in Kirkcaldy for example are being transported by the team at Peter Vardy to reach their patients.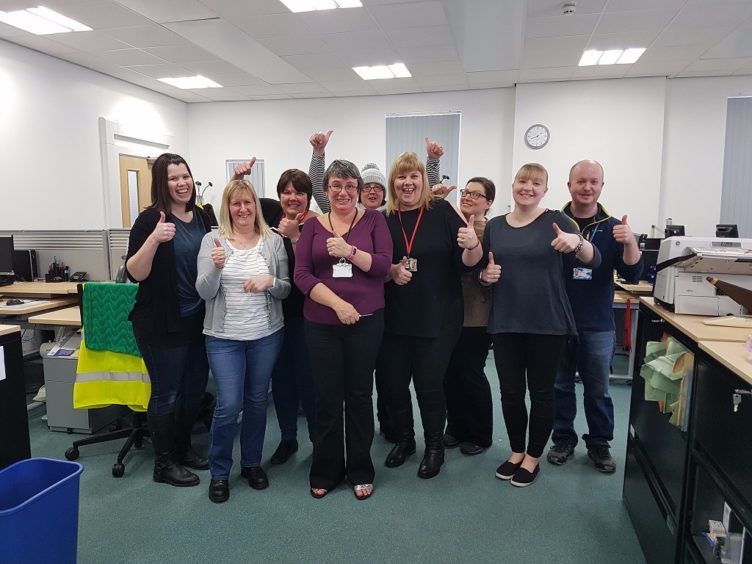 "Home carers continue to do all they can to get to people both in urban and the most rural of places across the Kingdom.
"Where the roads are impassable families, carers, service partner providers in the voluntary and independent sector and the good will from neighbours is being called upon to ensure checks on the elderly and vulnerable are made so they are kept warm, have a hot drink and a meal.
"It is a fantastic show of team work, community and people pulling together."
Volunteers with the RNLI at Anstruther have also been out and about helping the East Neuk Pharmacy with prescription deliveries, ensuring people who need medicines had them for the weekend.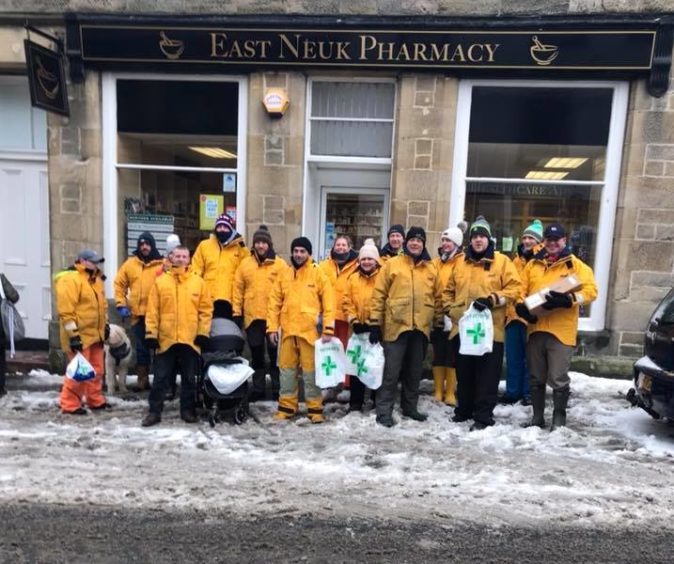 Meanwhile, dozens of P7 pupils from Inzievar Primary School and Saline Primary School have finally made it home after their journey back from a residential trip to Lockerbie had to be delayed due to the weather.
The staff and youngsters made the most of their extra time there but were no doubt glad to be home thanks to the efforts of many over the last few days.
A warm welcome home for our Inzievar Stars! A super team effort over the past few days from pupils, staff, parents @FifeCouncil @transcotland @ManorAdventure Horsburgh coaches & with excellent leadership from Mrs Gray to bring it all together ?? #dreamteam pic.twitter.com/IYPcKUuHiv

— Inzievar PS (@InzievarPS) March 3, 2018
A warm welcome home for our Saline Stars! A super team effort over the past few days from pupils, staff, parents @FifeCouncil @transcotland @ManorAdventure Horsburgh coaches & with excellent leadership from Mrs Gray to bring it all together ?? #dreamteam pic.twitter.com/5HCIlhN6Sr

— Saline PS (@SalinePS) March 3, 2018
​