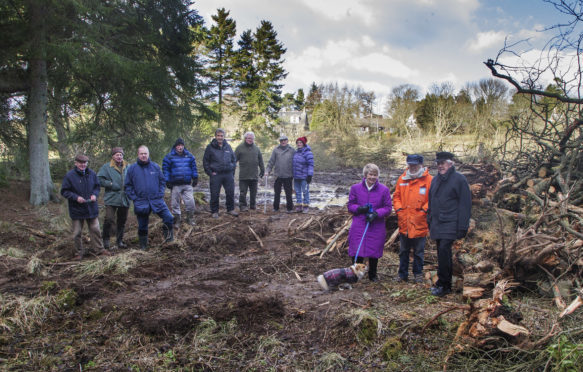 No further action will be taken by Angus Council in the wake of a tree felling saga in Monikie.
Complaints from villagers prompted an investigation and the threat of enforcement action at the former curling pond.
Forestry Commission Scotland is still investigating the complaints but Angus Council has published its official report and said the case is closed.
The report stated: "An observation was received enquiring if tree works being carried out at the site required planing permission.
"A planning enforcement officer visited the site and spoke with the owner who advised that he was removing dead wood and a number of self seeded trees.
"It was established that the site was not within a conservation area and that the trees were not subject to a tree preservation order.
"Accordingly the felling of trees was not in breach of planning control and did not require the consent of the planning authority.
"The applicant was advised of potential Forestry Commission felling licence requirements.
"Interested parties raised concern regarding potential impacts on wildlife and biodiversity and the planning service discussed the matter with the Forestry Commission and Police Scotland.
"A number of warning signs had been placed around the site by an unknown person advising that Angus Council planning enforcement had been informed of illegal felling at this site and that prosecution proceedings had been initiated.
"These signs had not been posted by the council and were removed. No breach of planning control has taken place and the case is closed."
Villager Rae Gray said they will now have to leave it to those working on the situation from Forestry Commission Scotland.
"If the developers had started building that would have been a different matter," she said.
"We now just have to leave it to those working on the situation and they will keep in touch with the community council who have done a really good job.
"They work very hard for us in lots of ways.
"We are lucky to have these dedicated people."
The owners of the woodland site have denied any wrongdoing and said Angus Council's report was "good news".
Billy McTeir, the director of Ayrshire-based Avancan Property Management, said the whole saga "has been fed by misinformation and hidden agendas".
He said the company had "sympathetically" cleared an eyesore site and would now await the outcome of the Forestry Commission investigation.
A spokesman for the Forestry Commission said its team were back on the site on Friday and there should be an update this week.