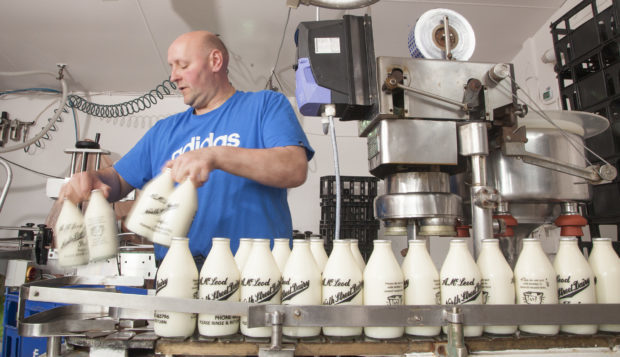 An Angus dairy's five-figure investment in a new glass bottling plant is paying dividends for its customers and the environment.
The family-run North Street Dairy in Forfar has stemmed the tide of 208,000 plastic cartons going to landfill every year, with their customers embracing their commitment to the once-popular glass variety.
Growing public awareness of the impact discarded plastic is having on the environment, highlighted so dramatically in Sir David Attenborough's Blue Planet II, has seen an increase in demand for the glass-bottled daily pint of the white stuff.
Hamish Millar, who runs the business with his parents Norman and Aileen, his sister Alison and his wife Marlene, explained the heightened publicity about discarded plastic following the Blue Planet programme had attracted customers back to glass.
He said: "We deliver about 2,000 gallons of milk every week in the Forfar and Kirriemuir area.
"When this number is multiplied by 52 weeks in a year, that comes to 104,000 gallons of milk each year.
"That's 208,000 four-pint plastic milk bottles that are not sent for recycling or even dumped into our area's landfill every year."
As the only remaining dairy in Angus which still processes liquid milk, the family invested a five-figure sum in a new bottling plant after struggling to find glass bottles for their previous equipment.
Although the dairy still "bottles" milk into plastic cartons for local shops, demand for the "rinse and return" glass variety has increased dramatically in recent months.
Before, the ratio of plastic cartons to glass bottles was two thirds plastic to one third glass. Now it is split equally between the two.
Hamish continued: "We are doing 16 crates more of glass bottles than we were a fortnight ago, with half being new customers and half being customers who have converted back.
"If you drink milk you will notice the difference with the taste."
As well as the taste difference, he spoke of the financial and environmental considerations.
"Once your recycling has been taken away it has to be sorted and shipped off to recycling plants that deal with plastic, carton, paper and cardboard etc.
"This in itself can be a very time consuming process and one which has an effect on the environment if you consider how much fuel is used transporting the materials and how much energy is used recycling them.
"We live in a throw-away society where much of our household waste consists of plastic, cardboard and paper.
"So much of this material needs to be recycled and there are financial considerations as well as environmental considerations to think of when we fill our bins before collection day."