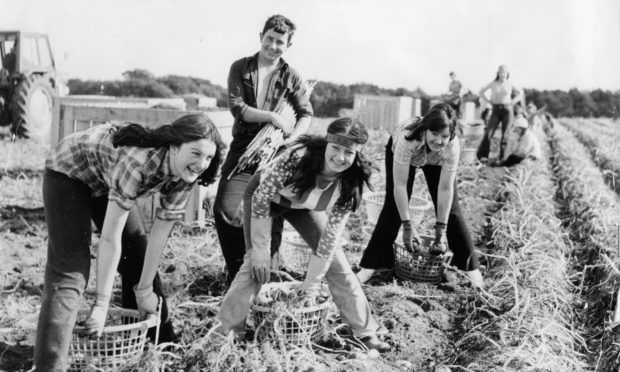 Unmistakably, they have arrived.
Sneaking in beside the last vestiges of an Indian summer, tattie mornings – with their rime and crisp, cold air – are here.
Not that the notion of a tattie morning may mean much to today's crop of young spuds and spudesses, who'll never know what they missed out on in putting in the hours for the reward of the wee brown envelope and its precious cash contents.
Like the trepidation of how long the farmer might have laid out the 'bit' for a young picker, fear of failing to keep up with the digger, and the point where the season really began to take hold, binding baskets together with early frost on days when it was difficult to get the heat up at all.
That was the big climate change question of those days – whether the sun would lift to free up the fingers enough to unwrap whatever version of meat paste sandwiches were within the piece box.
I doubt if today's generation even call them the tattie holidays, and if they do a box of McDonalds fries will probably be the closest thing to having a potato in their hand during the autumn holidays.
But, as we saw at the tail end of last week, young people know and care deeply about what's happening to our planet way beyond feeling a bit of a nip in the air at season's change.
School pupils in Angus and Dundee joined the global community in climate change protests, prompting mixed responses from local authorities over how their absence from the classroom would be treated.
Cynics who suggested their participation was basically a skive on what turned out to be a sunny late summer's day perhaps need to take a closer look at how much times have changed.
In any area, be it health, wellbeing, education, equality or the environment, time spent with any group of young people will illustrate how informed and eloquent they are in promoting a cause, and driven in pursuit of change.
The impact of role models such as Malala Yousafzai and climate campaigner Greta Thunberg is as inspiring as it is encouraging for the future of mankind and the fragile planet on which it resides.
Certainly, that's how it seems to a lad whose biggest concern around the same age was what kind of meat paste was in his tatties piece box.