Residents hit out after fresh elevated flaring at Fife Ethylene Plant in Mossmorran
By
Cheryl Peebles
Elevated flaring began again at Mossmorran due to another "process upset" just days after the plant was restarted.
Nearby residents voiced anger as they reported what appeared to be black smoke emanating from the petrochemical complex when flaring started around 2.45pm yesterday.
The latest episode at Fife Ethylene Plant (Fep) came less than a fortnight after production recommenced following a six-month closure due to failed boilers.
Video of the flaring two weeks ago is above this article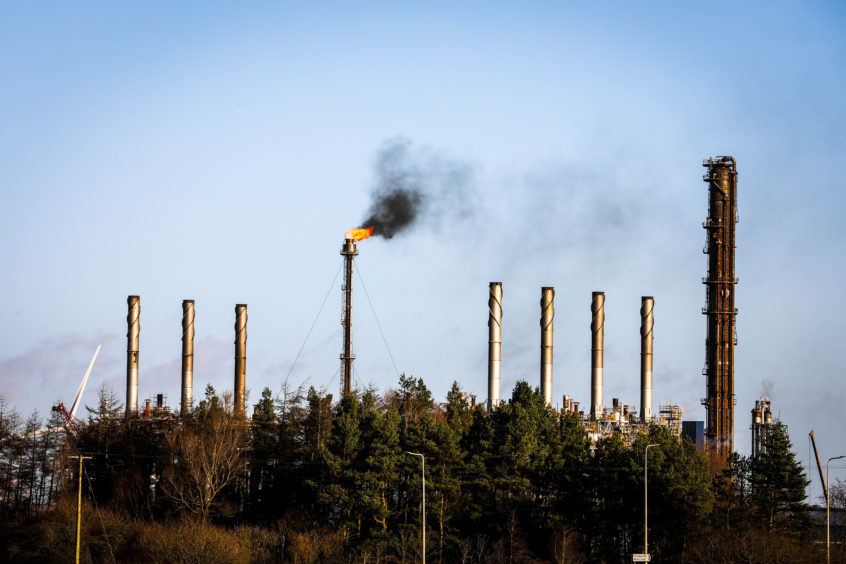 Operator ExxonMobil Chemical insisted the flaring, as it dealt with a process upset due to a trip in a major compressor, was "completely safe".
A spokesman said: "Not only does ExxonMobil operate within a highly regulated industry, we operate to the very highest safety and risk management standards.
"The restart of our facility was executed safely at each and every stage."
However, Linda Holt, of Mossmorran Action Group, said communities were expected to "suffer in ignorance" as the ground shook and a huge bright flame and black smoke loomed over them.
She said: "Process upset explains nothing.
"Once again ExxonMobil is forced to resort to emergency flaring because something has gone badly wrong."
An initial statement issued on social media by Fife Ethylene Plant said: "We are currently using our elevated flare to manage a process upset."
Plant manager Jacob McAlister later apologised for the inconvenience to communities and said: "We have unfortunately experienced a trip in one of our major compressors.
"Our team is currently undertaking the necessary checks to begin a safe restart.
"In order to keep the rest of the plant running and reduce total duration of flaring, we need to manage this process through our elevated flare."
He announced on February 21 that the plant near Cowdenbeath had resumed normal production, having restarted safely with processes and safety procedures fully tested.
Fife Ethylene Plant closed for maintenance last August when two out of three boilers failed.
On Monday Shell, which operates adjoining Fife NGL Plant, said it planned to use its elevated flare stack for no longer than 30 minutes yesterday as it tested an infrared flare monitoring camera in preparation for installation of a new elevated flare stack tip next year.
Mossmorran flaring again due to 'process upset' just days after restart complete
[[title]]
[[text]]
An error occurred. Please try again.
[[success]]