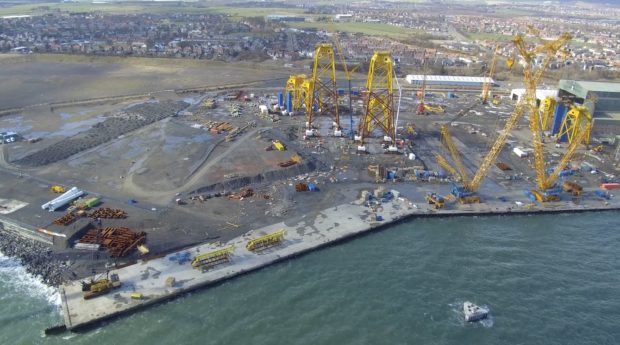 Fife has been selected to play host to the world's first 100% green hydrogen network in a move which could see Scotland's east coast spearhead a zero carbon energy revolution.
Gas company SGN has asked energy regulator Ofgem to rubber-stamp plans for its H100Fife project in Methil, which would initially serve 300 homes across Levenmouth with hydrogen to replace natural gas as a green alternative for heating and cooking.
Offshore wind would be used to generate electricity required to create the hydrogen from water through electrolysis and home owners would have the option of receiving their existing gas supply or the hydrogen alternative through a network of new pipes to be laid alongside 1,000 properties.
A bid for £2.8 million funding will be submitted to Ofgem this summer and if successful, work will begin at Fife Energy Park later this year.
Homes in the project's initial phase could then be powered by hydrogen "within two to three years", with scope for the network to be significantly expanded in the years that follow.
Angus McIntosh, director of energy futures at SGN, said: "Hydrogen is an exciting energy vector that at scale could provide similar levels of safe, secure, reliable and affordable energy to what we enjoy now, with minimal disruption for customers.
"The project will provide key national evidence for hydrogen's role in the UK's energy transition and critical insight into the customer value proposition of hydrogen for heat."
It is hoped the H100Fife scheme can tap into the east coast's energy engineering and offshore expertise to create more networks in the area, as well as hundreds of jobs.
The proposed hydrogen production, storage and network will run alongside the current natural gas system.
A demonstration facility is proposed to allow customers to interact with hydrogen appliances in a home-like setting prior to opting in, while on-site storage at Methil will hold enough hydrogen to ensure supply will not be disrupted in inclement weather conditions.
Local SNP MSP Jenny Gilruth said: "In Scotland we have put in place world-leading climate change legislation and these plans announced by SGN, if approved, will put Levenmouth at the centre of world-leading renewable hydrogen energy development.
"Not only is Levenmouth set to reconnect to Scotland through the reopening of the rail link in the coming years, but this investment means we'll be powering the way towards meeting the nation's net-zero emissions targets, too."
SNP councillor Ken Caldwell, convener of Levenmouth area committee, said he was sure the community would embrace the new technology and its environmental benefits.
"This is an exciting project for Levenmouth," he said.
"It builds on our plans to be 'The Energy Coast' and our reputation for adapting to be a leader in new energy sources."
Scotland's east coast is seen as one of the prime locations globally for such a network because of the availability of wind and water, rivalling desert sites in the likes of the UAE and Australia where hydrogen in water can be split from oxygen using solar power.
H100Fife: The risks and the reward
Decarbonisation of the gas networks is necessary in order to achieve the Scottish and UK Government's net-zero emissions targets by 2045 and 2050 respectively because when hydrogen is converted to heat, it releases no carbon dioxide.
Hydrogen is highly reactive and without the appropriate storage and handling methods in place, it can present an elevated fire and explosion risk.
The Health and Safety Executive (HSE) says hydrogen has an extremely low density as a gas at atmospheric pressure and therefore would disperse quickly in open atmospheres.
This presents a risk in enclosed atmospheres as hydrogen would tend to spread quickly into the head of an enclosed space.
However, according to papers submitted with SGN's planning application, a range of prevention, protection and mitigation measures would be implemented to reduce the safety risks.
Hydrogen would be produced using an electrolyser system, which produces hydrogen and oxygen from electricity and water, with the neighbouring wind turbines providing the primary electricity supply to the proposed development.
Based on the current project design, six storage tanks would be required to supply hydrogen to 300 homes and other ancillary buildings would be on site.
The project would generate 300 tonnes of hydrogen per year with an onsite storage capacity of up to five tonnes, and suggestions are that construction of the demonstration network could begin as early as mid-2022.
Connection to that network would be on a voluntary, opt-in basis.