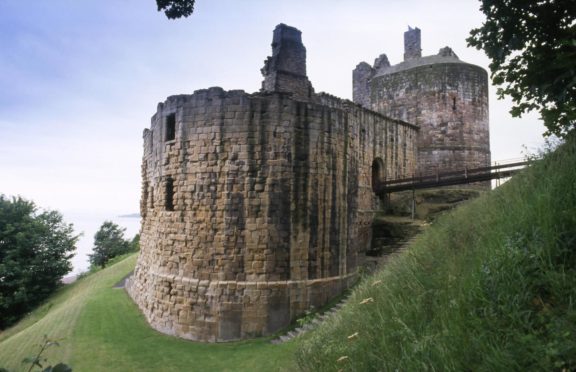 A Fife castle has been forced to close after anti-social behaviour and reckless criminal damage was visited on the landmark site.
Historic Environment Scotland (HES) confirmed Ravenscraig Castle will be shut to the public from Thursday until Monday due to ongoing concerns around the actions of people at the famous Kirkcaldy site.
The decision to close the castle in advance of Bonfire Night has been taken after  wallhead stones were thrown from the castle's East Tower.
It was one of multiple instances of vandalism and fire raising over the past 12 months, which has included damage being caused to fencing and panels.
The castle grounds have long attracted groups of youths using it as a drinking den and with no organised fireworks displays taking place due to Covid-19, there are fears the 15th century property could be subjected to more fire damage.
Dr David Mitchell, head of conservation at HES, said: "We've been very disappointed at the ongoing issues of antisocial behaviour and criminal damage at Ravenscraig Castle, and regrettably feel that closing access to the site in advance of bonfire night is necessary to prevent further damage.
"Heritage crime such as this can cause irreparable damage to our precious historic sites, divert important resources from other essential conservation and maintenance work, and cause us to lose pieces of our past forever.
"The historic environment belongs to all of us, and we recognise the need to work closely with the local community to raise awareness of the serious impacts of heritage crime and how we can work together to tackle it.
"We would encourage anyone who witnesses any such incident to contact Police Scotland."
Members of the public can report incidents to Police Scotland by calling 101 or contact Crimestoppers anonymously on 0800 555 111 and online at crimestoppers-uk.org.
Built with defence in mind
James II acquired the lands of Ravenscraig Castle in 1460, and work immediately began on construction of a residence for his wife, Queen Mary of Gueldres.
Within five months, James II was killed by one of his own guns at the siege of Roxburgh.
However, Mary pressed on with the castle's construction regardless, and in 1461 it was completed to such a state where her house staff were able to stay there for 25 days.
It's unclear whether Mary herself stayed at the castle before her death in 1463.
But she never saw a finished castle at Ravenscraig – the only parts completed by her death were the east tower and foundations of a central range.
Mary's son, James III, granted the still-unfinished castle to William Sinclair in 1470 as compensation for resigning the earldom of Orkney and lordship of Shetland to the Crown. He became earl of Caithness at the same time.
As a royal household, Ravenscraig was built with defence in mind. It's situated on a promontory into the Firth of Forth, fronted by a large rock-cut ditch.
But the Sinclairs transformed it into the well-defended fort we see today. Over the central vaults, where Mary would have built her great hall, the Sinclairs instead installed a gun platform in the mid-1500s.