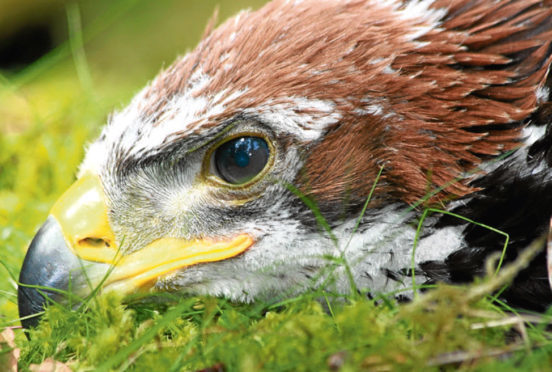 A young golden eagle tagged in Scotland last summer is thought to have been killed just seven miles from the Scottish Parliament, and its body dumped in the North Sea.
The eagle, named Fred, hatched at a nest site in the Scottish Borders in 2017, and was the offspring of the only breeding pair in the region.
The bird was satellite-tagged in June in a project involving TV presenter and naturalist Chris Packham and Dr Ruth Tingay of Raptor Persecution UK.
It was hoped the protected raptor would go on to increase the vulnerable breeding population in the Borders, but it disappeared last month in suspicious circumstances in the Pentland Hills.
Its tag "suddenly and inexplicably stopped" on January 21, only to resume transmissions three days later when the raptor's GPS location was shown to be in the North Sea, 10 miles offshore from St Andrews.
Campaigner Packham yesterday described the loss as "shocking" and expressed fears for the reintroduction of the species to the south of Scotland.
He said: "Once again, we have the suspicious disappearance of a satellite-tagged golden eagle in an area managed for driven grouse shooting.
"What's truly shocking about this case is that it didn't take place in a remote Highland glen miles from anywhere, but it happened within a stone's throw of Edinburgh, right under the noses of the Scottish Government."
Dr Tingay said: "It is beyond doubt that Fred's disappearance is highly suspicious. Golden eagles don't generally fly out for miles over large bodies of sea water but even if Fred had done so, apart from defying everything we've learned about Scottish golden eagle behaviour, we would have seen excellent tracking data plotting his route given the reliability of his tag."