Perth office workers found themselves taking part in a session with one of the UK's most well-known fitness instructors on Tuesday.
TV's Mr Motivator, whose real name is Derrick Evans, was in Perth's Aviva HQ to promote exercise and healthy living among colleagues – many of whom have desk-bound jobs.
The fitness fanatic rose to fame for his live workouts on GMTV in the 1990s.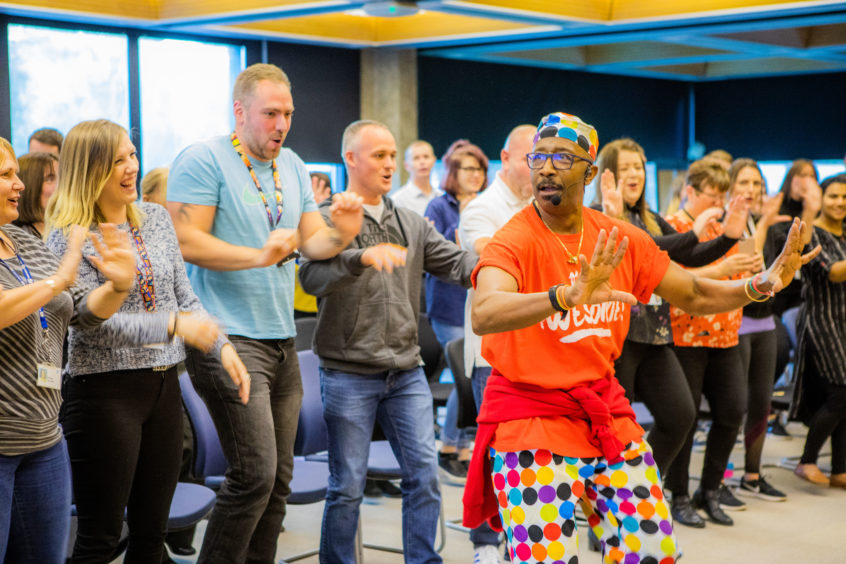 Desk-based exercises/tips from Mr Motivator:
Stop crossing your legs, it gives you varicose veins
If you need an energy boost, stand up and sit down 10 times in a row
When standing up, try to push yourself up without using chair arms to ease pressure on your back
Stand up at least once an hour
Push back and forward on your heels and do walking motions with your feet while sitting, to strengthen your pelvic floor
Pretend to squeeze an orange between your shoulder blades to stand tall and improve posture.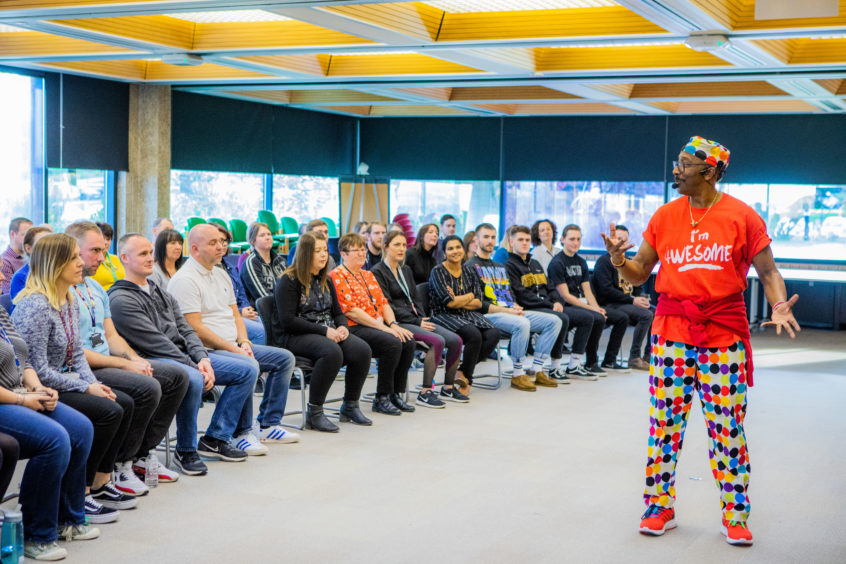 But do the exercises work? We gave them a bash…
Squeezing an orange between your shoulder blades may be the most bizarre tip for an instant pick-me-up I've ever heard – but who am I to argue with Mr Motivator?
Apparently if there is no fruit to hand, pretending does the job just as well – you will immediately stand taller, making you look and feel better.
I've always been an advocate of the benefits, both mental and physical, of exercising, but until yesterday I treated "motivational speakers" with utmost pessimism.
After seeing the gloomy-faced Aviva Perth staff walking into the boardroom, compared with those who left an hour later, it's safe to say I'm converted.
Derrick Evans, better known as Mr Motivator, has made millions from inspiring others to get fit and improve their outlook on life and judging by the difference in his audience's attitude in such a short time, he is doing something right – not to mention he looks at least two decades younger than his 66 years.
Credit must go to the Health Heroes of Aviva, ordinary staff members who go over and above to support employees improve their physical, mental and financial wellbeing.
From free fruit days to guest speakers and fitness classes, other organisations could learn a lot from the efforts of this small group of 10 and the ethos behind it.