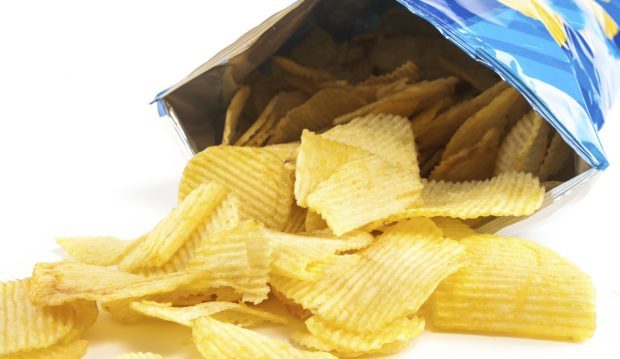 The date: 1974. The place: Perth. Our protagonist: Let's call him Gary, a typical 1970s lad-about-town, all double denim, platform boots and flowing locks.
Picture him strutting through Kinnoull Hill, perhaps chatting to a friend about the latest hits of Peters and Lee, a particularly good episode of Some Mothers Do Have Em or the opening of the Charles De Gaulle airport in Paris.
As he walked, he finished off a packet of his favourite crisps – Smiths' Savoury Vinegar – necking the last scraps from the bag like a seal gulping down a salmon.
No bins? No problem for Gary. He just tossed his empty packet over his shoulder, and claps his hands clean. Remember, it was a different time with different attitudes so let's not judge him too harshly.
Fast forward 45 years, and Gary's crisp packet has been discovered by a team of volunteers during a litter pick at Kinnoull.
A bit faded, but still recognisable as a packet of Smiths. And with all the crisps drained away, just like Gary left it.
It's truly a remarkable discovery, but also deeply worrying.
With about 90% of UK population munching through roughly six billion bags of crisps each year, the potential damage caused by discarded packaging is immeasurable.
And it is only recently that manufacturers appear to be taking action. Last year, snack giant Walkers announced it was setting up a new recycling system. It followed a petition signed by 330,000 people calling for the company to ditch plastic packaging.
Last month, the same company said it had recycled about 500,000 packets in just a matter of weeks. It's a step in the right direction for sure, but still a drop in the ocean considering the firm makes 11 million packets a day.
It's not the care-free 1970s anymore, and the recovery of this age-old crisp packet in Perth is a stark reminder that it really is crunch time for the environment.
We're facing a deadline for catastrophe and it is now absolutely crucial that everyone – from global corporations to volunteer litter pickers – does their bit to help address climate change and clean up the planet.
The challenge before us is enormous, and its not a problem that can be solved by any one group, company or even country. It's going to require cooperation and unity, which – if I'm being cynical – sounds like something from a different era.