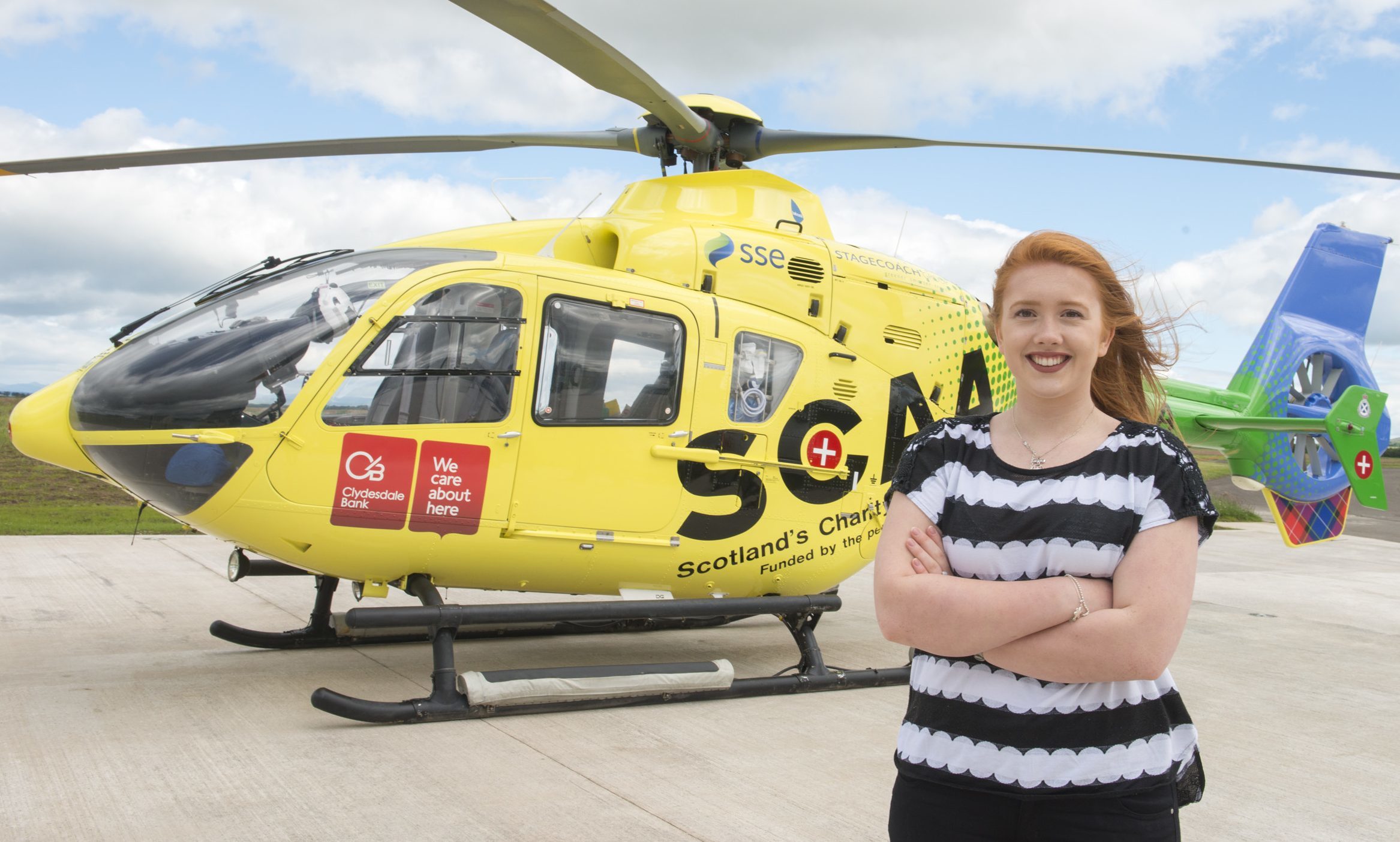 A courageous schoolgirl who survived a crash with a pick-up truck has thanked her rescuers.
Lucy Smith was left battling for her life after she was struck down, moments after stepping off a bus in a Perthshire village.
The 15-year-old was catapulted through the air and landed across the street, underneath a parked car.
She spent more than a week in a high dependency hospital unit after worried doctors found bleeding in her brain.
Now exactly one year on, Lucy has made a complete recovery. On Monday, the High School of Dundee student, now 16, visited Scotland's only charity air ambulance (SCAA) crew at their Perth Airport base to thank them for their heroic role in her rescue.
Lucy and her parents Euan and Kirsten, who run the MacDonald Arms Hotel at Balbeggie, showed their gratitude with a £2,000 donation. The money was raised through a series of events, including a quiz night and dominoes contest.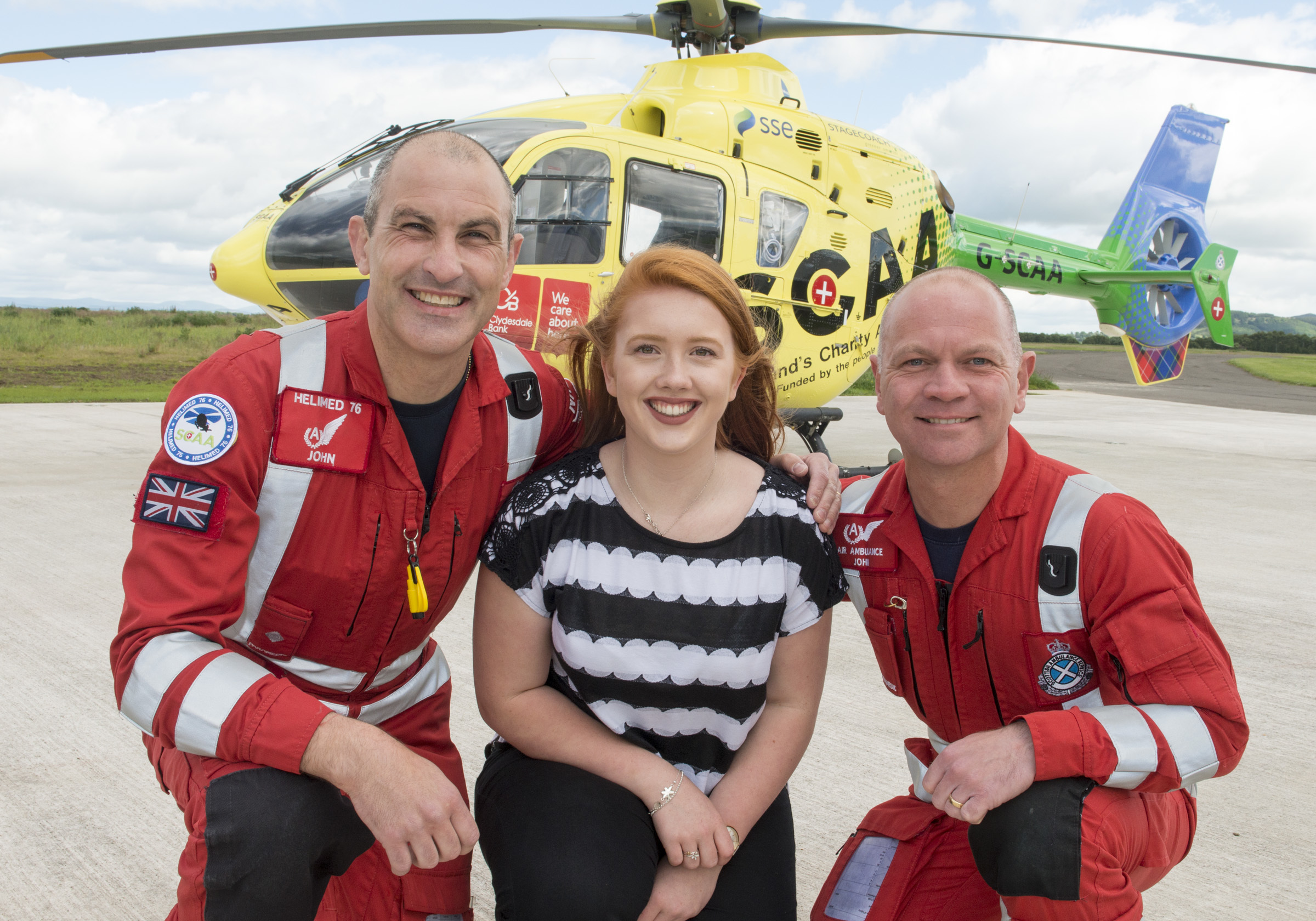 The accident happened on June 25 at Kinrossie. Lucy was on her way to youth club when she was hit.
Emergency crews, including SCAA, were on the scene within minutes.
Mr Smith was at his daughter's side as she lay injured on the road.
"We've always supported SCAA, but after seeing the team in action for Lucy we wanted to do more," he said.
"We got there pretty quickly. It was terrifying, seeing her lying there and feeling so helpless.
"She had serious head injuries, but was conscious and shouting and striking out at the paramedics. It was very distressing to see."
Although the SCAA was scrambled to the scene, it was decided that Lucy should be taken to hospital by road ambulance because of her highly agitated state.
But because of her severe injuries, a SCAA paramedic travelled alongside her. A member of the Tayside Trauma Team rendezvoused with them on route to Ninewells.
Mr Smith said: "She was later diagnosed with a small bleed to the brain and we were told that the first 48 hours would be critical.
"It was eight days in high dependency before we were allowed home to a long summer of recovery," said Mr Smith. "It was a huge relief after a very traumatic week.
"We will forever be thankful to everyone who worked so hard to save her that day. The 999 machine is phenomenal when you see it in action – the speed and professionalism of those involved was just amazing. We can't thank them enough."
Lucy, who wants to be a dentist when she leaves school, said she knows she has lucky to have come through unscathed. "I have absolutely no memory of the accident," she said. "I just remember waking up in hospital afterwards.
"It was great to come out and say thank you to SCAA and meet the paramedics who were there on the day."
David Craig, the charity's chief executive, said: "We are so pleased that Lucy has made a full recovery and everyone at SCAA was delighted to see the family.
"It's very humbling that despite the traumatic course of events, the family have thought about others and raised a fantastic sum of money which will help keep SCAA flying."