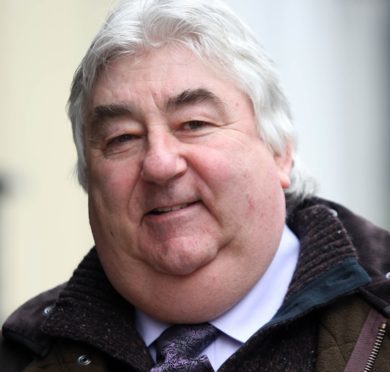 Conservative opposition councillors have slammed a price rise of £220 per month for council care home residents by describing it as a "massive hike."
Members of Perth and Kinross Council's housing and health committee this week agreed to increase the weekly rate for self-funding residents at Beechgrove House in Perth, Dalweem in Aberfeldy and Parkdale in Auchterarder from £829.56 per week to £884.42 – a rise of seven per cent.
A report on the issue, drawn up by Bill Atkinson, director of housing and social work with Perth and Kinross Council, recommended the price rise, which he stated was based on the actual cost of running the care homes, including overheads and capital, while taking into account the anticipated occupancy levels.
Councillors heard that this is the methodology that has been used for the calculation of this weekly charge for many years and is consistent with the local authority's financial regulations, which require full cost recovery of running costs – subject to a financial assessment of an individual's ability to pay.
Despite strong opposition to the proposed rise from Conservative councillors on the committee, Councillor Kate Howie and Councillor Dave Doogan put forward a motion to pass the price rise, which was agreed by nine votes to four.
The rise, which follows on from an agreed increase in costs last year, means that 'self-funding' residents living in council-run care homes now face an increase of £220 per month, and will be paying £3,536 per month in costs.
Self-funding residents are those who have a house and/or assets worth £26,000 or more.
Councillor Ian Campbell, who put forward an amendment to "cushion" the price hike to two per cent, feels the move is unfair and described the rise as "no small beer."
"The council want a full cost recovery involving local authority run care homes which is okay in principle but we felt is far too much of a jump for individuals and families, particularly when there are large council tax rises in the offing from the SNP," he said.
"We argued that the proposed seven per cent increase was out of line with the current inflation rate of only 1.6%. Last year the threshold at which people have to make a contribution was set lower and the SNP are now hammering those who have to pay the hardest."
He continued: "We proposed an increase of two per cent plus inflation. This is the same formula we use for other areas of council services and it would seem reasonable that we try and soften the blow for these people as much as possible.
"A seven per cent rise at the care homes is just another attack on those who can be tapped for cash and won't or can't fight back. We were disappointed that the SNP once again chose to impose massive hikes in people's care costs."