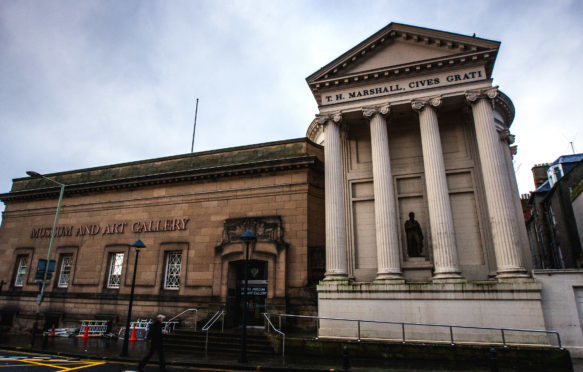 Parents have expressed disappointment at the cancellation of a "once-in-a-lifetime" dinosaur event which has been put off for "operational" reasons.
Many angry residents have said their children were looking forward to the 'Britain's Dinosaurs – Meet the Local's' exhibition, which took five years to plan, and promised to feature more than 20 species of dinosaurs and over 100 original fossils at Perth Museum and Art Gallery.
The event, which was to run for three months at the museum and is understood to be one of the UK's biggest touring dinosaur exhibitions, was cancelled and two dinosaur exhibitions – Playing with Dinosaurs and Bones will now take its place.
The museum have blamed "operational reasons" for cancelling the 'Britain's Dinosaurs' event but have refused to elaborate on this.
A spokesperson for Culture Perth and Kinross, which runs Perth Museum and Art Gallery, said: "We have not been able to bring Britain's Dinosaurs to the public due to operational reasons. Whilst not common, this can sometimes happen with exhibitions.
"We have amended our programme at Perth Museum and Art Gallery and we hope that everyone will enjoy the two new exhibitions and our dinosaur-related events."
However, scores of angry parents have said they are disappointed with the cancellation of an event previously described as providing  a "once-in-a-lifetime" opportunity.
Rachel Maitland, of Bridge of Allan, said the replacement dinosaur exhibitions sound "great" but are "not at all" what she and her family were initially going to attend.
"Our kids love dinosaurs and were really looking forward to learning about ones that lived here — that was the attraction of the event for them," she said.
"The workshops they have replaced the event with, whilst I'm sure will be very interesting, are just a bit too generic. I'm very disappointed that the original exhibition is not going ahead."
And Sian Dawson added: "It's such a shame as we were really looking forward to the original exhibition. The two replacement exhibitions sound okay but definitely not as good or as informative.
"Looks like our trip is off."
Mother-of-two Carol Hughes, of Perth, commented: "I think it's ridiculous that the first place we found out about this cancellation was on social media. Our kids were really excited about the Britain's Dinosaurs exhibition – it sounded like it would be tremendous."
Playing with Dinosaurs has been described as a family fun-filled, interactive gallery. Meanwhile, the Bones exhibition will explore the composition and complexity of bones and skeletons of creatures.
The two exhibitions are part of a spring programme at Perth Museum that will run from March 17 until June 24.