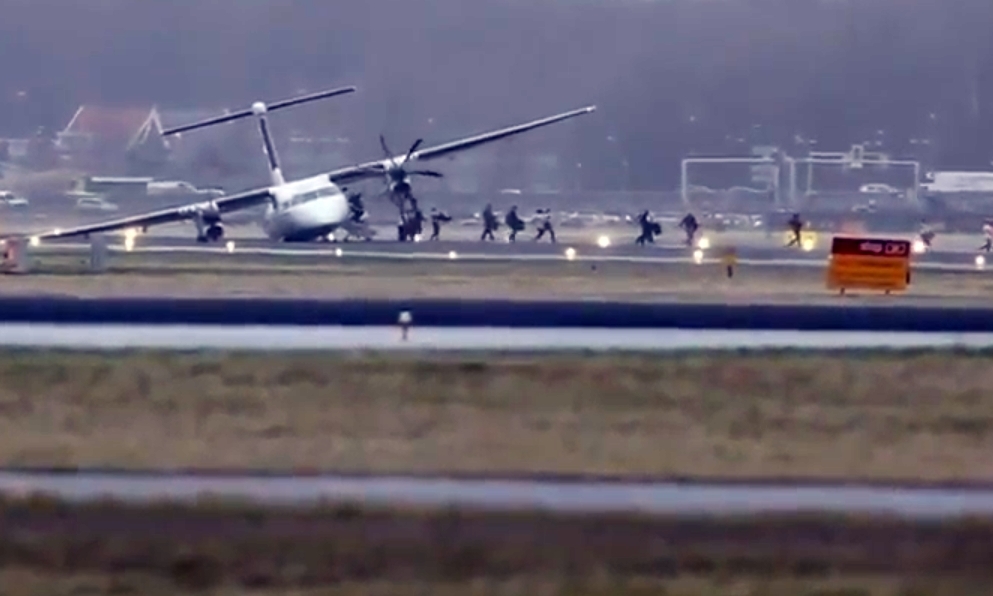 More video has emerged showing the moment the landing gear of a flight from Edinburgh failed on touchdown at Amsterdam's Schiphol Airport.
Flight BE1284 made a heavy landing in high winds on Thursday, with a wheel collapsing under the weight of impact.
No-one was injured in the incident.
The failure was captured on a number of videos, including from inside the cabin by passenger David Fleming.
Crash landing @Schiphol Edinburgh to Amsterdam Flight BE1284 @BBCScotlandNews @BBCBreaking @SkyNews @STVNews @flybe @airlivenet #StormDoris pic.twitter.com/ueLa3C5fBu

— David Fleming (@OfficialDavid7) February 23, 2017
Other videos show the incident from different angles.
The aftermath of the incident was also recorded on video, showing the passengers evacuating as the left-hand-side rotors continue to spin.
https://www.youtube.com/watch?v=cZtxFnHdp-w
This video, while missing the moment of touchdown, shows the plane sliding along the runway before coming to a rest. It also shows Schiphol's on-site fire and rescue crews racing to ensure there was no outbreak of fire.
Praise for crew
Passengers and other Flybe customers have praised the response of the pilots and crew in ensuring the incident ended without injuries.
Catriona McDermott said: "Well done to the crew for landing everyone safely.
"They do have excellent training at Flybe."
Jacqui Iqbal added: "Great work Flybe staff and just glad everybody safe. Pilot did fabulous job to make sure," while Victoria Flannel said: "A massive well done to all the crew."
Dave Monaghan said: "Poor passengers 🙁 and the poor cabin crew and especially the flight deck crew who will be devastated that this happened on their flight.
"They always have the safety of the passengers at the forefront of their minds, and us passengers sometimes underestimate the skill flying an aircraft requires, and this incident proves such skills were used."
Matt Notti said: "ANY landing you can walk away from is a GOOD landing….well done you guys/gals in the pointy bit, respect."
But Ian Crighton added: "In the nearly three hours we were held at the airport (there was) no word from Flybe staff.
"Not good enough – glad to be safe – think we got hit by a gust as we landed then dropped hard onto the runway."
'Safety highest priority'
Flybe CEO Christine Ourmieres-Widener said: "Our highest priority is the safety and well-being of our passengers and crew. Our pilots regularly train for situations such as this in simulators at our training academy in Exeter.
"Our cabin crew are also fully trained to deal with these situations professionally.
"We have sent a specialist team to offer assistance to the investigation and we will now do all we can to understand the cause of this incident."
VIDEO: Watch the terrifying moment Flybe flight crash lands at Schiphol Airport during Storm Doris