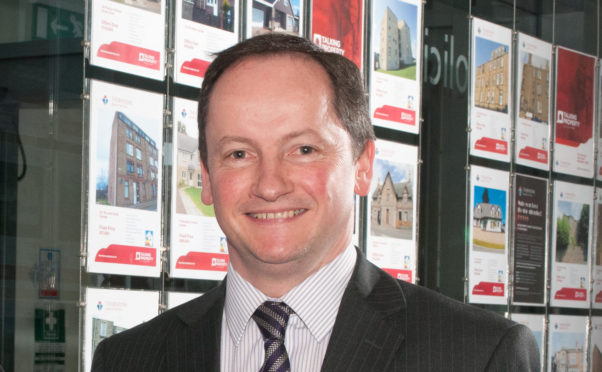 House prices in Scotland could fall by up to 20% if Britain crashes out of the European Union without a deal, according to new research published today.
KPMG is predicting the value of homes in Scotland will fall by an average of 6% next year if a deal isn't made with the EU.
However, the accountancy firm said it was not "out of the question" that there is a larger correction to the property market and prices drop between 10 and 20% by the end of 2020.
Thorntons Property's managing director Peter Ryder said house prices in Tayside had increased this year but the Dundee-based expert said it was possible a no deal Brexit would make banks more risk adverse.
"It's hard to predict what Brexit will do to house prices in Tayside and Fife," he said.
"If funds are still available I think people will still want to move but the lenders might go back to what they did in the 2010 recession and require larger deposits and tighten up their lending criteria.
"At the moment for the last few months the Dundee property market has been holding its own.
"Dundee, like many other areas in Scotland, has been experiencing a shortage in stock coming to the market and we are finding is that the properties we list sell relatively quickly."
Mr Ryder said that in the last month more people were adopting a "wait and see" approach before buying or selling property.
"It means there's pent up demand of people wanting to put their houses on the market and move," he added.
Under a deal scenario, which assumes Brexit is resolved smoothly, KPMG predict little change in Scottish house prices is likely to be seen this year.
The analysis forecasts the overall pace of house price growth to then accelerate to 1.4% in 2020, with the average property north of the border selling for an anticipated £153,000.
Catherine Burnet, senior partner at KPMG in Scotland, added: "Our data suggests 2020 could be a particularly delicate year for the housing market.
"Even if a positive resolution can be found to the Brexit dilemma, increasing geopolitical uncertainty could impact growth in the Scottish economy, making prospects for house prices relatively subdued."
Figures from Aberdein Considine showed Dundee enjoyed an average price rise 5.6% in the second quarter of this year to hit £148,790.
Meanwhile Nationwide warned on Friday that house prices dropped nationwide in August as consumer confidence dipped.
KPMG's Scottish house price predictions
No deal Brexit:
2019 0.7% rise
2020 6% fall
Brexit deal:
2019: 1.4% rise
2020: 1.4% rise
Average Scottish prices by end of 2020
Deal: 153,000
No deal: £141,000