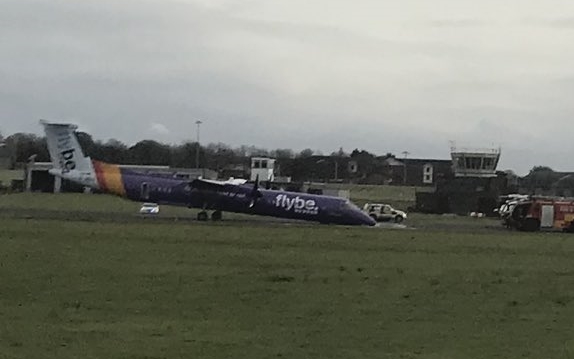 A plane bound for the Scottish Highlands has crash landed in Northern Ireland.
The Flybe craft was headed for Inverness when it was forced into an emergency landing at Belfast International Airport at about 1.30pm.
The Bombardier Q-400 aircraft, flight no BE331, crashed with its nose down on a runway after taking off from the Belfast City-George Best airport at 11.30am.
One person, a passenger, has been taken to hospital with minor hand injuries.
It is said to have suffered a problem with its nose gear, noticed by the pilot after departure.
It had to dump fuel to reduce its weight while circling the city before landing.
Firefighters rushed to the aircraft upon its arrival following the "full emergency" on board the plane.
There were 52 passengers and four crew members on board.
A Flybe spokesperson said: "Flybe can confirm that one person was taken to hospital with a minor han injury following an incident involving one of our aircraft this afternoon which landed with its nose gear raised at Belfast International Airport  at 1.30pm local time.
"There are no further reports of any other passenger or crew injuries. There were 52 passengers plus one infant on board and four crew members.
"We are sending a specialist team to Belfast to offer assistance and we will now do all we can to understand the cause of this incident.
"The aircraft departed from Belfast City at 11.07am local time bound for Inverness."
Flybe confirm 52 passengers and Four Crew were on board the aircraft that landed at Belfast International without nose gear ? @AllyRH pic.twitter.com/tiylUCDrNa

— Flight Alerts ⚠ (@FlightAlerts777) November 10, 2017
— Flybe ✈ (@flybe) November 10, 2017
— Flybe ✈ (@flybe) November 10, 2017