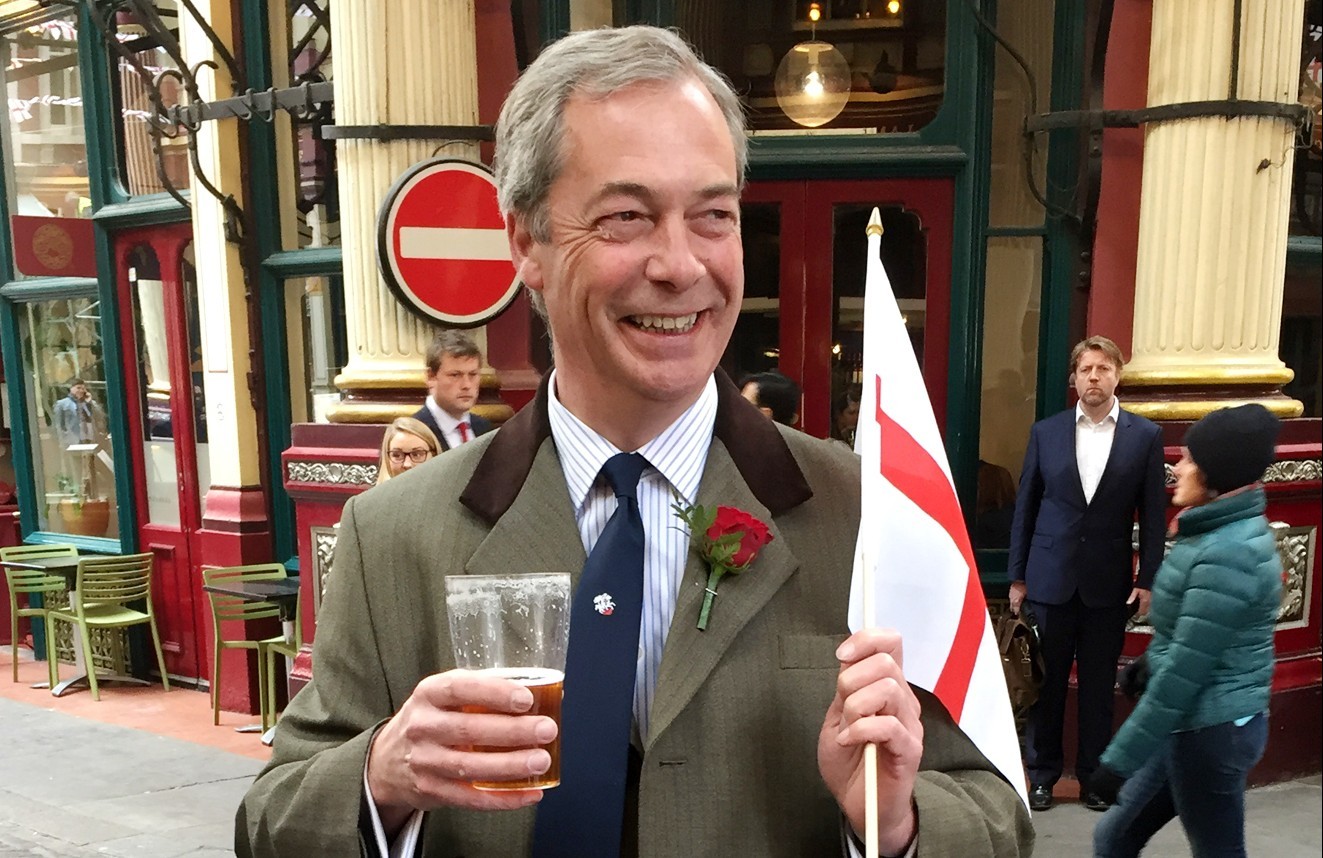 Sir, – All the hopeful minority parties in Scotland will be battling for the last-minute voters who are totally confused about what is what in this very confusing post-referendum battle.
The Lib Dems, Greens, Scottish Socialists , RISE, and the ubiquitous non event that is Ukip with David Coburn romping around in deer stalker and Highland tweeds makes you wonder what is actually happening here.
Yes they do want us out of the EU while others want the UK to remain but what is their real agenda here? After all, they didn't like Scotland, still don't and Nigel Farage has been known to talk us down elsewhere while suggesting they withdraw our special funding for a deprived third world country that is Scotia while they enjoy relative affluence down south at ours and the north east of England's expense.
Electricity, water, oil, wind power, whisky, tourism, fishing, shipping, Faslane and nuclear bases all help support the UK economy while the lion's share is kept for their own southern affluent regions through banking and financial controls.
We Scots, too stupid or poor to go it alone, seems to be the attitude here. After all, Ukip hate the idea of Scottish full independence. Do they realise we're the country of the Scottish Enlightenment that founded colonies and territories world wide which created wealth for hundreds of years before the UK was formed?
We traded with Europe, France and well beyond for centuries before England even stopped fighting wars about roses ( Houses of York and Lancaster ). We had our own kings, queens and palaces until the Union of Crowns in Falkland and Dunfermline, as well as Holyrood.
As two well-heeled, well-paid Euro MEPs Farage and Coburn have no real interest working in or for Scotland. It's just another lucrative gravy train after Europe and the EU. After all, where will they go if we do decide to leave the EU in June?
The Corries said it all.
'Let's send them homeward tae think again…..'
Anne Marie Grant
23d Sea Road, Methil.
Where is money coming from?
Sir, – With all the manifestos finally available it seems the usual rules on unfunded promises are turned on their head.
Normally we might expect those not predicted to get into government to make lots of grand promises without clarity on how they will be paid for.
When not in government they might claim not to have all the necessary information to fully cost and properly explain where the funding will come from. Those in power who have all the relevant facts to hand have no such excuse.
Yet in this election all the opposition parties appear to have properly explained how taxes will be raised to fund improvements in education and other services.
Instead, we have the SNP blatantly including a long list of spending pledges without detailing how they will be paid for.
We can only presume that the relevant tax increases will come in the next couple of years once all the inconvenience of securing votes is behind them.
Keith Howell.
White Moss,
West Linton.
Politicians lose sight of the ball
Sir, – I note with some interest the focus of all the party leaders on the fact that Royal Troon is a men-only club, completely ignoring the provision for women locally and the shared use of facilities.
Of course it is a political sound bite and a chance for them to stamp their wee feet and protest "Ah'm no goin' tae the Open!" but, honestly, does it matter if there are men-only clubs or women-only clubs?
I'm just glad they can focus on real issues and not worry about legislation contributing to the breakdown of the family, the crisis in the NHS, the fact that foodbanks have become an accepted part of the welfare system, the intrusion of 'big brother' into all facets of society and loss of freedoms, social and religious, in the name of a spurious 'fairness' agenda.
A 'fair' society is one where all who are able to pull their weight do so; people should be helped but welfare should not become a way of life for those able to work who choose not to, but successive governments have engendered a society based on entitlement rather that personal responsibility.
We need our politicians to focus on the big picture, not the whims and wants of small focus groups; stay out of people's lives and run the country.
Bruce Dempsey,
8 Castlehill Road,
Dingwall.
Electric cars can make difference
Sir, – Can I give some rather significant corrections to the information supplied by your correspondent Clark Cross (Letters, 28 April 2016).
Auto Express Driver Power found the Tesla Model S best to own of all cars, not simply electric cars.
Second was another electric car, the Renault Zoe. This costs under £14,000. It doesn't take the price of a Tesla to drive an electric car.
The environmental damage a car does is mostly through its use. An electric car is likely doing better within just a year of use.
Moreover, diesel emissions contribute to tens of thousands of premature deaths each year.
About half of all new cars are diesel. Is Clark Cross seriously suggesting an electric car instead of a diesel one would "make not one bit of difference to emissions"?
Gordon Pay,
Eden Park,
Cupar.
NHS Fife bosses not up to the job
Sir, – Regarding the current crisis in Fife NHS. The people who are supposed to be running our health service in Fife should be replaced.
They are obviously not capable of doing the job and should not be there.
Alister Rankin,
93 Whyterose Terrace,
Methil,
Leven.
Hail GPs and junior doctors
Sir, – The article and statistics in the Thursday Courier are more than alarming – it basically says we will not have a functional GP system by 2021.
I am 70 years old and in pretty good health having never needed much from our local practice over the years – however I have a wife and son who both have issues and need regular help from both our local practice, ARI and the Western General, all to excellent effect.
The service from both the local practice and the hospitals is exemplary – we can always get an appointment even if at the end of a consultation.
In both hospitals I have seen on a regular basis junior doctors still working after their 12-hour paid for shift for two or three hours as they still have to complete the handover to their relief or check on a patient – they just get on with the job in hand.
My wife and son have been more than well looked after overall, all done with a professional smile for more than 20 years.
When will Jeremy Hunt understand he is going to destroy our NHS overall, not just GPs, with his pedantic attitude? These professional people study hard, work hard and want to help others.
Good doctors will move to Australia, Canada, South Africa and other areas where they are paid well and not worked to a standstill.
George Sangster,
Woodlands,
Logie Craigo,
Montrose.
Ask yourself if it's coeliac
Sir, – Coeliac UK is the national charity for people with coeliac disease and dermatitis herpetiformis.
It is estimated coeliac disease affects one in 100 people but only around a quarter of those with the condition are currently diagnosed.
We are urging your readers, in Coeliac UK Awareness Week (9-15 May), to ask "is it coeliac disease?" if they are suffering from any of these symptoms – stomach cramps, nausea, vomiting, regular bouts of diarrhoea, constipation, bloating, ongoing fatigue, anaemia, weight loss, or constant mouth ulcers.
If that is you, we encourage you to visit www.isitcoeliacdisease.org.uk and take Coeliac UK's online assessment.
The assessment provides you with a result that you can take to your GP if your responses indicate a need for further tests.
Coeliac disease (pronounced see-liac) is not an allergy or an intolerance but an autoimmune disease, so when people with coeliac disease eat gluten, a protein found in wheat, barley and rye, the body attacks and damages the lining of the gut where food is absorbed, making it difficult for the body to get the nutrients it needs.
Gluten is found in many everyday foods such as bread, pasta, cereals, cakes, biscuits and sauces.
So, in this week of awareness and beyond when you notice these symptoms, be ready to ask yourself "is it coeliac disease?".
Myles Fitt, Coeliac UK,
1 St Colme Street,
Edinburgh.
Housing 'slump' not all it seems
Sir, – I read with interest your article this week ("Slump in house prices as city sales hit heights", 27 April).
Our own experience of selling houses in Angus for over 50 years shows not only a rise in properties being sold but also in their average price.
Whilst increased supply often means reduced prices, our experience as being top of the listings on Rightmove, shows an increased number of people using technology to find a suitable home, dramatically increasing the number of customers for each property.
This has resulted in an increase in average price even if the number of sales actually remains static.
Those looking to sell their home would do well to consider using these methods to reach out to as many potential buyers as possible to achieve the price they are looking for when selling.
Amanda Wiewiorka,
Director,
Wardhaugh Property,
High Street,
Arbroath.