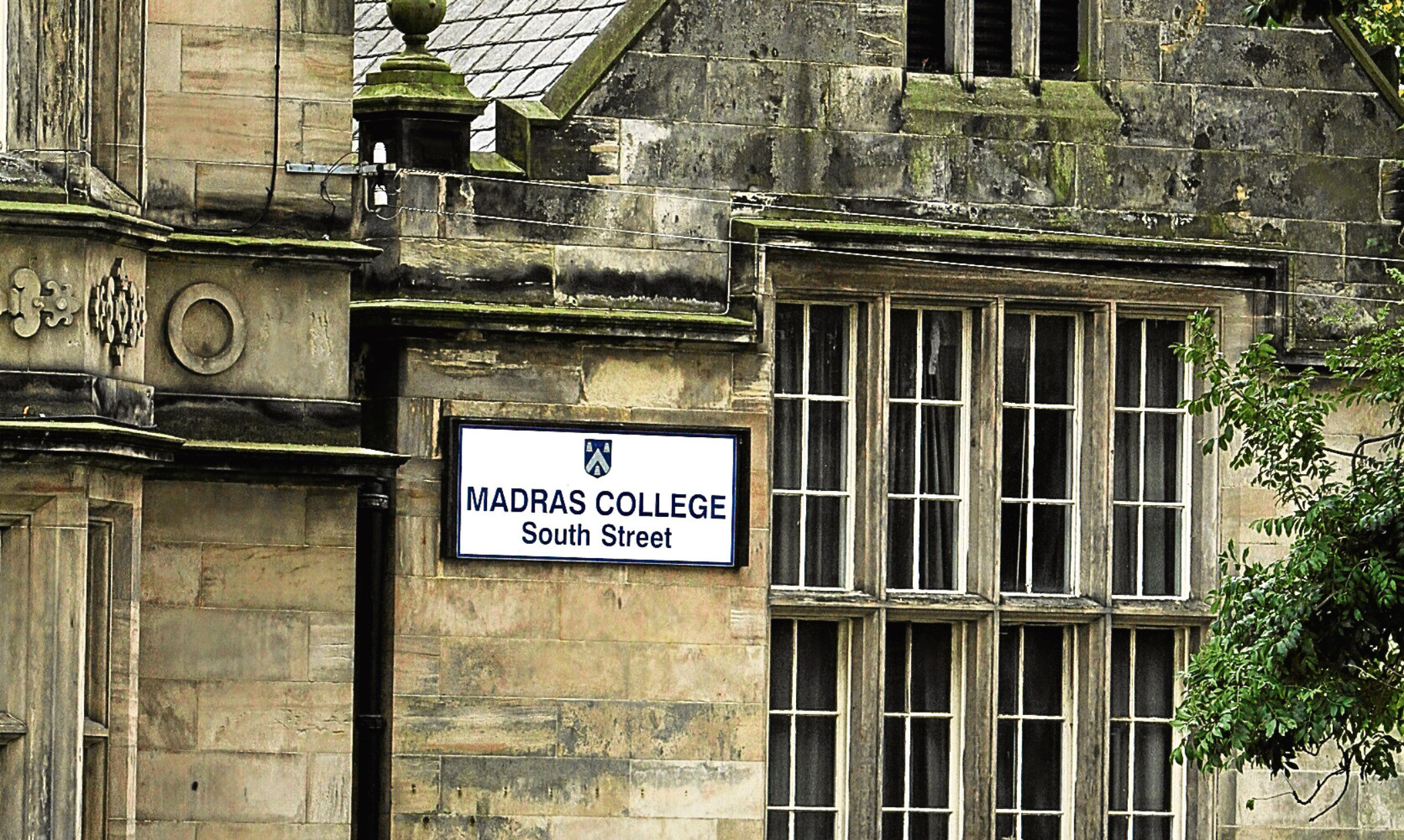 Sir, – Last week Fife Council's executive committee agreed the criteria for selecting the site of the new Madras College and other new schools across the region.
While this is welcome, the current council administration has done little to allay the concerns that many people have.
In the judgment quashing the previous planning permission, Lord Malcolm commented on the need for council officers to ensure that the wishes of the political administration do not interfere with the need for a fair and proper assessment.
Despite this, Fife Council has still not withdrawn the Pipeland planning application. Preparatory work on it continues.
An objective observer may, therefore, question exactly how fair and impartial the new site assessment is going to be.
It is difficult to believe that Fife Council will approach the assessment with an open mind while simultaneously pursuing a planning application for one of the candidate sites.
If the current administration of Fife Council is determined to pursue Pipleand at all costs, the chances of another legal challenge, further delays and increased costs are greatly increased. No one wants to see that.
The next council elections are less than a year away.
It may be preferable if any decision about the new Madras College is taken by the next council administration which will, one hopes, not be tainted by the transgressions and incompetence of the current administration.
Mr J S Gamba.
35 Lamberton Place,
St Andrews.
Union has failed Scottish people
Sir, – The publication of the latest GERS figures triggers a feeding frenzy, with a "black hole" in Scotland's finances heralded by unionists as supporting the continuation of their beloved union.
Let us not forget that this situation is under the union and is hardly the greatest advertisement for how the economy has been managed on the UK's watch.
Most of the key economic levers required to stimulate economic growth are currently reserved to Westminster.
It is a bizarre scenario when those favouring the union, who should be ashamed at the situation, gloat and support a union that has mismanaged the economy so appallingly.
It should also be noted that under normal circumstances nearly all governments run a deficit.
The UK's is now approaching £100 billion, a figure which, with Brexit, will rise.
Indeed, figures indicate that leaving the European Union is projected to cost the Scottish economy up to £11.2bn per year and Scottish public finances up to £3.7bn per year.
So, what we have is figures, based on a measure of guesswork, that indicate very little, except to highligh the negatives of union and have little bearing on the finances of an independent Scotland.
The point of independence is not to do everything in the same way as it has been done under the union, but to move away from a one-size-fits-all economic strategy to one that addresses our strengths and priorities, stimulating economic growth.
Alex Orr.
77 Leamington Terrace,
Edinburgh.
Should we delay wind turbines?
Sir, – Now that the beached oil rig has been refloated after running aground off Lewis, is it not time to think again on such matters?
Soon, we are told, a major decommissioning programme will be starting, involving the movement of rigs into decommissioning yards.
Is it sensible to install offshore windfarms across or near shipping lanes, at least until the decommissioning has been completed?
Does anyone know how long an offshore windfarm is expected to last? Are they really worth the money?
A T Geddie.
68 Carleton Avenue,
Glenrothes.
Stamp out all prejudice
Sir, – I was delighted to hear the First Minister and some of her ministers fully supporting Pride Glasgow and promising to root out anti-gay prejudice and discrimination wherever it occurs.
However, much of it occurs in schools, and shamefully, with the Scottish Government's approval.
It actively promotes the involvement of external sources into both religious observance and religious and moral education in schools.
This allows both mainstream Christian denominations and evangelicals unchecked access to spread not just anti-gay sentiments, but also anti-women's equality and anti- evolution stances.
For example, many schools grant access to ministers from the Free Church of Scotland to conduct religious observance or lessons on Christianity.
However, the recent moderator of the Free Church is championing his own online petition against the Time for Inclusive Education campaign in schools to combat what he refers to as the LGBTi ideology.
Often Free Church ministers and other Christian activists like Scripture Union have unchecked weekly access to children with no supervision as to what messages are being imparted.
Perhaps the Scottish Government could tackle anti-gay prejudice wherever it is found by starting with that it actively promotes in our schools.
Alistair McBay.
National Secular Society,
5 Atholl Crescent,
Edinburgh.
Put separatist talk on hold on Perthshire
Sir, – It is excellent news that Perth is being put forward as the United Kingdom City of Culture.
The opportunities are enormous and the potential legacy could be with us for generations.
Can we, therefore, get an assurance from our elected SNP representatives, at all levels, that they will not do or say anything which might put this bid at any risk, or disqualify us in any way?
I am, of course, thinking about their insistence that we remove ourselves from the union under which this opportunity arises.
When we gave our views on this in 2014, the result in Perth and Kinross was clear cut and decisive and we don't need to hear the arguments for that again here for many years to come.
If we are spending money on developing this bid, and are genuinely in with a chance of winning, as your front page story, Perth favourite for City of Culture title (August 20) suggests, then it would be unforgiveable if we did anything to undermine it. Taking this particular issue out of the local agenda for five years would be a breath of fresh air for all of us, and we will likely all feel the better for it too.
Victor Clements.
Mamies's Cottage,
Taybridge Terrace,
Aberfeldy.
Rethink UK drugs strategy
Sir, – Former US President Richard Nixon's war on drugs produced the worst example of legislative unintended consequences in the USA since the equally misguided prohibition of alcohol.
Four decades of devastation in the Americas are finally being addressed as state after state legalises marijuana as a first step to the eventual decriminalisation of narcotics.
In every state where this reform has occurred, tax revenues are up and its cultivation produces jobs while teenage consumption and drug-related crime has fallen.
The Royal Society for Public Health has recommended the United Kingdom decriminalises all illegal drugs on the grounds that addiction is an issue for healthcare systems, not the courts.
In the dog days of New Labour, Gordon Brown sacked his drugs czar Professor David Nutt when he advocated this approach but hopefully we are now in a more enlightened age.
Rev Dr John Cameron.
10 Howard Place,
St Andrews.