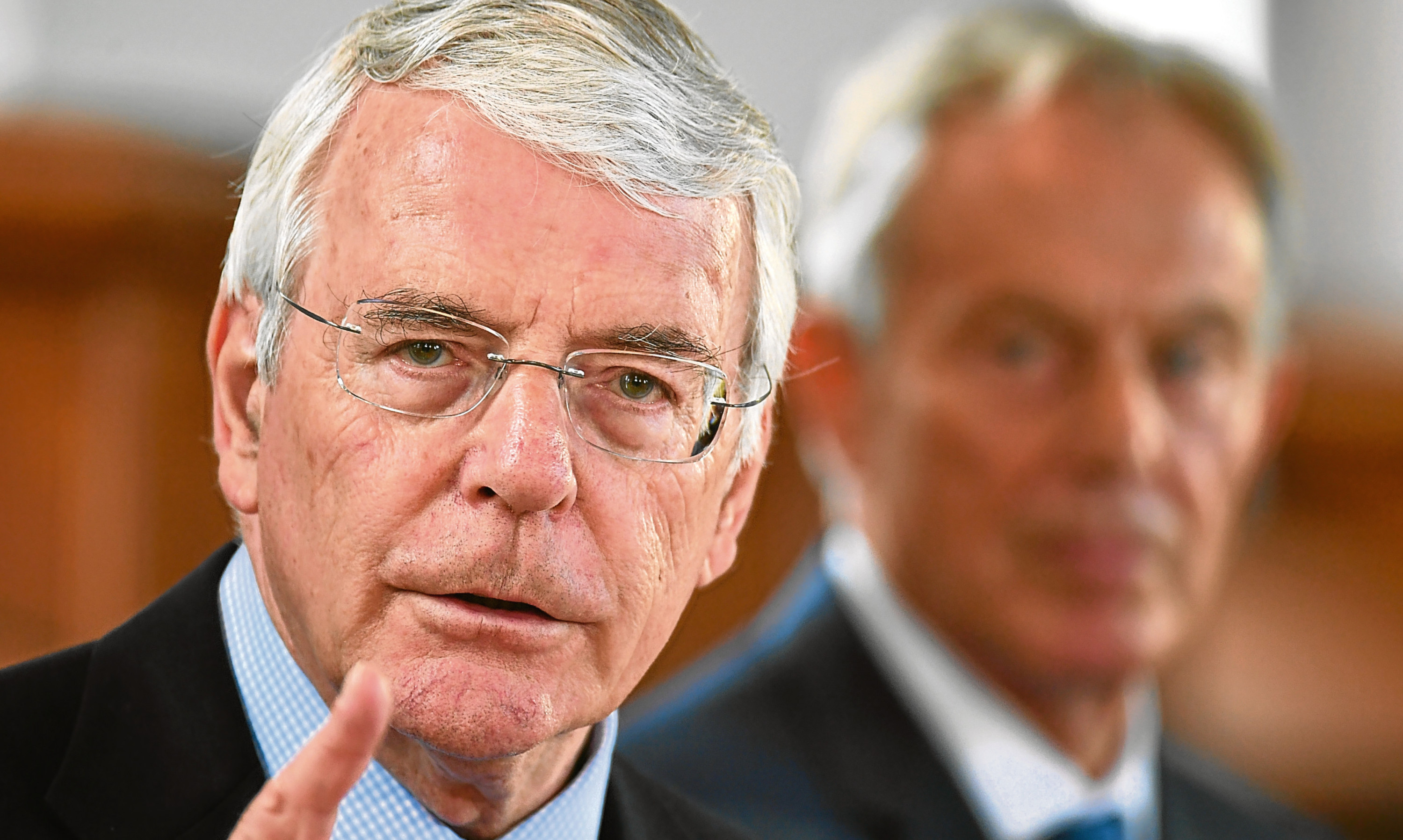 Sir, – I note that two of yesterday's men, both former Prime Ministers, intend to combine against the democratic will of the British people to attempt to thwart the result of the recent referendum.
The first, Sir John Major, was at best an irrelevant and inauspicious figure who insisted that the EU would never become too "federalised".
How wrong he has been proved to be.
The second, Tony Blair, comes with all the baggage from his costly war in Iraq, executed upon the flimsiest evidence at the time, and which still haunts the world with its aftermath of terrorist violence.
There is no secret in the fact that Mr Blair has always harboured a desire to be president of the EU and indeed still sees himself as some sort of figurehead in British and world politics.
If anything, this sortie into democratic assassination will fail to find success and favour among the electorate, and only serves to highlight the fact that, for a great number of years, we have been ruled by an elite who have placed their own personal interests above those of the people they purport to serve.
David L Thomson.
24 Laurence Park,
Kinglassie.
Dundee should value motorists
Sir, – May I compliment your paper on its informative journalism about the sudden massive increase (70% in the last four years) in parking fines in Dundee (November 26).
With the loss of so many shops and stores in Dundee city centre, you would imagine that all these exceptionally highly-paid executives, directors and managers we have would realised part of the problem is not catering for the motorist.
Or could it be this is a necessary additional tax to supplement the city council's wage bill?
Future visitors to the V&A and Dundee's other Waterfront attractions may have to be warned that a visit to the City of Discovery is likely to cost an extra £60.
Bill Duthie.
25 St Fillans Road,
Dundee.
Misleading crime figure
Sir, – Your report (November 25) stated that the Scottish Government's annual wildlife crime report claims that the number of offences against birds fell from 53 to 49.
However, in response, the RSPB stated that, "with regard to raptor persecution incidents, we recognise that a number of confirmed victims of crime are not included in the report as police investigations continue."
It would appear that what could be seen as a misleading account has been given to the public in relation to crimes against birds of prey. As this is a politically sensitive area, details like this can be very important when coming to a view as to whether shooting estates should be licensed or not, and deserves to be corrected.
George Murdo.
4 Auchcairnie Cottages,
Laurencekirk.
Degrees should be merited
Sir, – I find it extremely annoying that honorary degrees are awarded to personalities who have not earned a university degree through study.
This to me is demeaning the hard work of the students who have studied for many years to accumulate the knowledge and earn their degrees through hard work and study.
The latest honorary degree to Judy Murray, mother of Andy Murray, is a prime example.
Yes, she has done good work for the sport of tennis but what has she done to deserve a university degree without the work and study which students undertake?
Roy Moffat.
Bollyglosh,
Gilmerton.
Crieff.
White Paper was con trick
Sir, – It is with some incredulity that I read today (November 25) of the massive cheek of First Minister Nicola Sturgeon in speaking of a Brexit con.
Has she forgotten about the expensive con that she and her predecessor tried to pull before the referendum on independence, entitled Scotland's Future?
John Dorward.
89 Brechin Road,
Arbroath.
Bridge benefits went abroad
Sir, – The new Queensferry Crossing is a magnificent project in principle. However, China, Spain and Poland are supplying the steel.
Due date for completion is around a year past initial planning. The existing bridge closed last year causing major disruption to traffic and the economies of Fife and the Lothians.
Forth Crossing Bridge Constructors (FCBC) is a consortium of Hochtief from Germany, American Bridge from Pittsburgh, USA, Dragados from Spain and Morrison Construction from Scotland.
Therefore, there are fewer Scottish workers involved/employed than could have been if the project was run by Scots for Scots.
Kevin Reilly.
11 Dover Way,
Dunfermline.
Politics has come alive
Sir, – Ed Balls certainly livened up the world. He was not the world's best dancer but who cares.
He got my vote for effort and imagination. If only his political colleagues would follow his example.
Meanwhile, over the Pond, Donald Trump is doing the unthinkable by engaging with ordinary people instead of preaching at them all the time.
We will have to wait to see how this new approach pans out but a fresh breeze is blowing through politics and it is long overdue – on both sides of the Atlantic.
With so much doom and gloom about, we all need a boost and to feel of greater worth to society in general.
Bob Smart.
55 Bellevue Gardens,
Arbroath.
Antarctic defies predictions
Sir, – To the surprise of academics from the University of Reading, the log books of Captain Robert Scott and Sir Ernest Shackleton show that more than 100 years ago there was remarkably little difference in the extent of sea ice floating round Antarctica than there is today.
Antarctica, contains 90% of all the land ice on the planet and over the past 50 years has been getting colder and adding more ice.
NASA reported that Antarctica added 112 billion tonnes of ice every year between 1992 and 2001 and 82 billion tonnes every year between 2003 and 2008.
This rather dashes the claims by Al Gore in his scaremongering film, An Inconvenient Truth, that melting ice would cause oceans to rise by 20 feet and drown many of the world's great cities.
He should rename this film A Convenient Lie.
Clark Cross.
138 Springfield Road,
Linlithgow.