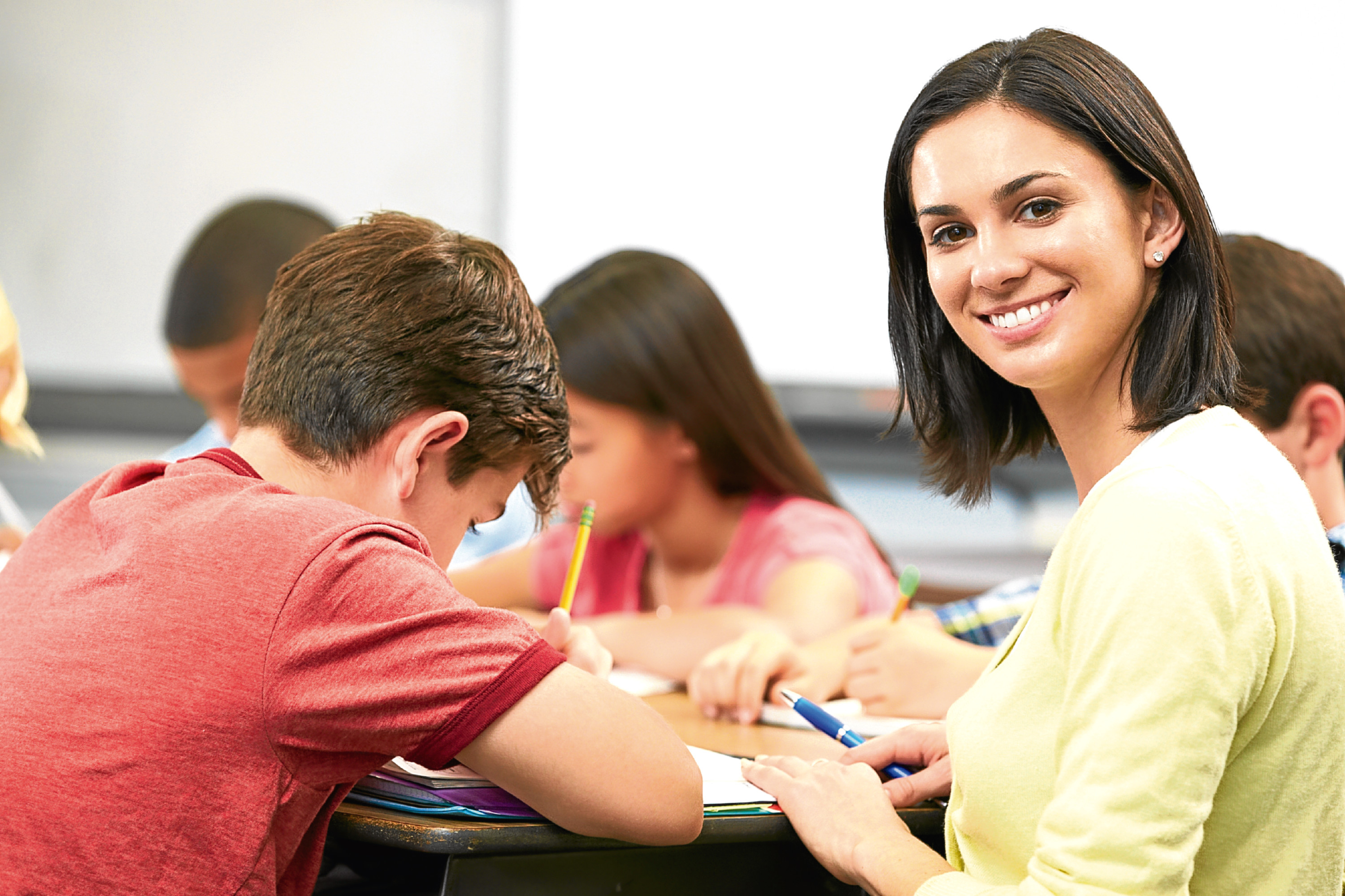 Sir, – I write in response to your article (January 3) about schools spending millions of pounds to plug teacher shortages.
It is time to look at why people no longer want to teach.
I taught for 28 years and my daughter is a newly-qualified teacher.
The burden of work nowadays is beyond realistic targets.
Many drop out during the training as it is so demanding.
Teachers work on average a 60-hour week. This includes home preparation, classroom preparation, reports of concern for child welfare, lesson plans and individual development plans.
Teachers are expected to cover staff sickness on top of this and work within the realms of social inclusion (teaching children with behavioural and learning difficulties often without the classroom assistant they are meant to have).
They are expected to be carers, social workers and teachers.
It is no wonder Scotland is sliding down the international league table.
I read another article recently about teachers being off work with stress and anxiety.
I think that something needs to change to protect these people and the future of our education system .
Cut the paperwork, let teachers spend more valuable time teaching and having a bit fun with the children; that is what they are good at. Having happy kids and workers leads to more progress.
Edith Anderson.
Millhall Crescent,
Dundee.
Centralised Scotland
Sir, – Unfortunately Derek Farmer (January 6) appears to have misunderstood the premise of my letter regarding the end of the Dundee-Amsterdam flight.
Clearly the benefits, costs and logistics were not properly analysed
The route required far greater long-term commitment, perhaps accepting it would never be profitable.
Mr Farmer stated that Dundee should not receive special status.
He may have a car and live just one hour from Edinburgh; many people do not. The lack of public transport links from the capital's airport northwards is scandalous.
Most areas outside the central belt require subsidised infrastructure and services. Very few of the bus, train, ferry, power and telecommunication links in rural areas pay for themselves.
We subsidise because there are sufficient other societal, cultural and economic reasons for doing so. The UK has consistently had a London-focused model and Scotland has replicated this with Edinburgh.
Nicholas Kopp.
Delft,
Netherlands.
Flawed logic over consent
Sir, – SNP MSP John Mason is a Christian, so it is inconceivable that he was referring to sex when he mentioned asking a girl again after a refusal.
Anyway, let's fear the worst and imagine that he was actually saying that a girl might consent to sex after refusing a previous request.
What exactly is wrong with that? Is a refusal on a first date to be treated as a permanent rejection?
Saying that he contributed to "rape culture" and condoned "overriding a woman's consent" is hysterical nonsense.
Maybe the Conservatives can provide some perspective and common sense here? Not a bit of it.
Their equalities spokeswoman weighed in, linking the Tweet with "domestic abuse and violence against women".
By the same logic, if I invite someone for dinner after they declined previously, I'm condoning kidnapping.
Richard Lucas.
11 Broomyknowe,
Colinton,
Edinburgh.
War must be all or nothing
Sir, – I'm afraid those of your correspondents who continue to debate the bombing of Dresden, pictured, are living in the past.
Ever since the bombing of Guernica in the Spanish Civil War there have been no civilians, no non-combatants.
If you are going to fight a total war, then fight it, don't pussyfoot around, get it over with and the killing stopped.
You must not only destroy the enemy's ability to make war, you must also destroy the will to do so also.
If we had done that in the First World War, instead of an armistice, a simple pause while everybody regrouped, there would have been no need for the Second World War.
Don't ask the academic and the philosopher about the bombing of Dresden, ask the teenager from Godalming sitting in a ditch in Belgium, stuffing grey-green intestines back into his abdominal cavity while his life's blood drains into the mud: and ask his mum.
Laurie Richards.
100 Crail Road,
Cellardyke.
Bring tapestry to Perth City Hall
Sir, – I see from your articles that Perth City Hall is still standing, but with no particular plan for it.
Perhaps our council should consider using it to house the Great Tapestry of Scotland, pictured, which needs a permanent home and preferably in the centre of Scotland (not Galashiels) where it would attract a vast number of people into Perth and thereby benefit the area.
Wherever it has been it has been immensely popular and Perth city centre could do with a boost: instead of endless shops being boarded up, this might help to stop the rot.
Jenny Barnett.
The Garden House,
Campsie Hill,
Guildtown.
Make walkers buy insurance
Sir, – Scotland has some of the most attractive places for both hillwalkers and climbers but seemingly many of them do not appreciate the difficulties presented.
This results in many mountain rescues involving search and rescue teams and other service providers.
It is only the beginning of the winter season which attracts many to the hills and mountains and there already have been rescues required.
It is apparently a problem getting the message through to the participants of the need for proper preparation.
Perhaps it is now time to require all walkers and climbers to have the appropriate insurance to cover the cost of their rescue.
This will ensure the continued financial support required by the rescue teams.
Roy Moffat.
Bollyglosh,
Gilmerton,
Crieff.