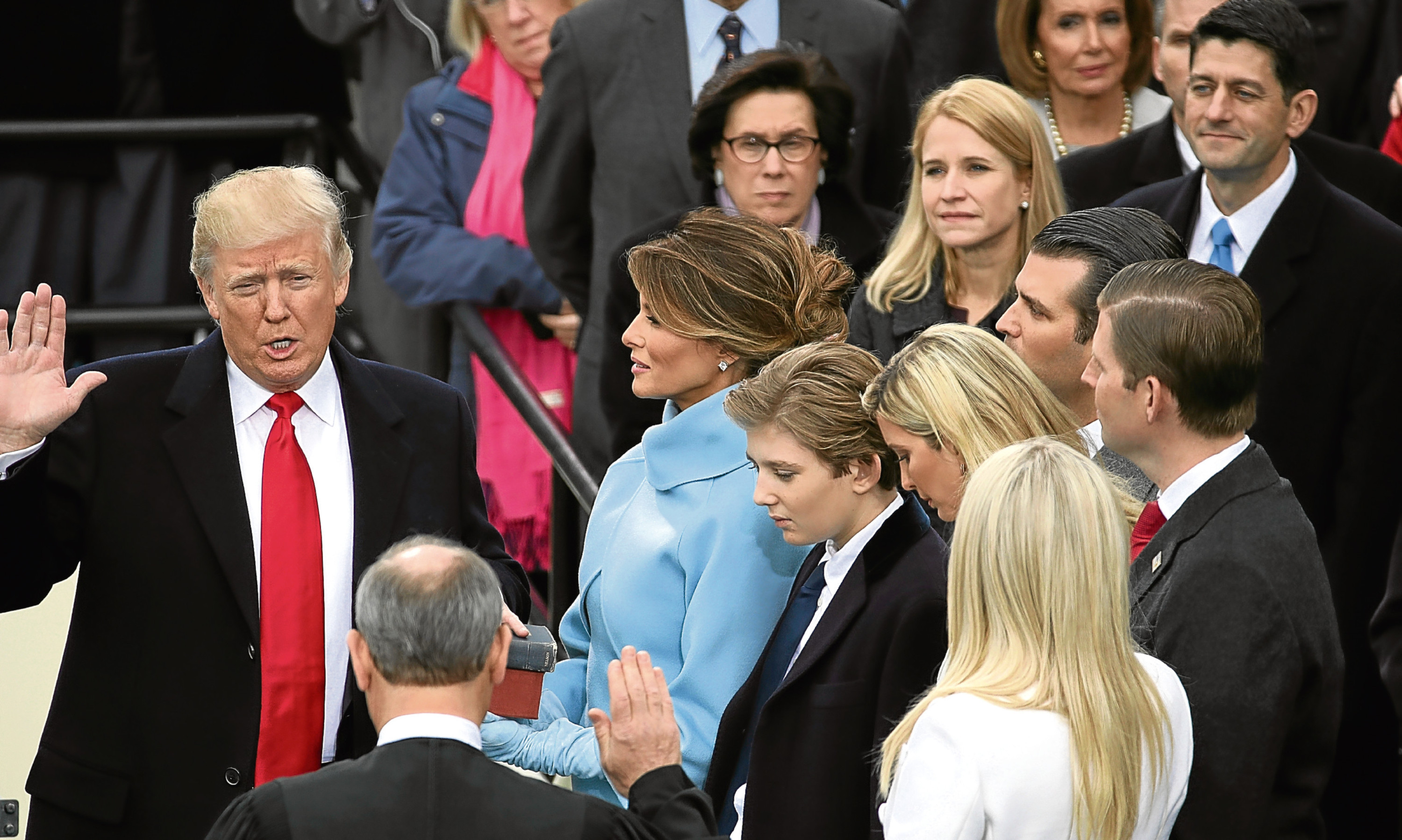 Sir, – After watching the presidential inauguration, it could be said that the celebrities of the day and their followers have been somewhat hasty in shooting down a man who honestly seeks to restore, with God's help, and the support of the people, law and order to his country.
Whatever we think of President Donald Trump, we could certainly do with some help over here, where troublemakers openly taunt police, teachers and others in charge.
Many authority figures I meet live under fear of a system which punishes them for doing or saying "the wrong thing" when dealing with perpetrators. This is a terrible way to treat them for, as the old King James version of the Bible says, "fear hath torment" and so we actually heap immense stress on those we could and should protect and support.
But well done to the brave Fife man who recently carried out the citizen's arrest on the youth who was standing on his van, by shoving him into the van and handing him over to the local police.
Of course, it was he who ended up in the dock, but what was he meant to do? Video the incident and send it to the BBC?
Surely there has never been a greater need for someone, with God's help, and great courage, to rise up and restore justice to our own topsy-turvy nation.
Stuart Wishart.
12 Walnut Grove,
Blairgowrie.
Rail against oppression
Sir, – Women of the world unite against Islamic countries' treatment of women. They make Donald Trump look innocent.
Donald Gordon.
47 Moulin Crescent,
Perth.
Democracy in action
Sir, – Donald Trump has polarised opinion and motivated many to be judgmental.
It will not be a conventional presidency. Mr Trump is not a career politician but a successful businessman. His approach will be different to what we've come to expect of our professional political class.
Businessmen, and particularly successful businessmen, are adept at negotiating, making deals, compromising and long-term planning.
They can also be very focused on becoming successful not only for their own benefit but also for their employees and shareholders. Their ambition is normally to become better and more successful than before.
Another quality billionaires like Mr Trump have is the ability to delegate and choose the right people for the task ahead.
Mr Trump's cabinet is staffed by competent people and the success of his presidency will rest on their shoulders and the quality of service they provide the president will be a significant factor for success or failure.
The election of President Trump and our own Brexit decision are undoubtedly world-changing events and will affect us all to a lesser or greater extent for better or worse.
What we must not lose sight of, however, is the fact that these events were decided by the people of two of the greatest democracies on earth and whatever our political colour we should respect the result, at least until the next election.
Iain G Richmond.
Guildy House,
Monikie.
Climate change bandwagon
Sir, – President Trump halting the US climate change bandwagon is to be welcomed.
He has the sense to know that research funded by government will provide evidence to support the views of that government, just to keep the money coming. This is a fact that eludes our own leaders.
Malcolm Parkin.
Gamekeepers Road,
Kinnesswood,
Kinross.
Families will be penalised
Sir, – I find the Scottish Government's draft climate change plan depressing because it is not just a declaration of war on our motorists but also on our standard of living and quality of life.
Most people who can afford a car chose to have one because of the convenience and the savings in time.
By penalising motorists, the Scottish Government is saying it knows best and that our priorities are unimportant.
For the majority of journeys, bicycles and buses are not realistic. For example, I cannot carry a 20-kilogramme tool box on a bicycle and I really don't want to lug it about on a bus.
Giving incentives to switch to electric cars is simply delusional.
We lack the baseload generating capacity to support large scale adoption of electrical vehicles.
We would need to completely reverse our energy policy of the last 15 years and build a new network of fossil fuel and, or, nuclear power stations.
The plan for workplace car-parking levies betrays a complete lack of understanding of economics.
Businesses confronted with the levy will do what they do with any other tax or cost, which is to pass it on to their customers and, or, reduce their exposure to it. Will this benefit their employees? Of course not.
It is time the SNP abandoned the fake science of climate alarmism and listened to the people, not the eco-fanatics.
Otto Inglis.
6 Inveralmond Grove,
Edinburgh.
Will we rely on dirty power?
Sir, – I was puzzled to read in your report (January 20) that Climate Change Secretary Roseanna Cunningham stated that it was her aim to "fully decarbonise the electricity sector" as part of her emissions reduction programme.
Has it escaped her knowledge that Scotland's electricity sector is already essentially decarbonised as a result of her government's renewables policies by the closures of Cockenzie and Longannet coal-fired generators?
The only fossil generation remaining is half of the gas-fired power station at Peterhead which grid operators consider to be essential for the maintenance of grid stability and security.
Perhaps she could explain how she intends to achieve this objective while maintaining a stable electricity supply and without importing "dirty" electricity from England?
GM Lindsay.
Whinfield Gardens,
Kinross.
Fife wasting roads money
Sir, – The reason Fife has no money to spend on road maintenance (January 21) could be the wastage caused by its overabundance of councillors wasting money on useless projects.
Councillor Donald Lothian was largely responsible for the 20 mph speed limits imposed on most of Auchtermuchty's streets though there was no record of any accidents on these streets.
These speed limits are ignored by 99% of drivers, either local, delivery vehicles and even council vans.
Our other Auchtermuchty councillor spent time going round with the police to identify the roads which were inches deep in soil from farm traffic. Why then do the roads between Dunshalt and Falkland, Auchtermuchty and Newburgh at Pitcairlie and Gateside and Glenfarg still have regular deep layers of mud on them?
Charles Henderson.
5 High Street,
Auchtermuchty.