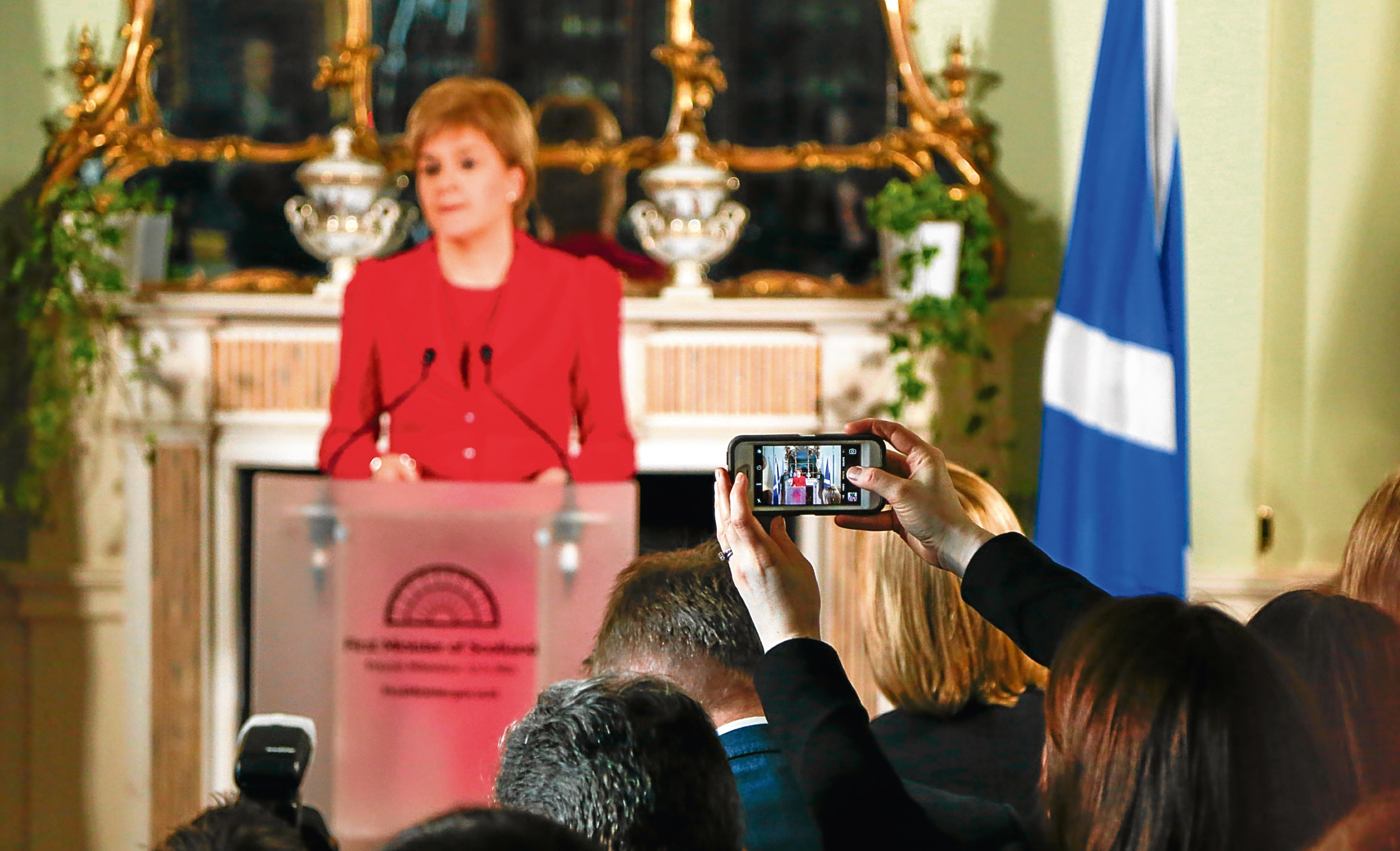 Sir, – Now that Nicola Sturgeon and Theresa May have signed Section 30 and Article 50, it is game on.
Ms Sturgeon and the SNP will, of course, stand shoulder to shoulder with Brussels and the EU to deliver as damaging a deal as possible regardless of the economic damage to Scotland and the rest of Britain.
The unsettling logic of the SNP seems to be that the break up of a 300-year union in which Scotland has the most powerful devolved government in the world and where trade with our UK partners is four times greater than anywhere else, is a sacrifice worth making.
The certain loss of sovereignty, our currency, the supremacy of our law and the submission to diktat of the European Commission, seems lost on Ms Sturgeon.
The fact that there can be no such thing as independence in Europe is held in wilful disregard by her.
For Ms Sturgeon it is the last throw of the dice and her political career and the success or failure of her party and ideology depends on it.
As a strategy it is a highly risky option. Scotland voted No convincingly to remain within the UK when the economic outlook for an independent Scotland was far superior to today's situation.
No amount of oil discovery will alleviate economic deficits if the cost of extraction exceeds the market value of the product and sowing confusion and doubt about her own government figures (GERS) is holding unashamedly the collective intelligence of Scots in contempt.
As the SNP plays the constitutional game, our nation suffers an appalling neglect of proper governance, having passed no bills for over a year, the last being on abusive behaviour, bankruptcy and burial.
Iain G Richmond.
Guildy House,
Monikie.
Should Mrs May be thanked?
Sir, – So Angus Robertson, the SNP's depute leader, has warned Prime Minister Theresa May that denying the Scottish Parliament a vote on Brexit will make Scottish independence "inevitable".
This is the SNP's standard threat when they do not get what they want.
But surely, as a good nationalist, Mr Robertson believes independence is inevitable, full stop, so what does it really matter what Theresa May does?
On the other hand, he might think that by refusing to accede to the request for a second referendum, Mrs May is hurrying along the glorious day when independence dawns.
In that case, Mr Robertson should be thanking the Prime Minister.
Linda Holt.
Dreel House,
Pittenweem.
GERS figures are reliable
Sir, – Mr Les Mackay (March 30) would do well to choose his "experts" more carefully.
All Richard Murphy has proven is his lack of familiarity with the convention of how economic statistics are compiled and presented and offering them as Westminster figures has no credibility whatsoever.
GERS was compiled for the Scottish Government by Scottish civil servants and it is standard practice to base such reports on estimates.
There is a supplement within the GERS report detailing the confidence attributed to estimates made and there is a code of practice for official statistics, to which GERS adheres.
Should Mr Mackay wish to seek genuine expertise, he might consult Professor Ronald MacDonald, research professor of macroeconomics and international finance (economics) at the University of Glasgow, or Professor Angus Armstrong, director of macroeconomics at the National Institute of Economic and Social Research (NIESR) and previously head of macroeconomic analysis at HM Treasury.
Both will testify to the veracity of the GERS statistical methodology and, therefore, the conclusions that may be quite legitimately drawn about the strengths and weaknesses of the Scottish economy from these Scottish Government figures.
Hamish Hossick.
7 Ogilvie Court,
Broughty Ferry.
What goes on at Holyrood?
Sir, – It is reported that last month marked the first anniversary of the last time the Scottish Parliament passed any legislation, apart from the obligatory budget bill. What exactly goes on at that place of vast expense to the taxpayer, or can one guess?
Ranald Noel-Paton.
Pitcurran House,
Abernethy.
Wrong priorities at Angus Council
Sir, – The news of the financial pressures on Angus Council is shocking, not because of the scale of the problem but because of one of the priorities councillors have chosen.
With staff in Angus facing redundancy and vital services being cut back, I was astonished to see that a significant pay increase to four senior managers has been approved.
I feel sure that our low-paid staff, children at risk and our infirm elderly citizens will sleep much better at night knowing that the senior managers in Angus are being looked after very well.
Karen Heath.
Cortachy,
Kirriemuir.
Out-flanked by Westminster
Sir, – Nicola Sturgeon presents a tragic figure quibbling over the proposed date for the SNP's referendum.
How many more times does the nationalist leader need to be told?
There is no point in holding a vote until we can see clearly what post-Brexit Britain looks like.
Even Ms Sturgeon has dropped the risible claim that by a vote being held before March 2019, Scotland can remain in the European Union.
We voted against her scheming in September 2014. The SNP signed the Edinburgh Agreement to respect the outcome of the 2014 vote and promised it was a once-in-a-generation opportunity. We naively believed that.
Miss Sturgeon has been out-manoeuvred by Prime Minister Theresa May and a UK Government that's at last willing to stand up for the majority of Scots.
Martin Redfern.
4 Royal Circus,
Edinburgh.
Europe united against Britain
Sir, – I recall my Edinburgh University history professor saying back in the 1970s that the cardinal principle of British foreign policy since the beginning of the 18th Century was that there should be no agglomeration of power on the continent of Europe, from which we are excluded, since a Europe united without us was likely to become a European continent united against us.
I did not expect his observation to be put to the test in my lifetime.
Rev Dr John Cameron.
10 Howard Place,
St Andrews.