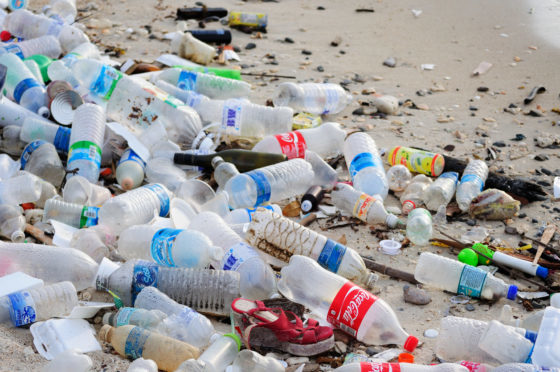 Tesco is selling a bottle of water for 17p.
I mention this not to encourage a shopping spree, but in the vein of the "World's going to hell in a handcart" (whatever that might be).
David Attenborough's Blue Planet programme has alarmed people into action over plastic in our oceans.
Non-recyclable, non-degrading bottles are choking the wide seas, poisoning wildlife and ruining eco systems.
We have known this for a long time, but problems require the intervention of a beloved figure like Attenborough before they catch light in the public imagination.
The bottle in Tesco and similar ones in other shops are the problem.
The mass produced clear plastic bottle is one of 13 billion sold in the UK each year.
Part of a wasteful, exploitative culture which the respected Stanford University biologist Paul Ehrlich believes will end civilisation within decades.
You can take Ehrlich with a pinch of salt – 50 years ago he predicted catastrophe from the massive increase in the world's population – but you can't dismiss the Tesco water.
In a wet country with a mild climate and a world-leading water utility, buying any bottled water is pointless. You could leave the supermarket, go home and run the tap – the water supplied to just about every home in Scotland is as clean as any bottled water.
Yet we spend energy making the bottle, moving it around, pumping the water in to it – all a pointless task driven by marketing.
Westminster's Environmental Audit Committee reported late last year on the volume of plastic bottle sales, adding that around half are recycled, but 700,000 are left as litter each day.
Concern over this planet-damaging level of plastic has prompted the UK government to promise a return scheme on plastic, aluminium and glass containers, like those which already operate in 38 European countries.
The Scottish Government has been talking about something similar for a long time, and now suggest any measure should be UK-wide.
It is yet another example of the Edinburgh parliament lagging popular opinion – if Norway can do this in the 1990s, what took us another quarter of a century to then feebly promise a lesser scheme, which has yet to begin?
The stakes in this area of policy could not be higher – it's not as if we have not been warned for a very long time.
The seminal book on environmental degradation, Silent Spring, was published in 1962.
Ehrlich's The Population Bomb appeared on bookshelves in 1968.
Ronald Higgins wrote a piece for the Observer in the mid-1970s warning of the effect humans were having on the planet, an article which became a BBC documentary – the Seventh Enemy.
In 1986 the definitive work on how water mismanagement can wreck advanced societies was published, The Cadillac Desert.
In retrospect, none of these tracts are perfect, but they are roughly on the money.
That is nearly 60 years of warnings, yet Scotland still consults on what to do.
Ridiculously, the Scottish Parliament felt very proud of itself for banning single-use plastic drinking straws – a full 15 years after Germany had set up a comprehensive, all materials, national recycling operation including a cash return for all containers.
The broad theme of all these environmental warnings is that man has thrived by apparently controlling nature, which has provided the food, security and wealth to sustain a larger population.
The more people there are, the more humanity's mistakes are multiplied – chief of which is the assumption that nature will just keep giving.
One effect of this greed is climate change – we pump much more CO2 into the atmosphere, which traps heat, warming the seas and playing havoc with the weather.
The other is the consumption of resources faster than they can be replenished, and the damage to habitats from our pollution.
It is this which Paul Ehrlich thinks will destroy our cities within decades.
There is much that could be done in short order, such as banning the purchase of bottled water by the public sector, along with the removal of all office water coolers.
Each child should be given a metal water bottle at primary school and taught the habit of refilling it.
Commercial water extraction should be taxed at a higher rate.
And finally, the Government should stop waffling on about this and do something akin to the Norwegian recycling scheme very soon.
A 17p bottle of water – what folly.