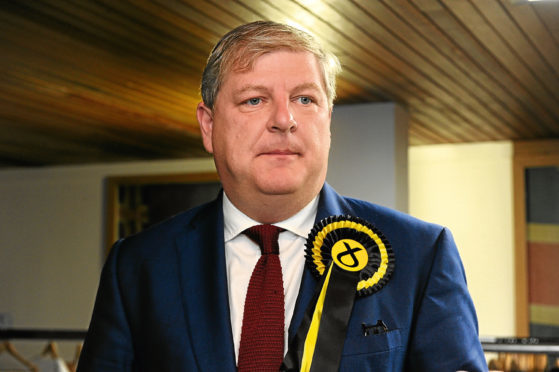 The contest to be the next deputy leader of the SNP may be in its early days, with the result not due to be announced until the party's conference in June, but already it is turning out to be more interesting than it looks on paper.
The process should probably have begun more than six months ago when the incumbent, Angus Robertson, lost his Westminster seat in the snap general election. In his resignation letter this month, Mr Robertson told his boss, Nicola Sturgeon, he no longer felt able to fulfil his mandate as her "eyes and ears in the Commons". But without a berth in the Parliament, that has surely been the case for some time.
Now, though, the race is most definitely on, with Glasgow Cathcart MSP James Dornan the first to announce his intention to enter the ring, and several bigger names weighing up their options.
Mr Robertson's successor as Westminster leader, Ian Blackford, ruled himself out on Monday, and Scottish transport minister Humza Yousaf has also said he is not running.
But still in contention, at the time of going to press, were Pete Wishart, the long-standing MP for Perth who clung on to his seat by 21 votes last year, and Tommy Sheppard, the former Labour supporter who was elected as a Nationalist MP in the 2015 intake.
Other names, not exactly household, have been mentioned, including Philippa Whitford and Joanna Cherry, and more may still put themselves forward when nominations open next month. There are apparently eight in the frame but the reason this battle is starting to attract more widespread attention does not lie in the stellar nature of the potential candidates.
Traditionally, SNP deputies tended to serve their apprenticeship and then go on to lead the party. In fact, all of the party's last five leaders – Nicola Sturgeon, Alex Salmond, John Swinney, Gordon Wilson and Billy Wolfe – had previously served as the party's deputy.
That pattern was broken when Stewart Hosie quit in the wake of claims about his personal life, and now Mr Robertson's electoral failure has forced him out.
Neither Mr Wishart nor Mr Sheppard can be taken seriously as successors to Ms Sturgeon but there is more promising talent among some younger players in the party, Stephen Gethins, for example. He has not made a move yet, but as another Westminster Nationalist he would be well placed to defend the party's interests in London.
However, what kind of a challenge would the job be at this juncture in the separatists' journey? There are those in the party – Carolyn Leckie, for example, the one-time Scottish Socialist MSP and now a Nat – who are arguing for a firebrand to stir up the radical youth politicised by the Yes campaign and reignite the push for a new independence referendum.
Clearly, this wing has given up on success at the ballot box because there is no doubt Ms Sturgeon's obsession with the constitution cost her 21 seats last June and her own popularity.
Keeping happy both the pragmatic Nationalists, who want to stay in power, and the noisy secessionists, clamouring for indyref2 at any price, has been almost beyond the political skills of the First Minister, and her deputy would face the same balancing act.
This makes it a difficult decision for the party to make but the Nationalists' uncertainty is a welcome departure from the recent past. At least there looks like there is going to be some kind of internal discourse. Mr Wishart has already broken ranks with his leader, criticising her dogged anti-Brexit line.
In an article for a pro-Nationalist newspaper, he warned that the SNP voters who wanted to leave the EU had been alienated by Ms Sturgeon's stance, and the party needed to conduct at "honest assessment" of why it lost so many votes in June.
"The White Paper of the last referendum is now a historical document for another political era," he said. "A new case needs to be urgently constructed."
This may not be in the same league as the Foreign Secretary publicly briefing against the Prime Minister. But while the Conservative Party is renowned for its internecine warfare, the Scottish Nationalists have been famously on message. But with the party's stature a shadow of what it was, and the likes of Mr Wishart anxious for its (and his own) fortunes, a new SNP may emerge, less a cult of obedience and more a normal, bickering political organisation.
This is healthy, for the Nationalists and for the rest of us. After more than a decade of furious top-down discipline, ordered by Alex Salmond and then by Nicola Sturgeon and her husband, party chief executive Peter Murrell, a dose of decent democracy may be just what the SNP, and Scotland, needs.