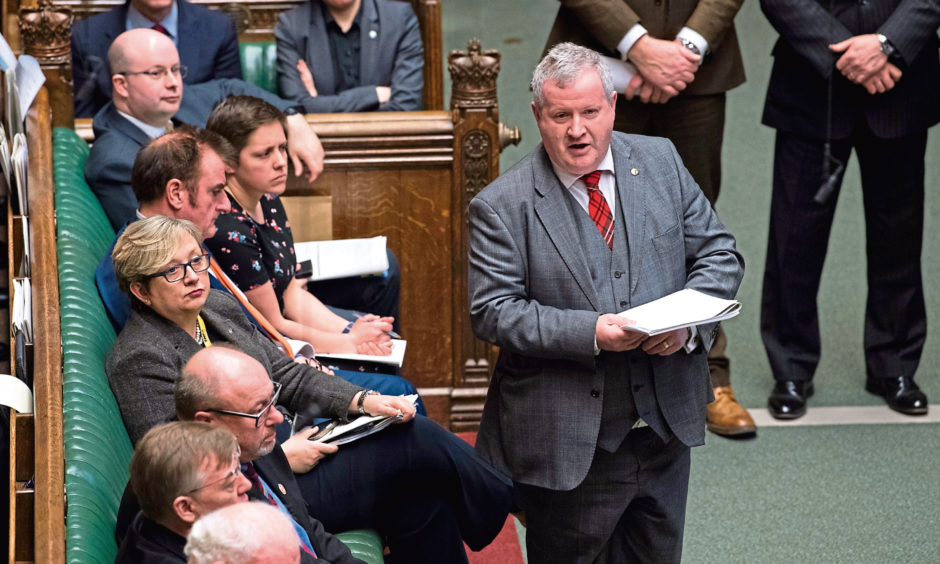 In all the political drama of the past 48 hours, in Strasbourg and in London, the sideshow of the SNP's Westminster rump has not merited much attention.
Led by Ian Blackford, the party, which is still the third biggest, is clearly not being taken seriously in the Commons.
It's not all Blackford's fault. After he tried to raise a point of order in Prime Minister's Questions last week, when the PM had already left the chamber, his hapless colleague Angus Brendan MacNeil rose to his feet but had nothing to say. Not for the first time, the Speaker, John Bercow, mocked the "intellectual quality" of his input.
However, it is Blackford, the SNP's Westminster leader, who drives Scottish Nationalist strategy south of the border and he who has demanded the SNP be given permission to hold a second independence referendum if Britain leaves the EU.
He was threatening (at the time of writing) to table an amendment to the government's EU Withdrawal Agreement, stating that as Scotland voted, by a sizeable margin, to remain in Europe, it should not be dragged out against its will.
Furthermore, Scotland, he argues, has a democratic mandate to hold a rerun of the 2014 vote, despite Theresa May insisting there is no mandate, and that Unionist parties in Scotland won a majority of votes in the 2017 general election.
The prime minister has said before that she would reject requests for a Section 30 order, which Scotland needs to stage another legally binding plebiscite. Last week, Foreign Secretary Jeremy Hunt confirmed Mrs May had not changed her position – and why would she?
When the Yes movement was defeated four and a half years ago, the result was taken as a fair reflection of public opinion.
There had been a large turnout, both sides had put their cases passionately, and democracy had run its course.
It was a decisive, and divisive, chapter in Scottish history and there has been no mood in the country to repeat the process in the years since. That is, apart from among certain Nationalist activists, who have found it hard to accept failure.
Blackford's latest ploy is engineered to keep these diehards on board because he knows that his party can't deliver what they want – separation.
He also knows that many of those lobbying loudest for a second independence vote are indifferent to Europe. Some half a million Nationalists were in the Leave camp in June 2016, contending that being under Brussels' yoke was as bad as being under Britain's.
Yet, like his boss, Nicola Sturgeon, he still links leaving Europe with leaving the UK: "If Westminster continues to ignore our wishes and act against our interests, Scotland can forge our own path as an independent European nation," he said on Sunday.
It is inconvenient that his party is split over Europe, so Blackford, being a typical single issue obsessive, simply ignores the divisions and ploughs on regardless.
But with defeat for his amendment guaranteed, why waste time in tabling it? He was asked that question and couldn't provide an answer, other than to trot out the secessionist mantra that the Scottish people's sovereignty must be respected.
He has not gone so far as to say Scotland should organise an illegal, Catalonian-style ballot, and he is unlikely to do so.
Sturgeon was forced to rule out such an option a few days ago when her deputy, MSP Keith Brown, foolishly toyed publicly with the possibility of Scotland doing its own thing, legal or not.
Neither Sturgeon, nor any thinking Nat, actually wants a second referendum on independence at the moment because the odds are against it succeeding, and the risk of damaging the cause forever, or at least for generations, are too high.
The party is currently tearing itself apart over the timing of a new vote, and Brexit's tortuous journey through the Commons has served the leadership quite well.
By asking, and not getting, London's go-ahead, the Nationalists can fall back on their favourite grievance about Scots being denied control over their own destiny.
In truth, picking a fight is the motivation for the Blackford amendment, just as it has been for most of Sturgeon's grandstanding with May over Europe. This might play well in the run-up to the party's spring conference, in Edinburgh in April, and it just might help Sturgeon stall the increasing impatience of her rank and file over her referendum inertia.
But the SNP hasn't thought this one through. Brexit will happen, in one form or another, sooner or later, with or without them supporting May's Deal or whatever follows.
Their most notable contribution, as Britain (and that includes Scotland) stood on a knife edge, was to make a doomed a pitch to quell internal squabbles.
The Nationalists' self-interest has left them looking desperate and, worse, irrelevant.