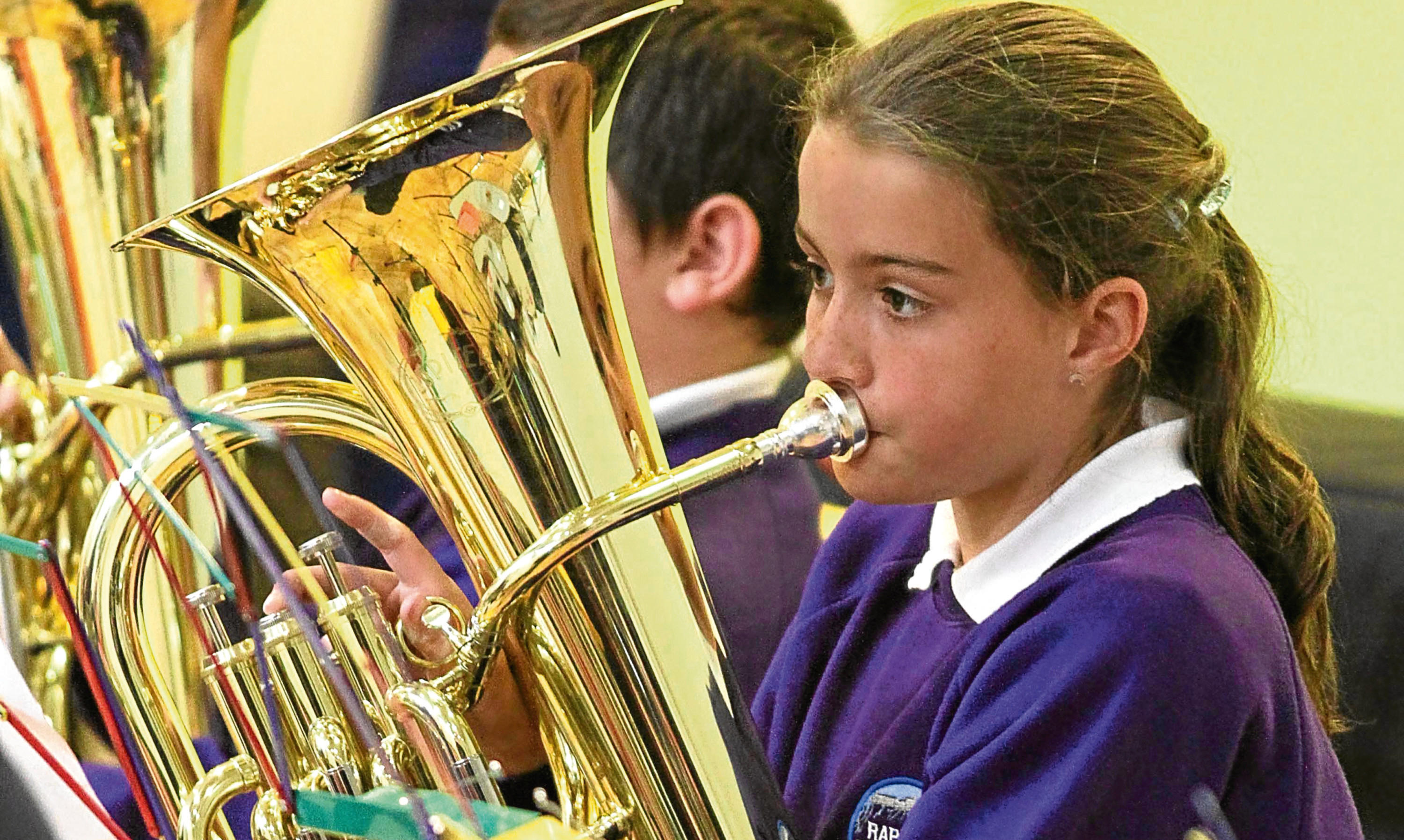 Sir, – I see that Fife is planning even more cuts in music education.
Next to reading and writing, music in schools should be valued as the most civilising tool and it is available freely to all.
Can I count up the benefits? That would take all day but music teaches children to be happy, to cooperate with others, raises a child's morale, gives a child purpose and a sense of esteem, refines, equalises and uncovers talent.
Music even teaches children to count and even be in time.
Music teaches responsibility. Music educates in the original sense of the word which means simply a leading out of ignorance.
There is no end to its benefits: benefits to health and happiness, of the individual and collective society.
I would argue it is even in the economic interests of Scotland to spread music and health, mental and physical.
And musicians have the most developed and delightful sense of humour.
They have pitch-perfect timing in their jokes.
Music? Let's cut that unnecessary stuff out, shall we? After all, the rich and privileged, who really look out for their kids, they can still pay for their offsprings' lesson.
This exclusive attitude means that most Scottish talent will be stifled.
Iris Jarrett.
45 Naughton Road,
Wormit.
Mr Spink put people first
Sir, – Having voted for Bob Spink, pictured, almost five years ago, it was sad news that he is to stand down as an Angus councillor, which will mean that there will be a by-election before the end of the year.
Best wishes to Bob who was a great independent councillor, and I hope we can get someone elected who will represent the area rather than a party
I do not want to see three councillors all representing the same party in my half of the town.
Kevin Smith.
2 West Abbey Street,
Arbroath.
UK's importance to Scotland
Sir, – The SNP is clutching at straws in trying to put a positive spin on the result of the latest opinion polls showing a one or two per cent movement in support for independence since the 2014 referendum result.
The experts say the change is not significant.
Setting aside a brief upsurge for Yes after the Brexit result, subsequent polls are all confirming that opinion has settled back to close to the 2014 referendum result, with the majority wanting to remain in the UK.
The cause of the post-Brexit result blip was the SNP knowingly misinterpreting the EU referendum result in relation to Scotland's attitude to the UK as well as the EU.
The people of Scotland have seen through that and no amount of spin will change the position.
The UK is far more important to Scotland than the EU, socially and culturally as well as economically, so whatever your view of the EU, it does not justify changing support for the UK.
Keith Howell.
White Moss,
West Linton.
Tory gamble led to Brexit
Sir, – It has become clear that apart from creating economic chaos, the Tories have no clue what they are doing.
They have come up with Brexit means Brexit, which, has clearly been derived from a focus group.
All the lies told by the Brexit side have fallen apart. The £350 million extra for the NHS was a lie.
One lot of payments which the Tories have committed to maintain until 2020 are EU agricultural subsidies paid to landowners.
These payments don't require landowners to grow anything so even highland shooting estates can claim.
The promises made to "control" immigration have also fallen through. The points-based system UKIP banged on about has fallen through.
Immigration is a dog-whistle policy. Its adoption was designed to whip up anti-immigrant xenophobia under conditions in which polls were showing, at that stage, a close victory for the Remain camp.
Philip Hammond has announced European bankers will be exempt from immigration curbs. This shows Tory greed trumps principle.
Its clear that only the Scottish Government has any plan for keeping Scotland in the single market. Its illogical for Ruth Davidson to demand a second independence referendum be dropped as it was the Tories' reckless referendum gamble for short-term electoral gain that led to Brexit.
Alan Hinnrichs.
2 Gillespie Terrace,
Dundee.
Athletes should boycott event
Sir, – On September 14 2012 the Scottish members of Team GB had a very public and accessible homecoming in George Square in Glasgow.
It was well attended by up to 3,000 Union Flag-waving supporters.
When Alex Salmond was introduced to the crowd he was booed and consequently didn't bother to give a speech from the podium.
Interestingly this year's homecoming will not be open to the public but is to be held behind closed doors at the fairly difficult to get to campus of Heriot-Watt University outside Edinburgh, open only to 400 invited people, many of whom are schoolchildren. Will they have been issued with Saltires to wave I wonder?
If the homecoming is to be held in Edinburgh this year then why couldn't it be held in the easily accessible Princes Street Gardens or the Meadows so that the public could welcome and applaud the athletes?
This appears to be a deliberate attempt by the SNP and the SNP quango sportscotland to downplay the GB aspect, remove Scottish members of Team GB from public view and to allow the SNP to stage-manage proceedings from a purely Scottish perspective.
Nicola Sturgeon will almost certainly be there, safely pontificating in a way that Alex Salmond was unable to do in 2012.
If I was one of the Scottish members of this amazing GB team I would not allow myself to be used by the SNP for political ends and would not attend the event.
Donald Lewis.
Pine Cottage,
Beech Hill,
Gifford.
Country needs skilled workers
Sir, -Scottish Qualifications Authority statistics show the number studying maths and the hard sciences in Scotland's schools is sharply down, with a 10% fall in Higher maths.
The drop-outs tend to opt for pretendy subjects such as environmental science, the politically correct by-product of Rachel Carson's fallacious Silent Spring.
This is hugely disappointing in view of Nicola Sturgeon's efforts to encourage more pupils to study mainline science, to improve their life chances and to provide a skilled workforce.
Dr John Cameron.
10 Howard Place,
St Andrews.
End housing benefit system
Sir, – I believe every citizen should have the right to live in decent, affordable, social-rented housing if they want to.
However, far too many people are denied an opportunity to do so. I believe the main reason for this is that there is insufficient social housing stock and governments needs to do something radical about that.
One remedy would be to change housing benefit rules as follows:
Every private landlord and private tenant would receive five years' notice that housing benefit would cease.
Housing benefit should be stopped for new tenants.
If this happened, the vast majority of private landlords would have to put their properties up for sale at knockdown prices.
This would help a lot of people to buy a property at a realistic price.
Also the money saved could be given to local authorities and housing associations to build new homes for people in need and would also create employment.
Kenneth Brannan.
42 Greenlee Drive,
Lochee.