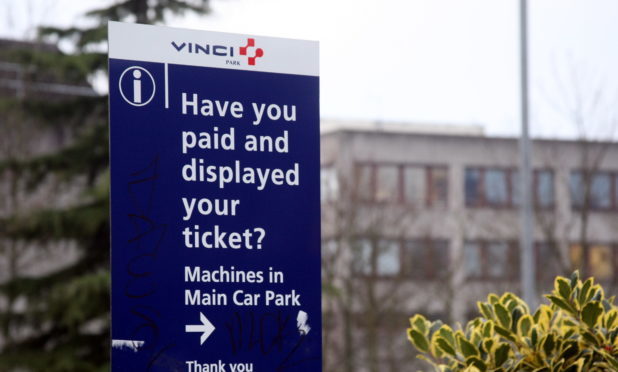 Madam, – On a regular basis articles and letters appear in The Courier about the supposed iniquity of the car parking charges at Ninewells Hospital.
However none of the complainers deal with the consequences of eliminating the charges.
The first of these is that money will need to be taken from the NHS budget to enable free parking.
I am not sure what the precise cost of buying out the contract would be, but I have seen estimates of £850,000.
To this should be added the ongoing loss of annual rent which Saba Park Services presently pays to NHS Tayside, and the cost of the maintenance of the parking areas.
This is likely to amount to a significant sum which will have to be found from the NHS budget.
The second is the consequences of removing the charges.
If parking becomes free and uncontrolled then the parking spaces will largely be occupied by staff, and patients will be worse off.
As the present parking is also adjacent to what is the biggest bus station in Tayside it is also likely to become a Park and Ride area for some working in the city centre.
To avoid this situation the length of parking time would need to be controlled.
To enforce this there will have to be staff employed meaning more money to be found from the NHS Tayside budget.
There would also need to be a system of fines for staying beyond the allowed times, just as at present.
Unsurprisingly, none of the advocates for removing the charges seem to be willing to identify the medical procedures and operations which they think should be cancelled to make up for these additional costs.
The truth is that car owners are used to regularly paying for parking, both on the street and in multi-storey car parks.
The present system is one of cheapest in Tayside and it pretty well ensures that the parking is only used by patients.
It also contributes to the NHS Tayside budget at a time when it is severely under stress.
This is not to say that there are no problems with the present regime.
There are more than enough examples of people overstaying their time due to medical developments being treated in a totally unsympathetic way and this needs to be dealt with as soon as possible.
If, after every visit, those complaining about the parking charges were given details of the cost of the treatment they had received without payment, it might give them a more balanced perspective on the matter of paying £2.40 for parking their car for four hours.
Jack Searle,
32 Farington Street,
Dundee.
Sensible debate on Good Fund
Madam, – I have just read your article on the proposal to spend some of the Burntisland Common Good Fund installing electricity on the Links (Fife Matters: Common Good or necessary evil?, Courier, April 22).
The fair brings in so much money and so many visitors to the town every year which helps to support local business, so it seems very short sighted of people to object.
The town would lose much more than £100,000 for years to come if the showmen withdrew.
The language in the headline and article doesn't help either. It's not a "raid", it's a proposal.
There are no "wrong things" and "right things" there are only things that benefit the town or not.
There are people in Burntisland who have an agenda to stop the fair coming and I guess refusing the funds would suit them, but Burntisland's traditions and economy would be damaged if they succeeded.
Please quit with the hostility and encourage sensible discussions.
Sharon Gathercole,
2 Inchgarvie Avenue,
Burntisland.
Calling the EU's bluff on Brexit
Madam, – Whatever happened to the Irish Backstop?
Only 11 weeks ago MP's passed the Brady amendment agreeing to support the May Deal on the condition that alternative arrangements were negotiated with the EU. It is never mentioned now.
Brussels turned it down, but surely this would be an ideal rallying point between the Westminster parties and show a common front to call the EU's bluff?
They could either seriously look at the many viable options for a solution, or admit they are trying every means possible to drag us back into the EU against our will – a will that would leave many Remainers (like me) disillusioned by the EU's approach.
The biggest loser from a backstop-induced hard Brexit is Ireland and its £1 billion of trade per week with the UK, the destination for half its beef, timber and construction exports.
In 1989 I sold a system to Dover Harbour Board to enable all customs clearance be done prior to departure to reduce queues at Dover.
Successor systems are still in use. Technology has moved on enormously since then.Common sense has not.
Allan Sutherland,
1 Willow Row,
Stonehaven.
Jobs for British workers
Madam, – I had hoped to see a reduction in the number of Eastern European workers in Perth post Brexit vote but I see little evidence of this currently.
With high unemployment it astonishes me that employers still wish to recruit Eastern European workers as opposed to local applicants in a huge variety of jobs, not simply the service industry or fruit picking but shop work and now hotel and medical receptionists.
Not only are there clear communication issues where their English can be poor but is it really appropriate when dealing with elderly people who are often hard of hearing?
I can understand the NHS wishing to tick the equality box at recruitment time as for a large organisation it looks good for statistics, but for equality I think this is a step too far.
I have always maintained my belief that British jobs should go to British workers as Gordon Brown said himself once.
Gordon Kennedy,
117 Simpson Square,
Perth.
Bins backlash for councillors
Madam, – The bin dispute rumbles on to the annoyance of the rate payers with bins all over the place.
It is high time heads were banged together to see if some common sense could be introduced in order to uplift the grossly overfilled "wheelies".
It is more than time to act and tell these people that whatever they think they are, that in fact they are just Wee Toon Cooncilors.
And perhaps not for too much longer.
J.R.Smith,
44 Glamis Road,
Kirriemuir,
Angus.
Confrontation with cyclist
Madam, – Coming out of our local shop I was nearly knocked down by a cyclist riding on the pavement.
On angrily telling him that it was a pavement and to use the road he approached me in a threatening manner.
When I did not back down he pushed his face so close to mine that the lip of his helmet touched my forehead.
I then called him a coward since he would not supply his name.
He was in his 30s and I am now 80-years-old.
Identification of cyclists must be introduced.
Clark Cross,
138 Springfield Road,
Linlithgow.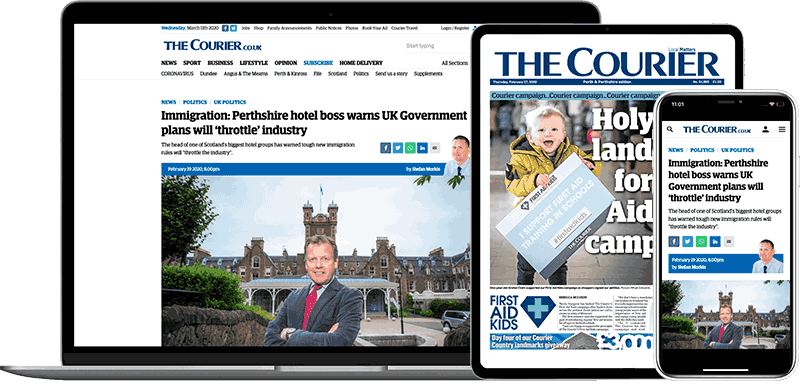 Help support quality local journalism … become a digital subscriber to The Courier
For as little as £5.99 a month you can access all of our content, including Premium articles.
Subscribe