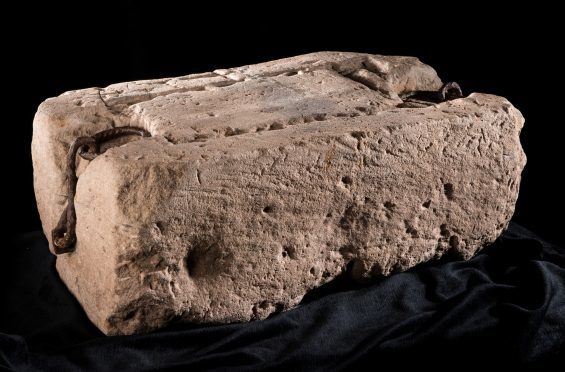 Madam, – It makes sense for the city of Perth to house the Stone of Destiny because this stone has an interesting history (Battle begins to bring Stone of Destiny to Perth, Courier, August 16).
But what, exactly, is its history?
The Stone of Destiny contains two iron rings.
The iron rings must have been fitted to allow a wooden rod to pass through for the purpose of lifting up and transporting the stone.
The Stone of Destiny was Jacob's Pillow – a sacred pillow which, in the 13th Century, was used exclusively for the purpose of crowning the Kings of Scots.
Jacob, in The Old Testament, laid his head on a stone to go to sleep.
He dreamed of a ladder to heaven.
The stone was, according to legend, taken from the Middle East to Ireland and then Scotland.
In choosing a stone to rest his head on, how likely is it that Jacob chose one made of rough sandstone and containing iron rings?
Would he not have looked for something more comfortable?
How likely is it iron rings were hammered into this ancient and sacred relic for the purpose of making it easier to transport?
A sacred stone would not be touched!
The stone that we have today is made from locally-quarried sandstone.
Is it not possible that the Scots, knowing that the victorious Edward I was on his way to Scone, hid the original?
Is it not possible that the rings were hammered into another stone for the purpose of transporting it to Scone to be swapped with the original?
Is it not at least possible that King Edward I carried away a fake in 1296?
Euan Macpherson.
1d Lilybank Mews,
Dundee.
Stone's true destiny unclear
Madam, – How can anyone say this local sandstone is the Stone of Destiny that Scottish kings were crowned on?
Even Edward 1, the Hammer of the Scots, knew it was a dud.
He saw the real one when he attended a coronation in Scotland and sent his men back to look for it.
The only thing that can be said of this building block is that the Normans took it back to Westminster.
If it was the real deal the Scots would have asked for it to be returned when the peace treaty was signed at Northampton recognising Scotland's independence and King Robert the First, the Bruce.
Instead of wasting time on this stone should they not get some detective like Sir Walter Scott who discovered the Scottish Royal Crown jewels that had lain hidden?
In the Scots Magazine when I was a young man I read an article that said a black marble stone had been found in the Scone area and, if my memory serves me well, the owner at the time was a minister of the Kirk who it is said took it to England with him?
John G Phimister.
63 St Clair Street,
Kirkcaldy.
Limited version of democracy
Madam, – There are dozens of reasons why the current Westminster government should face a vote of no-confidence, but its attempt to give expression to the clear verdict of 17.4 million voters should not be one of them.
The political, economic, social, environmental and existential crisis of capitalism is now so deep that its elite can no longer afford to buy-off sections of the middle strata and instead, is driven to the dogmatic accumulation of wealth and the total immiseration of the working class.
Under these conditions, the concept of a political "centre" is an illusion fostered solely by those forces unable to recognise that times have changed and the majority of British voters now recognise the farce of the extremely limited version of democracy practised here.
Such recognition underpinned the vote to leave the EU, with no reference to any deal of any sort.
Despite that exercise in popular democracy, a truculent, irrational cabal of "democratic" centrists, determined to do the bidding of big finance,oil and business and EU apparatchiks, is attempting to draw around them a hotch-potch of angst-ridden nationalist, hypocritical Liberal Democrats, Tory rebels and wavering, opportunist Labour MPs.
Their rallying cry of parliamentary democracy is a very poor substitute for popular democracy and establishment attempts at scaremongering are falling on stony ground.
Whenever the working class has the establishment by the throat, up pop the "social democrats" to save the ruling class and the resulting disbelief, demoralisation and disillusionment always leads to long term defeat!
If Britain fails to leave the European Union on October 31, the possibility of a transforming, wealth redistributing, socialist Labour government becomes an extremely forlorn hope.
Raymond Mennie.
49 Ashbank Road,
Dundee.
What's wrong with populism?
Madam, – While agreeing with the nationalist sentiments of Dan Wood of Kirriemuir (Brexit is UK's greatest ever 'act of self harm', Courier, August 13), I take issue with his rejection of Brexit, in particular his description of Brexit Labour voters as extreme.
And what's wrong with populism?
The alternative is the elitism currently – and arrogantly – displayed by those who reject the Leave majority. What if the Yes campaign had won in 2014 by almost 4%, and the ruling class had simply ignored the result? All hell would have broken loose.
Furthermore, what's wrong with the "collapse of the political status quo"? I and many others welcome it.
Back to independence: the chances of Indyref2's success are being impaired not only by the SNP Government's financial incompetence, but especially by the leadership' s love affair with the EU.
They are ignoring the fact that some 30% of their voters are EU-sceptic, and might prefer the Brexit Party come the next election.
George Morton.
29 Hudson Road,
Rosyth.
Hydrogen is the future of energy
Madam, – I agree with Mr Lawrie that electric vehicles are not the way forward and hydrogen power is the real future (Highly charged motoring debate, Courier, August 15).
Japan is investing in a hydrogen powered society for good reason.
Hydrogen cells can supply all of the worlds energy needs.
Hydrogen is made from water and the only emission is water. No harmful gasses or other forms of pollution.
Hydrogen cells can power all forms of transport including cars, vans, lorries, trains, ships and even aircraft.
Due to battery weight and capacity, electric powered planes can only carry a dozen people over short distance and to power a long-haul airliner batteries weighing around four times that of the aircraft would be needed.
Hydrogen power can be scaled up to replace conventional power stations to supply energy needs of whole cities, but it can also be scaled-down for individual needs.
If all current petrol stations were to install hydrogen pumps the transition to hydrogen powered vehicles would be achieved easily.
We should be urging our elected representatives not to go down the electric battery cul-de-sac but to follow Japan's lead and go for the hydrogen future.
Harry Key.
20, Mid Street,
Largoward.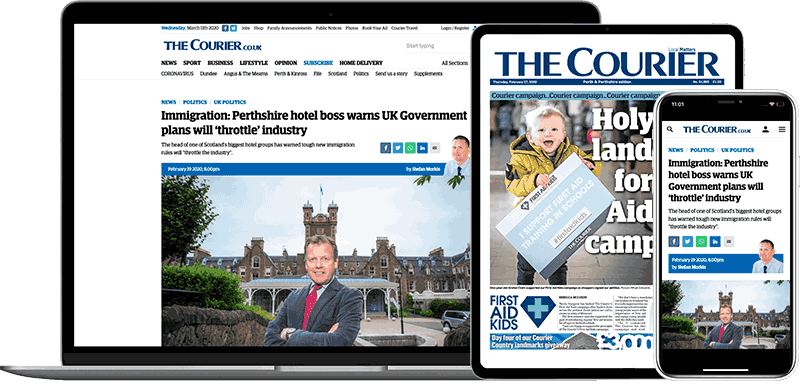 Help support quality local journalism … become a digital subscriber to The Courier
For as little as £5.99 a month you can access all of our content, including Premium articles.
Subscribe