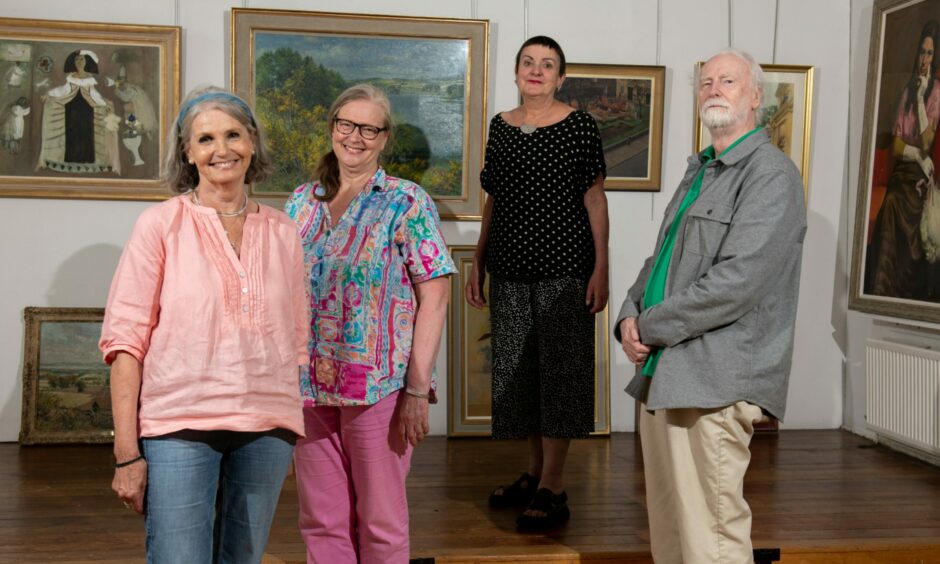 The 4 Dundee Artists exhibition at Roseangle Gallery will feature rarely seen paintings from James McIntosh Patrick, Ian GM Eadie, Alberto Morrocco and David McClure.
Most of the paintings – around 70 in total – have been borrowed from private owners.
Alan Lawson from Dundee Art Society said the four artists had very different styles and produced very different pictures.
What they had in common was a commitment to the practice, exhibition and teaching of art in Dundee.
Alan said: "Patrick and Eadie lived their entire lives here; Morrocco and McClure the majority of their lives.
"They all knew each other well, and had long associations in various ways with the Duncan of Jordanstone College of Art.
"The McManus mounted an 80th birthday exhibition of McIntosh Patrick's work in 1987, and a 75th birthday exhibition for Alberto Morrocco in 1993.
"2023 is a particularly appropriate year for this exhibition, being exactly 25 years since the deaths of Morrocco, McClure and Patrick, and exactly 50 years since the premature loss of Eadie.
"In the years since then, there haven't been any large exhibitions of these artists' works, although private galleries in Dundee, Edinburgh and elsewhere do display and sell Morrocco, McClure and Patrick's paintings periodically.
"The last exhibition of Eadie's work was at the Duncan of Jordanstone in 1983.
"McIntosh Patrick's paintings are best known as colour prints in large editions, with many Dundee households possessing at least one."
So who were the men behind the easel?
Alberto Morrocco (1917–1998)
Morrocco was born in Aberdeen of Italian parents.
He started attending Gray's School of Art at the early age of 14, and won the Carnegie and Brough travelling scholarships, affording him the opportunity to paint and study in France, Italy and Switzerland in the late 1930s.
In 1950 he was offered the job of Head of Painting and Drawing at Dundee Art College (later Duncan of Jordanstone): a post which he then held for over 30 years.
However, it was his own work, highly sought after and included in many of the world's finest national and private collections, that secured his place as one of the country's most important artists and amongst the finest portrait painters in Britain.
He retired from Duncan of Jordanstone in 1982 and threw himself into his painting, creating 70 new works in the first 18 months, many done in Italy where his parents were born.
One-man exhibitions followed, notably in Edinburgh and London, culminating in 1993 in a major retrospective exhibition of his work at the McManus Galleries in Dundee.
His paintings reflected a life of accomplishment and a personality that combined the best characteristics of his Italian ancestry and his Scottish upbringing.
That same year, he was awarded the OBE for services to the art world.
David McClure (1926–1998)
Born in Lochwinnoch, Renfrewshire, McClure moved with his parents to Glasgow, then worked down the mines during the war.
He completed the first year of an English degree before transferring to study fine arts at Edinburgh University.
With his first wife Joyce and young son Robin, he spent a year in Sicily and mainland Italy on a scholarship during the mid-1950s.
This trip, plus another scholarship in Norway during the 1960s, influenced a career equally adept at landscape and still life painting.
He spent the majority of his professional life in Dundee and taught painting at Duncan of Jordanstone College of Art from 1957 before retiring in the mid-1980s.
Also well-known for his "artist in studio with model" style paintings, his work was exhibited at galleries throughout Britain.
His outdoor scenes often involved the sea and harbours, some being in Scotland but others from Europe.
McClure died on his 72nd birthday in 1998.
James McIntosh Patrick (1907–1998)
Born in the city in 1907, the son of an architect father and linenware designer mother, McIntosh Patrick grew up in the Downfield and Fairmuir Park areas.
His artistic talent was spotted at an early age and, by the time he moved to Morgan Academy at 11, he had already been drawing for five years.
He completed a four-year course at Glasgow School of Art in just three years and a further year's post-diploma study.
In 1925 McIntosh Patrick exhibited for the first time in the Scottish Academy.
Three years later, at the age of 21, he had a picture in the Royal Academy.
He followed up his intricate etchings from the 1920s with a highly-successful series of oil paintings which were exhibited at the annual Royal Academy shows in London.
McIntosh Patrick joined the staff of Dundee School of Art in 1929, initially to teach etching and later painting and art history.
He continued to teach there for most of the rest of his life, latterly in highly popular non-vocational painting classes on Saturday mornings.
He was awarded an honorary degree of Doctor of Laws by Dundee University in 1973 and an honorary fellowship of Duncan of Jordanstone College of Art in 1986.
He died aged 91 in 1998.
Ian GM Eadie (1913–1973)
Born in Dundee, Eadie was dux medallist in art at Harris Academy and continued his studies at Dundee College of Art.
He first exhibited at the Royal Scottish Academy in 1938 and also had work accepted by the Royal Society of Painters in Watercolours.
The same year, he designed murals and heraldic work for the British Empire Exhibition in Glasgow.
He was called up in 1940 and became a private in the Gordon Highlanders.
From the start, he was encouraged to record army life through his drawing and painting, albeit on an unofficial basis.
As his output increased in volume and frequency, General Douglas Wimberly appointed him unofficial Divisional Artist, requiring him to sketch officers and to provide "typical pictures of Jocks, Gunners, Sappers etc, with plenty of kilt!"
After the war it was mural work that he pursued to earn a living rather than easel painting.
His commissions included a panel for the Overgate in Dundee, executed in 1965, a mural for Fife County Council boardroom at Cupar, completed in 1960, and the wooden osprey which was put in place at the Aviemore Holiday Centre in 1966.
Sadly, very few of these now survive.
Eadie decided he would not do any more mural work but would return to easel paintings and this late change in direction gave him a new lease of life.
He was a hearty, life-enhancing force who loved good company, often in good bars, and often accompanied by good-going arguments.
He died of a heart attack in December 1973, aged 60.
Special thanks to the families
Alan said: "The exhibition is indebted to all those private owners who have lent their paintings, with special thanks to Paola McClure and Ann Patrick in relation to their fathers' works.
"And Hazel, Marian and Gavin Eadie have been very active in reviewing and providing their father's work. Dundee and Stirling Universities have also been supportive.
"In Edinburgh, the Open Eye Gallery, the Scottish Gallery, and Lyon & Turnbull have been particularly helpful in enabling Alberto Morrocco pictures to be displayed.
"The great majority of exhibits are just for viewing, but some of the Alberto Morrocco paintings displayed are for sale."
The 4 Dundee Artists of the 20th Century exhibition runs from Friday until July 22.
Doors will be open from 11am–4pm daily (except Mondays) and entry is free.