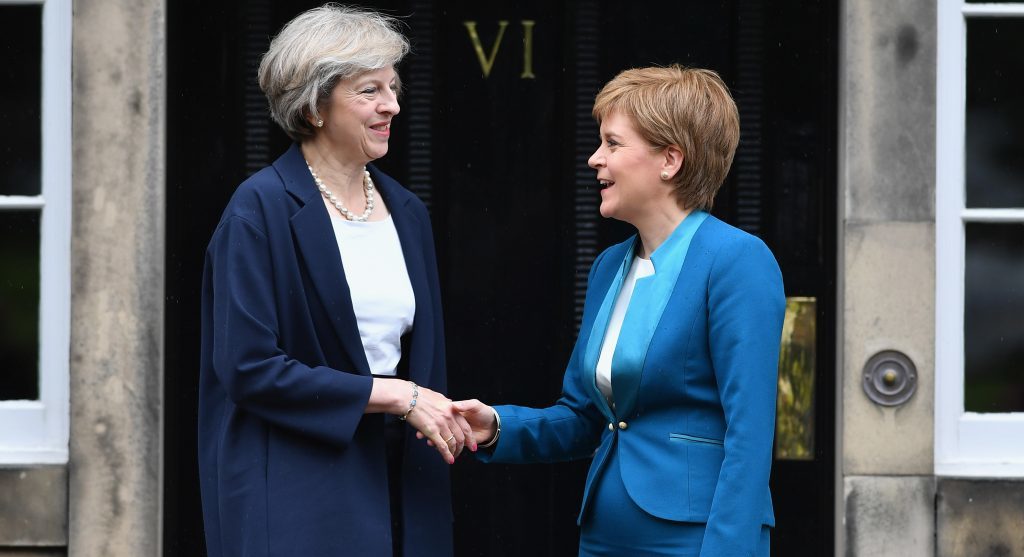 Theresa May has said she will not accept Nicola Sturgeon's demand for an independence referendum.
The First Minister wants a second vote on the constitution within the next two years but that has been ruled out by the Prime Minister.
Mrs May told ITV News: "My message is very clear. Now is not the time. I've explained the reasons why.
"I think we should be working to get the right deal for Scotland and the UK with our future partnership with the European Union.
https://www.thecourier.co.uk/news/politics/uk-politics/388040/government-warned-against-defying-democracy-over-scottish-referendum/
"It would be unfair to the people of Scotland at the moment, that they would be being asked to make a crucial decision without the information they need to make that decision."
A spokesman for Ms Sturgeon said any attempt to block another referendum would be "completely and utterly democratically unacceptable."
He added: "This is a 21st century democracy where elections, mandates and views are meant to count for something."
The spokesman claimed that a hard-line approach from the UK Government would be "disastrous" for a pro-Union campaign but confirmed the Scottish Government would be prepared to wait until 2021 to hold another vote.
The Scottish Parliament will hold a two-day debate on another vote next week, with Green MSPs expected to side with the SNP minority government and have a majority call for a rerun of September 2014.
More to follow.